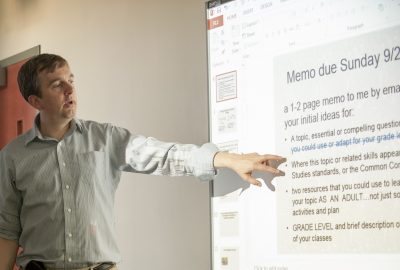 Associate Professor Thomas Levine in the Neag School's Department of Curriculum and Instruction has been named an associate editor of Teaching and Teacher Education (TATE), an international, multidisciplinary journal concerned primarily with teachers, teaching, or teacher education.
"Teaching and Teacher Education aims to provide scholars and practitioners of teacher education with insights about teachers, about teaching, and about methods of helping pre- and in-service teachers to improve their work," Levine says. "It has an interdisciplinary and international focus; authors work to contextualize their studies or frame them in ways that speak beyond the specific national context or discipline. The result has been an important contribution to the research base that supports teaching and teacher development."
Levine says he expects that this role will allow him to make an important contribution to his field while serving as a steward helping the publication of worthwhile research. He also says he anticipates gaining insights that will help him as a scholar and professor committed to improving Neag School of Education's teacher preparation program.
"I feel lucky to work at an institution where faculty, in spite of competing priorities, make time to continue developing our own program, as shown by Dorothea Anagnostopoulos' success helping us redesign the teacher preparation program over the last several years," says Levine. "I hope that my work will help me develop insights and contacts in the field that will benefit our program."
Access the latest issue of TATE here.