This past Saint Patrick's Day, members of the Neag School of Education Alumni Board; Neag School faculty, staff, and administrators; friends of the University; and families gathered around tables draped in purple in the Rome Ballroom of the University of Connecticut's Storrs campus to celebrate the achievements of seven Neag School alumni during the 20th annual Neag School of Education Alumni Awards Celebration.
"Tonight, we are celebrating this event for the 20th consecutive year. That is a milestone we are very proud to be commemorating here in the Neag School," said Dean Gladis Kersaint, after welcoming event attendees.
In addition to honoring award recipients, the Alumni Board recognized recipients of the Neag School Alumni Board Scholarship, Dionna Denée Jackson and Elena Sada. The $1,000 award, established three years ago, is granted to Neag School students to help support them through their pursuits in higher education. Jackson is currently enrolled the Neag School's Higher Education and Student Affairs master's program, and Sada is a Ph.D. candidate in the Neag School's curriculum and instruction program.
The Alumni Board also formally recognized the recipient of the inaugural Dr. Perry A. Zirkel Distinguished Teaching Award, which honors a faculty member in the Neag School for excellence in teaching, and the 2018 Rogers Educational Innovation Fund Award, a $5,000 award bestowed upon a Connecticut educator at the elementary or middle school level for innovative and collaborative work in the classroom.
D. Betsy McCoach, a professor in the measurement, evaluation and assessment program, which is directed toward individuals interested in learning more about student assessment and evaluation techniques in formal and informal education settings, received the Dr. Perry A. Zirkel Distinguished Teaching Award. McCoach received her Ph. D. in educational psychology, a 6th Year certificate in school psychology, and masters of arts in education from the University of Connecticut.
Dwight Sharpe, an eighth-grade mathematics teacher at Woodrow Wilson Middle School in Middletown, Conn., received the Rogers Award for his work using robotics and computer programming to engage students in mathematics and engineering.
The award "is really more amazing for my students — to be able to expose them to robotics and an understanding of science and mathematics. It really does open up a lot of opportunities for them that they might not otherwise be able to have in our typical public school setting," said Sharpe after the event.
After a three-course dinner, the alumni awardees were recognized for their accomplishments in the field of education: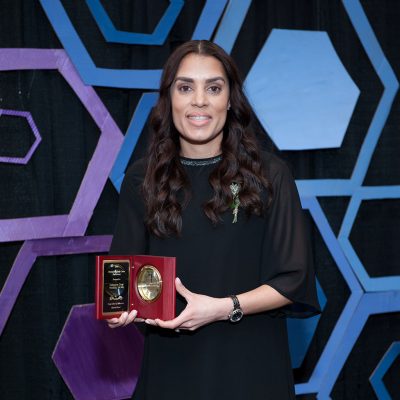 Outstanding Early Career Professional
Xaimara Coss '04 (ED), '16 MS — Licensing manager for the National Basketball Association
Xaimara Coss is a two-time graduate of the Neag School of Education, receiving her bachelor of science in sport management in 2003, and her master of science in sport management in 2016.  During her undergraduate career, she was a student-athlete, playing for UConn women's volleyball.
Coss is currently in her sixth year at the NBA and has travelled nationally and internationally as an ambassador for the WNBA's "Watch Me Work" initiative, where she travelled to Chile and Argentina to share her experiences working in sports. She also serves as a mentor to help new employees become orientated and familiar with the NBA's best practices.
"My passion started off when I was a young kid; I was always intrigued with what were people doing on the court, around the arena, and how they get people together. Then my passion for giving back started when I played volleyball in high school. My high school coach taught me that giving back was so important," says Coss.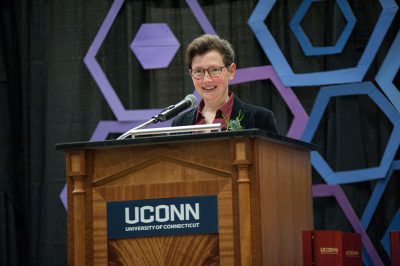 Outstanding School Educator
Jennifer Lanese '94 (ED), '95 MA — English teacher at William H. Hall High School in West Hartford, Conn.
Jennifer Lanese is in her 17th year as an English teacher, and earned her bachelor of science in secondary education and master of art in education, both from the Neag School in 1994 and 1995, respectively. She teaches British literature and serves as the advisor of Hall High School's Action Club, which strives to promote social justice and equality. In 2015, she was recognized as West Hartford's Teacher of the Year for her work.
"There's a saying that meaningful work gives reason to existence, and I am so lucky and grateful to have found one of those reasons working as a public high school English teacher," says Lanese. "Every day I get to interact with funny, bright, inspiring young people, and get to work with bright, creative, funny, inspiring colleagues. Every day I get to learn something new."
Outstanding School Administrator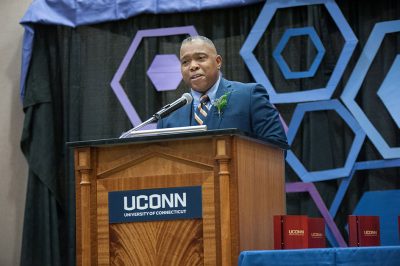 Samuel Galloway '01 6th Year — Director of Human Resources at Bristol Public Schools
Samuel Galloway began his work as the director of human resources at Bristol (Conn.) Public Schools in 2014, after serving as principal of Bloomfield High School. While at Bristol Public Schools, he has increased school administrator and faculty diversity and has worked with two high schools to increase graduation rates.
Prior to his work in education, he was a trooper for the Connecticut State Police and corrections officer and served as a First Lieutenant in the U.S. Army. He received his 6th Year teaching certification from the Neag School in 2001, and received his Ph. D. and superintendent certificate from Central Connecticut State University.
"I'm blessed that I had the opportunity to operate in capacities where either I protected or I served, and that has been a blessing. I thank you for the honor, and I am very proud to have gone to UConn," says Galloway.
Outstanding School Superintendent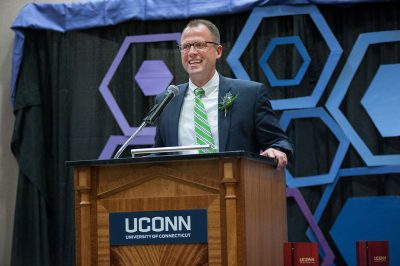 Nathan D. Quesnel '01 (ED), '02 MA — Superintendent of East Hartford Public Schools
Nathan D. Quesnel has served as the superintendent of East Hartford (Conn.) Public Schools for the past five years, and has worked to address challenges associated with urban districts, as well as with community organizations to overcome funding challenges and build partnerships with outside organizations, such as Pratt and Whitney, to ensure students have the opportunity to apply their skills. He also has created programs to increase reading scores by 50 percent and math scores by 61 percent on Renaissance Learning's STAR Reading and Math assessments, and lowered in-school suspension rates by 44 percent.
"I really appreciate the UConn Alumni Board and UConn as a whole. I had no interest in going to college. I wanted to be a carpenter, a ski bum, or a paratrooper. My father said to try school for a year. I'm really glad, Dad, [that] you pushed me there," says Quesnel.
Outstanding Professional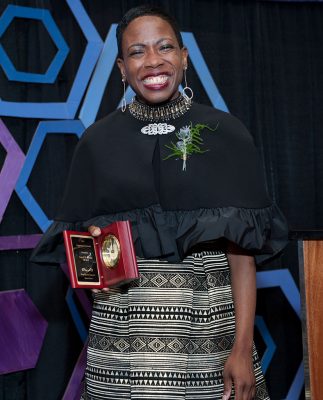 Carol D. Birks '08 ELP — Superintendent of New Haven Public Schools
Carol D. Birks was the former chief of staff at Hartford (Conn.) Public Schools (HPS), and now serves as the superintendent at New Haven Public Schools. Birks earned her superintendent preparation certification from the Neag School in 2008. As HPS' former chief of staff, Birks oversaw administrative day-to-day management and operations. She also spearheaded the district's redesign and restructure initiative in order to improve student outcomes.
As superintendent of New Haven Schools, she wants to push for systematic change within the district, ensure community healing, and create a vision where students are reading at or above grade level and have pathways to pursue postsecondary education.
"I want thank the many educators and my family for pushing my thinking and helping me to reflect and learn. I committed my life to supporting young people who have faced many obstacles so they can reach their full potential. The foundation of education I received here at UConn was exceptional, so I am truly grateful (to be recognized)," says Birks.
Outstanding Higher Education Professional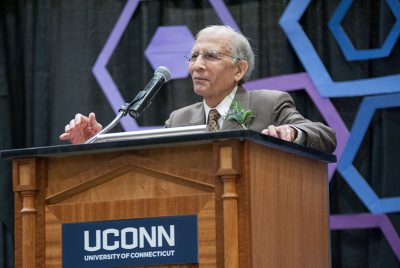 Mohammad Zaheer '74 Ph.D. — Professor of Economics, retired, Manchester Community College
Mohammad Zaheer is a retired professor of economics at Manchester Community College (MCC) who taught for 20 years, as well as at Eastern Connecticut State University, Albertus Magnus College, and Southern Connecticut State University. At MCC, Zaheer served as the department chair and on several committees.
He received his Ph.D. in business education from the Neag School in 1974. In addition to his teaching positions in Connecticut, Zaheer taught at the Government College of Science in Pakistan and U.S. International University in Kenya. He has published a number of books and research publications on the field of economics and teaching, and still continues to contribute to the field.
"There is no other profession worth pursuing than teaching," says Zaheer.
Distinguished Alumna Award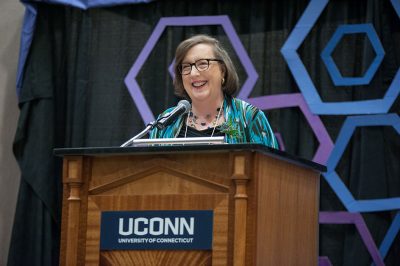 Persis Rickes '80 (CLAS), '81 MA, '93 Ph.D. — president and principal of Rickes Associates, Attleboro, Mass.
Persis Rickes is the principal and president of Rickes Associates, a higher education planning firm, founded in 1991, that specializes in space utilization, space programming, and strategic planning for colleges and universities. Rickes Associates has served more than 200 institutions on nearly 400 projects in 25 states and internationally.
Prior to establishing her firm, Rickes served as UConn's director of planning, developing the university's master plan. While an undergraduate student at UConn, she wanted a better understanding of how people came together to create the university experience, so she spoke to University administrators to understand how all the pieces fit together.
She earned her bachelor of arts in psychology from the College of Liberal Arts and Sciences in 1980, master of arts in higher education administration in 1981, and Ph. D. in professional higher education administration, all from UConn.
"It's incredibly humbling to have recognition from the Neag School after all the years, and it has reminded me of how strong of a connection I did have when I was a student here," says Rickes.
Check out additional photos from the 20th annual Neag School Alumni Awards Celebration. Access the full playlist of all seven videos featuring Neag School 2018 alumni awardees on the Neag School YouTube channel.
All videos produced by Ryan Glista.
Related Stories: