Editor's Note: The following Q&A, featuring the Neag School's James Kaufman, originally appeared on The Readings Lists website.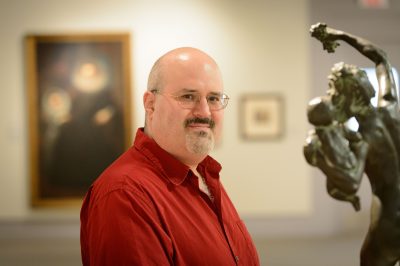 James Kaufman is a professor of educational psychology at the University of Connecticut. He is the author/editor of more than 35 books, including Creativity 101 (2nd Edition, 2016) and the Cambridge Handbook of Creativity (with Robert Sternberg; 2010). He has published 250 papers, including the study that spawned the "Sylvia Plath Effect" and three well-known theories of creativity, including (with Ronald Beghetto) the Four-C Model of Creativity.
Kaufman is a past president of Division 10 of the American Psychological Association. He has won many awards, including Mensa's research award, the Torrance Award from the National Association for Gifted Children, and APA's Berlyne and Farnsworth awards. He co-founded two major journals (Psychology of Aesthetics, Creativity, and the Arts; and Psychology of Popular Media Culture) and currently co-edits the International Journal of Creativity and Problem Solving. He has tested Dr. Sanjay Gupta's creativity on CNN, appeared in the hit Australia show "Redesign Your Brain," and narrated the comic book documentary "Independents". 
How do you describe your occupation?
I am a professor of educational psychology at the Neag School of Education at the University of Connecticut. My background is more in cognitive psychology (how people think). I study creativity – what it is, how to measure it, the positive outcomes, and how to nurture it. It sounds silly to both creative types and scientific types (the former thinks it's pointless and the latter think it's impossible), but my goal is to help creative people. If you can't measure something, no one (teachers, parents, colleagues) values it as much as they may say they do.
What is something about you that people might find surprising?
I am also a playwright and lyricist. My musical "Discovering Magenta" (music by Michael Bitterman) played NYC in 2015, and I've had many short plays produced all over the world. And I wrote a book with my Dad about terrible baseball pitchers.
What are you reading at the moment and what made you want to read it?
I just finished The Likeness by Tana French – she'd been recommended to me by several people because I love thrillers that are also a bit literary and the book did not disappoint (I also enjoy Kate Atkinson). I loved it and will be seeking out more of her work.
What was your favourite book as a child and why?
I tended to love series – so I read all the Wizard of Oz books by L. Frank Baum, all the Three Investigator books by Robert Arthur, and most of the Choose Your Own Adventure books by R.A. Montgomery. When I was 12, I saw the musical "Sweeney Todd" and instantly fell in love with it; I reread the libretto continuously (and still do, to a degree). I also loved the D'Aulaires mythology books.
"I study creativity – what it is, how to measure it, the positive outcomes, and how to nurture it. It sounds silly to both creative types and scientific types (the former thinks it's pointless and the latter think it's impossible), but my goal is to help creative people."
When did you fall in love with psychology?
My parents are psychologists (they write IQ tests) so I was exposed to it from a young age. I never thought I'd become one myself. When I was in college, I read Influence by Robert Cialdini, which felt like I discovered a secret manual on how to understand (and manipulate) people. Even then, I added psychology as a double major to go with creative writing, my true passion (I studied under novelist T. Coraghessan Boyle). But as graduation grew closer and I began thinking about practicalities, I went with psychology. I did grow to fall in love with it when I was mentored by Robert Sternberg at Yale and discovered you could study creativity!
What was the last book you purchased, and why did you buy it?
The New York Times' Book of the Dead by William McDonald – I have always been fascinated by obituaries and people's life stories, and it looks amazing. I also just picked up Box Brown's graphic novels on Tetris and Andre the Giant, as well as a book on Lord Lucan.
What advice would you give to a young aspiring psychologist looking to begin their career?
Do meaningful work that matters to you. That will vary from person to person, of course, so it's easier to raise cautions. My first work that got any attention was the Sylvia Plath Effect (eminent female poets are more likely to have mental illness than other well-known writers, as well as other highly accomplished women). It was something that the press picked up and it spread a bit. At first, it was cool and fun, but then I began to realize that it wasn't a good thing. Most people used it to either mock poets, mock psychology, or wonder if they were going to go crazy. It's easy to study topics that will either be controversial and get you attention or to do straightforward work that will get you a lot of publications. But at the end of the day, you probably won't feel good about it. Similarly, don't make your career about attacking the work of other people. When you look back on your career and accomplishments, you want to feel proud – not ashamed.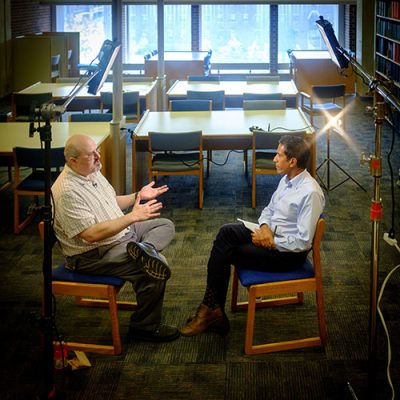 What book have you found most inspiring, what effect did it have on you?
Can I give two that I read within two months of each other? Passage by Connie Willis and Replay by Ken Grimwood. Both books are speculative fiction, with Passage about people studying what happens when you die and Replay exploring what would happen if you could go back and relive the last 25 years while retaining your memories. Both of them made me think about life in general – what has meaning and what does not have meaning, what I want to accomplish or experience in my life, and what ultimately matters.
What's the most obscure book you own; how did you discover it?
I may have ended up giving it to a friend as a gag gift, but I found a children's book in a used bookstore about the Donner Party. It was completely earnest and not ironic – it followed a little girl's doll and minimized the whole cannibalism aspect.
What's the best book you've read in the last six months?
This is a bit of a cheat because I read it about every two months, but Arcadia by Tom Stoppard (a play). Having seen it several times, I can focus on the language or finding connective threads I've missed. It's many different things in one. For one, it's the most accurate portrayal of academia I've found. It also weaves mathematics, Lord Byron, architecture, computer science, and many other topics that are not obviously theatrical. It's funny, romantic, profound, and tragic. Arcadia ponders whether an idea can ever be truly lost and gone forever, or it will eventually always resurface. It sounds like an intellectual question but is actually handled with quite a bit of emotion – and taps into some of my deepest fears.
"When you look back on your career and accomplishments, you want to feel proud – not ashamed."
What is your proudest achievement?
That I'm not the workaholic most people assume I am. My wife Allison and I have two great young boys (Asher and Jacob) and a menagerie of animals, and I am close to my family and a small circle of friends. I went to a good grad school, so an awful lot of former classmates and friends have become superstars. It helps put professional accomplishments in perspective. I'm finally at a point where I'm happy with what I've done and still love what I do, but work is not my primary source of meaning.
If you were trying to impress a visitor, which book that you own would you leave on the coffee table?
Being embarrassingly honest, one of my own books – either Creativity 101 or the Cambridge Handbook of Creativity.
If an alien landed in your garden, which three books would you gift them to showcase humanity in the best possible way?
Anne Frank: The Diary of a Young Girl, which shows that even in the worst of (human-made) circumstances there can be hope and beauty. Ragtime by E. L. Doctorow, which reflects the potential that we have for co-existing and thriving as a diverse species. Slaughterhouse-Five by Kurt Vonnegut, which shows that we can see time in a nonlinear way, an ability we will likely need to travel through space, thereby making us at least seem a little relevant (a thank-you to my niece Nicole for exploring the ideas behind the last one with me).
In the world of psychology, what current research studies are you most excited about?
There's a growing body of studies about how creativity can help equity and issues of social justice. I'm excited on both ends – creativity often plays second fiddle to intelligence or personality, and finding a way it can help humanity in its own unique way is important. And, of course, anything that can help people is good regardless of what it is.
Are there any books you haven't mentioned that you feel would make your reading list?
Bid Time Return (aka Somewhere in Time) by Richard Matheson. I love masters of the mystery/suspense/science fiction story. In addition to Matheson, that would include Robert Bloch, Rod Serling, Henry Slesar, Edward Hoch, plus contemporaries like Harlan Coben, Laura Lippman, Jeffery Deaver, and so many more. Poets such as T. S. Eliot, Emily Dickinson, W. B. Yeats, A. E. Houseman, and so many more.
Which book on your shelf are you most excited about reading next and why?
Life After Life by Kate Atkinson – loved her mysteries and everyone in my family has read and loved it. I'm saving it for when my brain has a little more room in it (although in answering these questions I am realizing how much I haven't read!).
Access the original post of this interview on The Reading Lists website.