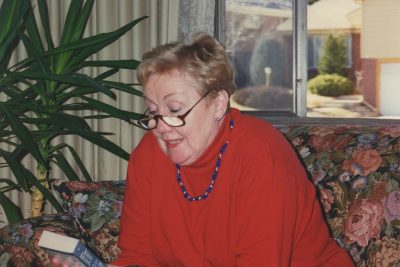 Scholarships undoubtedly remain an essential source of support for individual students, but in fact they can also set into motion a wealth of other positive outcomes beyond funding an individual's educational journey. One such student scholarship is the Vivienne Dean Litt Memorial Award — established in memory of the late Vivienne Dean Litt, former assistant director of the University Program for Students with Learning Disabilities (UPLD) at UConn.
Much like Litt herself, who inspired countless students during her tenure at UConn, the Litt scholarship has had a multidimensional impact over the years on the UConn community, as well as the community at large — from shaping future career paths to sparking research efforts that will ultimately strive to help students with learning disabilities and their families — all while paving the way for others to pay it forward.
Advancing Research on Gifted Children With Disabilities
Ashley Carpenter, a veteran schoolteacher and now doctoral candidate in the Neag School of Education's educational psychology program, is the Litt Scholarship's most recent recipient. Putting the funding toward finishing her Ph.D., she has a research focus on twice-exceptional children, or "2e" children — those who are gifted and also have one or more special needs or disabilities.
"This scholarship … takes the pressure off a little bit," says Carpenter. "As a graduate student, my husband and I live off my graduate assistantship and his salary. We have a child, so any bit of money will help our financial situation. It greatly alleviates stress."
"She touched the lives of so many people in the Neag School – faculty, staff, students. We wanted her to be able to continue to touch those lives."

— Martin Litt, son of the late Vivienne Dean Litt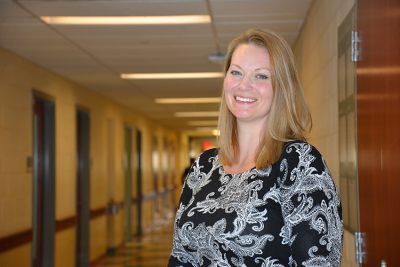 The scholarship itself, established to "promote and encourage the success of a student whose interests and character continue Vivienne's spirit and professional work with children and/or adults with special needs," is near and dear to Carpenter. Her son is twice-exceptional.
"We knew he was highly intelligent. Before he was 2 years old, he was talking like a 4-year old," she says. "Something would come out of his mouth, and adults would look at him, and say, 'Did he just say that?' He has ADHD and is about to be diagnosed with being on the spectrum."
Carpenter says she has found it challenging, as her son is capable of learning at such a high level, while his disability hinders his attention. He also has sensory issues. Luckily, through her doctoral program the Neag School, she works and conducts research with experts in this realm. In addition, she and her family live local to UConn, in Mansfield, Conn., where they have found knowledgeable, helpful educators.
Carpenter's decision to focus her doctoral research on 2e children was based on two things. Her son was one of them. She also has had many students during her 14-year teaching career — she estimates around 25 percent — who were in a gifted program, but considered underachievers.
Despite being identified by the state as having above-average ability, some of these students were still failing class. During her doctoral studies, Carpenter says, she has found very limited research on the topic. Ultimately, she hopes she can move the research forward in part to help parents like herself, who may feel isolated.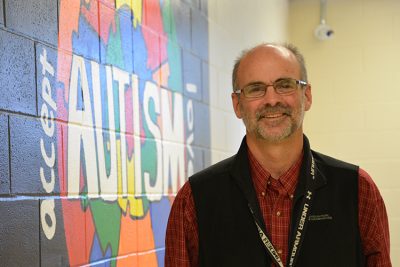 'If It Wasn't For Her, I Would Have Quit'
Sean Madden '88 (CLAS) first met Litt at UPLD (now the Center for Students with Disabilities) when he arrived in Storrs. Having begun his academic career at the Avery Point campus, Madden found the Storrs campus large and had difficulty focusing due to his learning difficulties. Once he connected with Litt, he says, "She made the campus small."
"She was very good with organizing my time," says Madden. "She helped me pull out what I knew and transfer it on paper. She helped me with the writing. She taught me how to organize myself for school. She would sit you down and counsel you through what you had to do, and then give a lot of tips on how to do things differently. … If it wasn't for her, I would have quit. She kept encouraging me."
Madden graduated and started teaching history, but his experience with Litt and others drew him to get certified in special education. "I got hooked on teaching special education students," he says. "I liked the relationship with the kids. In special education, we had small groups. I got to teach more subjects to a smaller group of students, versus just history."
Due to Madden's affiliation with the Avery Point campus, he has usually given financially to the campus, along with Avery Point baseball, until he recently received a phone call from a UConn student requesting his support through the UConn Foundation.
That phone call spurred a memory of Vivienne Litt. Deciding to see how he could give back in her honor, Madden came to discover the Vivienne Dean Litt Memorial Award.
"I definitely wanted to give to her scholarship in recognition of how much she helped me in college," he says. "Now that my kids are older, I wanted to give back. They are also interested in being teachers."

"Vivienne's joie de vivre and ability to see humor even in seemingly thorny events colored her approach to life and her work. [She] believed passionately that college students with disabilities had the ability to succeed and become independent."

— Joan McGuire, Former UPLD Director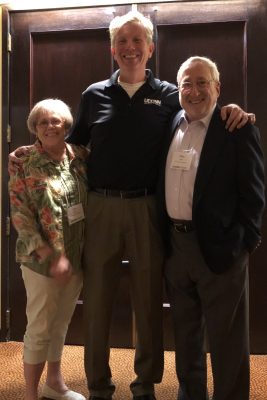 Litt's Far-Reaching Ripple Effect
Joseph Madaus, Neag School associate dean for academic affairs and director of the Postsecondary Disability Training Institute (PTI), now in its 30th year, also found vital support in Litt back when he was pursuing his doctorate at the Neag School.
"She was my first supervisor when I had a graduate assistantship at [UPLD]," says Madaus. "She was this wonderful personality … friendly and vivacious, a smart, brilliant woman. She was also very kind. She had this sparkle in her eyes when she would interact with people [and] this ability to support the students wherever they were in a given point in the semester, within a week or a day."
Litt built a lasting legacy, according to Madaus. "She believed in this whole group of students with learning disabilities who, at the time, were not widely accepted or  supported in postsecondary education."
Hundreds of these students supported by Litt who have since gone on to become teachers and influence others — Madden among them — are "having a ripple effect," Madaus says. "They are spread out around the country from higher education positions to different school district positions and, in terms of policy positions, they are carrying on [the work]."
Joan McGuire, former UPLD director, remembers how Litt's "unwavering belief in human potential undergirded her approach to working with students."
"Vivienne's joie de vivre and ability to see humor even in seemingly thorny events colored her approach to life and her work," McGuire says. "[She] believed passionately that college students with disabilities had the ability to succeed and become independent. She was uniquely talented as a learning specialist who could observe students in the learning process and accurately pinpoint skills that would play to their strengths and tap in to their perhaps yet unrealized creativity."
Meanwhile, UConn Emeritus Professor Stan Shaw, who created PTI and UPLD, draws parallels between Litt with Neag School alum Chris Dailey, Hall of Fame associate head coach of UConn women's basketball.
"The head coach or program director gets all the headlines, while Vivienne and Chris are in the trenches every day solving problems, supporting staff, and dealing with myriad details," Shaw says. "They are the 'mom' in the room making sure everyone is doing their job and, sometimes, correcting anyone who fell short of their optimum performance."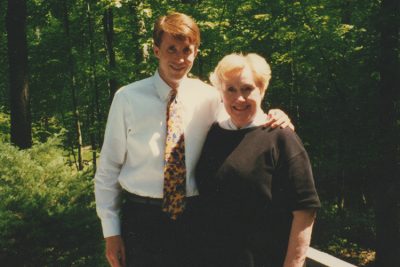 When Litt passed away in 1997, it was McGuire, as well as Litt's two sons, Martin and Matthew Litt, and fellow colleagues and friends, who founded the Litt Memorial Award in her honor.
"Watching how others reacted to her was so gratifying. People just lit up when they were around her and felt truly heard and valued," says Martin Litt. "She touched the lives of so many people in the Neag School – faculty, staff, students. We wanted her to be able to continue to touch those lives, and we wanted to support the opportunities that the Neag School provides."
Interested in supporting a Neag School student scholarship? Learn more here.