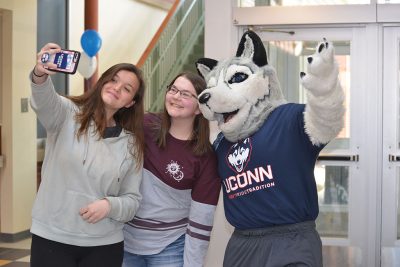 UConn's second annual Giving Day, a University-wide fundraising event held in March, raised more than $400,000 for the University of Connecticut as a whole — all within the span of 36 consecutive hours.
As part of the institutional campaign, each of the Neag School of Education's three departments, as well as its Alumni Board, promoted a specific Neag School-focused project, seeking contributions in any dollar amount from donors far and wide. In the end, gifts to these four education initiatives alone resulted in more than $22,000 in support for the Neag School.
"This was a months-long effort in the making, and we could not be more pleased with the outcome," says Neag School Dean Gladis Kersaint. "Our Neag School community, our Alumni Board, our Dean's Board of Advocates members, as well as the many generous supporters and friends of our School from UConn and beyond, have given us many reasons to celebrate. Our project leaders are thrilled to have inspired more than 400 individuals to choose our students and initiatives as deserving of support on Giving Day. A sincere thank-you to everyone who contributed to our causes."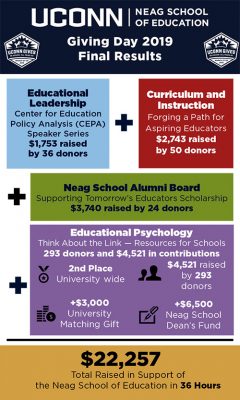 Education Policies in Action
The Neag School's Department of Educational Policy organized a project titled Education Policies in Action, focused on expanding the reach of the Center for Education Policy Analysis (CEPA) Speaker Series. The series brings experts from universities nationwide to campus throughout each academic year to speak with educators, community members, and researchers to discuss some of the toughest challenges facing education today. With 36 donors, the project raised more than $1,700 on Giving Day.
Forging a Path for Aspiring Educators
Forging a Path for Aspiring Educators, a project centered on defraying the rising costs associated with entering the profession of teaching, was spearheaded by the Department of Curriculum and Instruction. With more than $2,700 raised by 50 donors, the project will help to subsidize a variety of expenses facing UConn's teacher education candidates– from fees for required licensure exams to the transportation costs that aspiring teachers incur in community to local schools for their internships.
Think About the Link
A third Neag School-affiliated project, Think About the Link: Resources for Schools, sponsored by the Department of Educational Psychology and the Collaboratory for School and Child Health, sought donations that would assist schools in supporting child well-being through a model known as Whole School, Whole Community, Whole Child (WSCC). The production of toolkits funded through this effort will help schools link learning and health initiatives in order to coordinate services that support whole child success.
Think About the Link raised more than $4,500 on Giving Day and ultimately landed in second place University-wide for garnering nearly 300 contributions — the second-highest number of individual donors during UConn's 36-hour Giving Day campaign.
"Our Neag School community, our Alumni Board, our Dean's Board of Advocates members, as well as the many generous supporters and friends of our School from UConn and beyond, have given us many reasons to celebrate."

— Dean Gladis Kersaint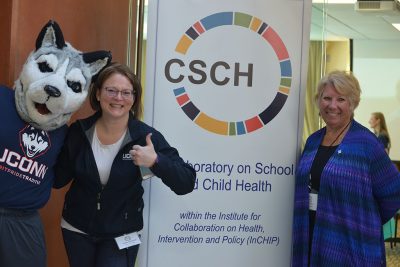 As a result, the project secured not only its 293 direct contributions, but also nearly $10,000 more in matching gifts following the campaign's final tallies. Coming in second place in the Giving Day overall leaderboard challenge earned the project a $3,000 University match. In addition, having scored the highest number of individual donations out of the four Neag School-based projects, Think About the Link received an additional matching gift of $6,500, generously funded by the Dean's Fund and several individuals serving on the Dean's Board of Advocates — all told, bringing more than $14,000 to support this specific cause.
Supporting Tomorrow's Educators
The Neag School Alumni Board also led a Giving Day project focused on raising funds for scholarships that will help graduate students in education at UConn, titled "Supporting the Passion and Talents of Tomorrow's Educators." In total, the effort raised nearly $4,000 with 24 donors during the 36-hour campaign.
"We are truly appreciative of the many supporters who came out to show that UConn is committed to the well-being of children and schools," says Sandra Chafouleas, Board of Trustees Distinguished Professor of Educational Psychology and director of the Collaboratory of School and Child Health. "The UConn Gives campaign was a great opportunity to bring together the many partnerships that the Collaboratory on School and Child Health has worked to build, with thanks to the Department of Educational Psychology for believing in the project and the Public Health House Learning Community and school psychology graduate students and alumni for being our boots-on-the-ground champions.  We are excited to continue our 'think about the link' work to help schools integrate learning and health initiatives."
Contributions to UConn came from donors around the world, via online giving, over the phone, through pledge forms, as well as from in-person contributions during events held across each of UConn's campuses over the course of the 36-hour Giving Day campaign.
Events in the Neag School's home Gentry Building in Storrs, including a two-day Think About the Link workshop, a CEPA Speaker Series event featuring Preston Green, and a tabling event in Gentry's atrium featuring Jonathan the Husky mascot, all brought together students, faculty, and staff in buoying the fundraising effort. With final results calculated, the University-wide campaign has officially broken all previous records for any UConn giving initiative.
Meanwhile, the University's annual Ignite fundraising campaign, a crowdsourcing campaign that engages students and alumni in raising money specifically for UConn student organizations, was held in tandem with UConn Giving Day. The Ignite campaign's first-place slot was secured by two Neag School-affiliated student organizations: Husky Sport and Leadership in Diversity (L.I.D.). The combined effort of these two student groups locked in first place for the second year in a row among all Ingite student organization fundraisers University-wide, raising more than $5,000 in donations. Having come in first place, they also will receive an additional $5,000 in matching prize money from UConn.
Read more about UConn's record-breaking 2019 Giving Day on UConn Today.