Great universities are built by talented professionals who dedicate their lives to making their institution a better place.
UConn Board of Trustees Distinguished Professor Scott Brown came to UConn as an assistant professor in 1980 fresh out of graduate school and never left because, he says, "he wanted to watch the University get better and better … today, it's an international powerhouse."
After almost four decades of dedicated service, Brown retired Aug. 1, with a ground-breaking career and legacy that will continue to influence the University for years to come. Neag School and University faculty, past colleagues, current and former students, friends, and Brown's family members came together earlier this month to celebrate him and his career.
"At UConn, we often think of coaches like Jim Calhoun and Geno Auriemma or visionary presidents like Phil Austin and Homer Babbidge as people who made our University great," says Richard Schwab, Raymond Neag Endowed Professor of Educational Leadership and former dean of the Neag School of Education. "However, I believe the unsung heroes, like Scott Brown, who truly make it great are a special type of faculty who dedicate their lives to their scholarship, teaching, mentoring, outreach, and service University-wide. Often, faculty will do great jobs in one or two of these areas. There are very few who do all aspects at a distinguished level over an extended career at one institution."
"Dr. Brown doesn't just teach how to effectively engage students; he does it. He walks the talk and practices what he preaches."

—Del Siegle, Neag School Associate Dean
for Research and Faculty Affairs
Brown's fellow colleagues and his former students and mentees praise him for the passion he placed into every role he took on.
Excellence in Administration and Research
An internationally known scholar, Brown was recognized as a UConn Board of Trustees Distinguished Scholar in 2014, the highest honor bestowed upon UConn faculty. Designed to recognize exceptional distinction in scholarship, teaching, and service to the University and community, the award to Brown represented "a body of 34 years of work" at the Neag School.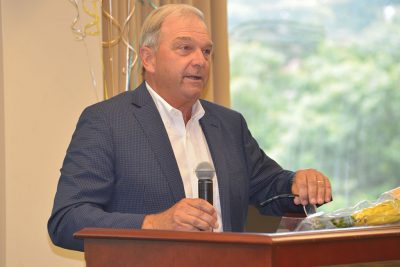 "My colleagues and students are great, and over the years, UConn has allowed me to take advantage of opportunities and grow right along with it," Brown says. Yet he admits that he always thought the award was out of reach because so much of the work he has done was behind the scenes.
A leader in learning and cognitive processing, among Brown's most notable accomplishments includes his work as one of the creators of the web-based GlobalEd2 (GE2) simulation program, which since 1998 has led to significant improvements in writing abilities, critical and scientific thinking, leadership, and problem solving among the more than 13,000 middle-schoolers from 14 states who have taken part in this interdisciplinary social studies game.
Also known for his work in Lyme disease education and scientific literacy in deaf and hearing-impaired students, Brown's research has led to him to write more than 120 scientific papers, three books, and numerous abstracts and book chapters. He's also presented at more than 250 conferences, advised 80 graduate students, and, throughout his career, collectively received more than $22 million in grants from the Centers for Disease Control and Prevention, National Science Foundation, U.S. Department of Education, The Carnegie Corporation, and other funding agencies.
Brown served as head of the Department of Educational Psychology (EPSY) at the Neag School from 1987 until 1994 and again from 2017 to 2019. He held other administrative posts, including director of the Teachers for New Era Project and director of the Bureau of Educational Research and Service, among others. He also was instrumental in designing and launching a new Dean's Doctoral Scholars program in the Neag School, and he served as the National Collegiate Athletic Association (NCAA) faculty athletics representative for UConn, reporting to the president of the University on athletics-related issues.
"We were fortunate to have had someone of his experience and dedication to UConn, Neag, and EPSY," says Del Siegle, associate dean for research and faculty affairs at the Neag School. "Scott's leadership helped all of us grow and made a difference in schools and our students' lives."
"His GlobalEd2 Project is a masterful example of national and international cooperation that has had an impact on young people around the world."

— Board of Trustees Distinguished Professor
Joseph Renzulli
According to Schwab, Brown "was the consummate team player — a leader, a follower, and challenger when needed; and a scholar, teacher, mentor who was loyal to the School and University at all times."
"The list of things he did to help us build the school into one of the top 21 public and private colleges of education during our time together was endless, but most important to me was when we needed the job done right in a high-stakes situations; Scott was the professor we turned to," says Schwab.
Colleagues across campus agree on Brown's positive impact. "Scott is generous in all ways. He generously shares his time, his experience, and his expertise," says Manuela Wagner, associate professor of German Studies at UConn.
Carol Polifroni, professor and interim Ph.D. program director at UConn's School of Nursing, says she is impressed with his presence, availability, and willingness to serve. "UConn and all of higher education would be greater places if we had more Scott Browns in our ranks. Service and advance of others are at his core," she says.
"Scott has been an effective educator because he has brought out the best in students, faculty, and others in the UConn community," says Edward Marth, former executive director of the American Association of University Professors from 1986 until 2011. "That is what an effective educator does, whether in a classroom or other setting: help people learn, incentivize them to learn, and have learning translated into actions which better the lives of others."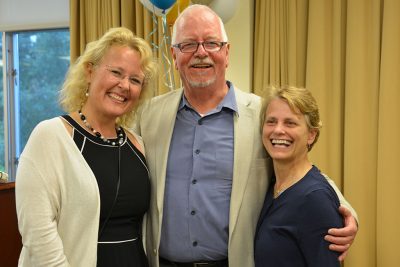 Outstanding Mentor and Professor  
Brown has been described by former students as a "presence that truly inspires," the "king of the teachable moment," and as a top scholar in the field.
"Everyone who knows Scott will attest, he always puts his students first, and he is a remarkable advisor and mentor," says Schwab.
The millions of dollars in grant support that Brown has generated over the years have also supported graduate students. His graduates include distinguished professors and visionary administrators at such prestigious places as Penn State, the United States Army Medical College, as well as top-rated universities in Taiwan, China, South Africa, and Colombia. 
"Dr. Brown doesn't just teach how to effectively engage students; he does it. He walks the talk and practices what he preaches," Del Siegle says. "And if he sees a better way for the University to do something, he's willing to take risks and change practices. He has supervised innumerable independent studies to fill academic voids in students' plans of study and, when a need arose, created new courses. His service to his field and UConn is unparalleled."
Many of Brown's advisees note a particularly meaningful gesture offered to them by Brown and his wife, Margie. The pair would invite graduate students to spend Thanksgiving at their home, with Brown's family and their dog, Hunter. "They are the kindest people who always make us feel welcome," says Sheila Song, a Ph.D. candidate in Cognition, Instruction, and Learning Technology (CILT) and a former graduate student of Brown's.
"It was this dream team of Scott and Margie that helped us survive graduate school," says Paula Dagnon, Brown's former advisee, who now serves as the director of instructional technology at Woodring College of Education.
"He is always the first one to send us a note of congratulations after every successful academic semester and also when we win championships."

— Nancy Stevens, UConn field hockey head coach
Renowned Scholar
One of Brown's most notable and recognized projects was co-leading UConn's GlobalEd2 (GE2) program. With more than $4 million of support from the U.S. Department of Education's Institute of Education Sciences since 1998, the project has resulted in significant improvements in writing abilities, critical and scientific thinking, leadership, and problem-solving for thousands of middle-schoolers.
"GlobalEd integrates all the missions of the research university: research, teaching, and service/outreach," says Mark A. Boyer, Board of Trustees Distinguished Professor of geography at UConn. "It's why so many people get excited about the project and why it has endured for so long in so many forms."
Joseph Renzulli, also a UConn Board of Trustees Distinguished Professor, recognizes Brown's impact through the project. "His GlobalEd2 Project is a masterful example of national and international cooperation that has had an impact on young people around the world," he says. "He respects the work of others, is always available to offer friendly suggestions and encouragement, and knows how to spread the word about his GlobalEd2 Project in creative and effective ways."
Brown's collaborative GE2 project has been teaching students around the world how to solve problems and think critically. "Hundreds of students in lower-income communities were able to experience having education with technology for the first time, if not only time, and many students were able to actively connect to other students in a way that represents how globally connected we are," says Addison Zhao, a 2016 graduate of the Neag School's CILT program.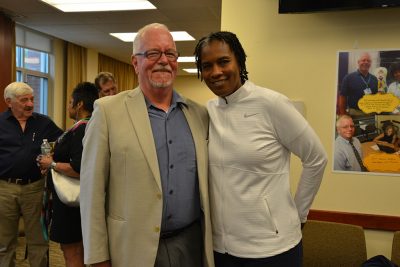 Athletics Service, Above and Beyond
When offered the position as UConn's NCAA faculty athletic representative almost 20 years ago, Brown found a way to balance the role along with being a department head, a professor, a holder of two federal grants, a husband, a father, and a grandfather.
"I have learned so much about college athletics and so much more from the coaches, the administrators, the student-athletes, all those that are associated with college athletics competing at the highest level to develop young men and young women to be successful in their chosen professions, their personal lives and leaders in their community," Brown says.
Tasked with guaranteeing that student-athletes' voices were heard and that NCAA updates were communicated with coaches and faculty, Brown aimed to guarantee that student-athletes had a holistic experience and were able to pursue their goals beyond their college athletic career.
"His care and concern for the student-athletes is always at the forefront of his decision-making regarding student-athlete issues," says Randy Edsall, UConn football head coach.
Brown is also recognized not only for his Husky pride and his constant support at UConn athletic games, but also for going beyond his role as an NCAA representative to connect with student-athletes and provide his overarching support to UConn athletic teams. "He plays such an active role in [student-athletes'] lives," says Ellen Trip, associate athletic director at UConn. "He attends their games, meets with them in the recruiting process, talks to their teams, and is always willing to talk with them individually about their goals."
"He is always the first one to send us a note of congratulations after every successful academic semester and also when we win championships," says UConn's field hockey head coach, Nancy Stevens. "He has taken a personal interest in the academic and athletic success of our student-athletes."
Celebrating Brown's Legacy
Earlier this month, Brown's colleagues, family members, students, friends, and fans came from far and wide to celebrate his retirement and to offer congratulations for his next chapter in life. A special gathering, held in the Gentry Building where he spent the past 39 years, featured remarks by colleagues and Neag School administrators that brought tears of laughter and warm memories about Brown.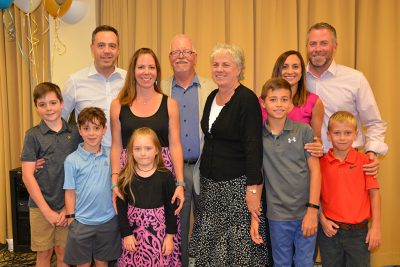 Reminiscing at the event about his 39 years, Brown shared how "fortunate he was to watch up close the revolution of a very good regional UConn in 1980 into a national and international university of scholars, leaders, students, and much more."
"It has never been the buildings – though they are much improved since the 80s — but the people: faculty, administrators, leaders, students, and staff; in short, the UConn community, who gave a young but eager 27-year-old newly minted Ph.D. the opportunity to learn, grow, and become a part of the UConn community – then and especially now," said Brown.
He gave special thanks to faculty, students, and staff he worked with over the years, including five deans and several University presidents. He also thanked his family members, including his children and grandchildren, and his "life partner and love of his, Margie."
"You all have put up with dad missing family events, dad working on something when I should have been with all of you, especially Margie," he said.  "I am so very happy that you are here today – and Margie, without your support, encouragement, forgiveness, and love – I could never have made it. You are my strength and happiness. I am looking forward to our less cluttered lives going forward together now that we are both retired."
He wrapped up his remarks by thanking those in attendance and for those who recently supported the Brown family scholarship, a fund, he says, that "enables all of us to pay it forward and help other educational psychology students through their education."
Check out photos from the retirement celebration. 
In honor of Scott Brown's longtime service at UConn, consider contributing to the Vernon and Elizabeth Brown Fund.