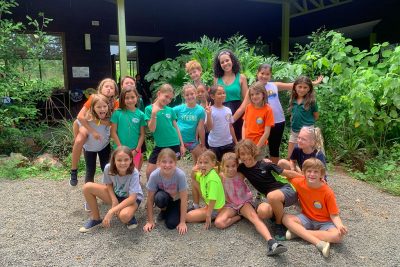 Editor's Note: Kiana Foster-Mauro '20 (ED), '21 MA, currently a student in the Neag School's Integrated Bachelor's/Master's program with a concentration in elementary education, shares a glimpse into her time spent abroad, volunteering this past summer at a school in Costa Rica.
This past summer I had the amazing opportunity to travel abroad to Costa Rica, where I spent six weeks living with a host family and volunteering at a local PreK-12 dual immersion school, La Paz Community School.
La Paz operates very differently from any other school that I have worked at or observed. As a two-way dual immersion school, students are immersed in both Spanish and English. Students spend about 50% of their day in each language with the long-term goal of developing biliteracy. In addition to experiencing a different style of education, this was my first time out of the country. I was incredibly excited to see another part of the world and learn from that country and its people.
"I will carry the methods and tools that I witnessed and used at La Paz with me for the rest of my life."

— Kiana Foster-Mauro '20 (ED), '21 MA
I am definitely a homebody, so going abroad was a big step outside of my comfort zone. However, I can easily say that being able to stay with a host family during my time in Costa Rica made it so much easier! My host family was absolutely wonderful. Staying with a host family gave me an opportunity to practice my Spanish every single day and to see Costa Rica authentically through their eyes. They welcomed me into their home, and I left Costa Rica knowing that I will always have a Tico (a colloquial term used to refer to the Costa Rican people) family.
I spent my time at La Paz in a third-grade classroom. They were such a fun, diverse group to work with! La Paz has a strong international presence as well as a local Costa Rican presence, so the classroom population was pretty diverse. In just my classroom, there were students from Portugal, Canada, all across the U.S. (from New York to California), and Costa Rica. One of my students even spoke four languages! This mixture of cultures, languages, backgrounds, and experiences made every day such a rich learning experience.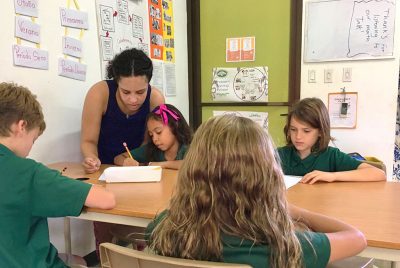 My time abroad in Costa Rica and at La Paz came the summer before my senior year at UConn and my student teaching experience. I cannot explain how grateful I am to have had this opportunity prior to actually student teaching. At La Paz, and while visiting the Guanacaste Waldorf School as well as a local public school, I had the chance to observe and take part in styles of education that are very different from what is often practiced here in the U.S. I was also able to experiment in the classroom a bit more.
The Guanacaste Waldorf School follows the educational philosophy developed by Rudolf Steiner. This philosophy is deeply rooted in developmental theory and takes on a holistic approach. Students learn through methods that develop their intellectual, artistic, and practical skills. Creativity is also a central focus. While observing at the school, we saw children learning math through knitting and French through cooking, as well as developing their own textbooks. We visited the local public school during a time when teachers were on strike, seeking better protections and benefits. It was very interesting to speak with them and hear their perspectives.
La Paz is where I spent the vast majority of my time while in Costa Rica. As a La Paz volunteer, I was there for the full school day, five days a week. During my six weeks volunteering in the classroom, I got the chance to lead multiple lessons, take over small groups, and lead my own guided reading group. At one point, I was even able to fully take over the class for a few days while the teacher I was paired with was away. Watching the kids that I worked with process their world, communicate with one another and with adults, and learn fluidly in two different languages every day was incredibly inspiring. Their persistence, patience, and desire to be innovative leaders in all aspects of their day speaks to the strength of La Paz's pedagogy and community.
"We saw children learning math through knitting and French through cooking, as well as developing their own textbooks."
Although I most likely will not end up teaching in a two-way, dual immersion school in the future, I will carry the methods and tools that I witnessed and used at La Paz with me for the rest of my life. Bilingual partners, color-coding languages, and a focus on mindfulness are all great resources that can be extremely helpful when working with English Language Learner (ELL) students, as well as for creating the caring, supportive, and enthusiastic learning environment that I experienced at La Paz.
Looking ahead into this upcoming academic year, I am extremely grateful to have had the opportunities and experiences that I had while abroad in Costa Rica. I pushed myself far beyond my comfort zone in so many different ways. I know that personal and professional growth that I experienced during my six weeks in Costa Rica will continue to influence and challenge my way of thinking and teaching for the rest of my life. Costa Rica and La Paz will always have a piece of my heart!
Learn more about education abroad opportunities for Neag School students, and about the Neag School's global education scholarship.