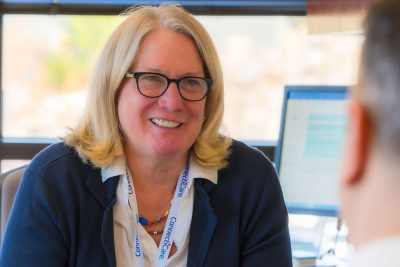 In our recurring 10 Questions series, the Neag School catches up with students, alumni, faculty, and others throughout the year to offer a glimpse into their Neag School experience and their current career, research, or community activities.
Former UConn women's basketball player and recreational therapy graduate Bert Wachtelhausen '81 (ED) has shaped a thriving career combining skills she honed as a Division I athlete with her longtime interests in physical health and helping others. Climbing the corporate health insurance ladder in what for many years remained a male-dominated industry, Wachtelhausen has long since shattered the glass ceiling to excel as a senior executive who now serves as president of startup WellSpark Health.
Wachtelhausen, named Chief Marketing Officer of the Year in 2019 by Hartford Business Journal, also dedicates time to serving the community – as a board member, volunteer, and leader of such projects as ConnectiCare's first women's-only build for Habitat for Humanity Hartford.  This spring, the Neag School named Wachtelhausen its 2020 Distinguished Alumna.
You have a lot of teachers in your family. Did you initially think you might be a teacher? When I was very young and watched my older brothers all go to Central Connecticut State University and become elementary school teachers, naturally I thought I'd do the same thing.  However, when time came to decide where I'd go to college and what degree I'd pursue, I had an itch to do something different. Being an athlete, physical education and coaching interested me, but I knew I didn't want to teach physical education. I considered a degree in physical therapy and had the opportunity to visit Gaylord Hospital in Wallingford for a career day. I spoke with someone there who said, "There's something we do here called therapeutic recreation, and it shoots the gap between physical education and physical therapy. The only school in the state that offers it as a major is UConn." I said, "That's it."
"Have a thick skin. Be brave. Listen carefully and find opportunities to add value."

— Bert Wachtelhausen '81 (ED),
Neag School 2020 Distinguished Alumna
My time in recreational therapy and the lessons I learned at the Neag School were all about learning how to instruct and coach others by taking something complicated for a person with a disability to do and breaking it down into really small bites so they could see progress and improvement in their endeavor, whatever it was. I apply those same techniques in my vocation. Health insurance, with all its regulation and actuarial complexity is difficult to learn, and I'm able to break things down into small bites and teach and coach others to be successful at it.  When I coach others to sell health insurance or when I pitch to a prospect myself, I'm teaching big concepts in small lessons and helping someone understand complex products, so they can know what's right for them. The skill base of being a teacher, I'm still using every single day with my teams and in the market.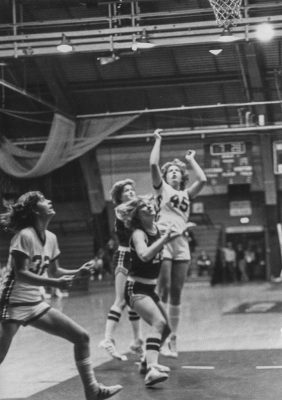 How has your student-athlete experience trickled into your career? It's been much more than a trickle; in fact, it has been at the very core of everything I do: how I manage my team, how I prepare for meetings and presentations, it all has its roots in athletics and being a student-athlete. The things you learn from being a student-athlete — time management, discipline, coaching — I also use in managing my team. If you think about it, sales require strategy against a competitor. It is preparing to win in performance or with a game plan. We study the competition. When we go head to head, we practice, rehearse, and prepare. We study why we win and why we lose, just like a coach and a team would study film. I bring all that rigor and thought process into business.
Also, in team sports — like teams in business — you need to make sure everybody has a clear view of the role they play on the team. It's a machine that must work well. When I build my teams at work, I spend time making sure that everyone feels good about what they're doing, has the right skills to do the job, and is trying to perform at a high level. Coaching every single link in the chain becomes very important to the overall strength of the chain itself. I spend time on making sure the little things work well, and that people feel good about what they do and how they contribute.
Having entered the sales industry during a time where it was a very male-centric space, what advice you would give to women who want to smash the glass ceiling like you have? Have a thick skin. Be brave. Listen carefully and find opportunities to add value. Deliver.
You can't mandate acceptance by others just because you may outrank them. You must earn respect and gain acceptance over time. I listened for opportunities and when no one stepped forward to take on difficult or "hairy" projects, I did. I was the first female sales manager for Cigna in New York in my mid-30s and everyone who worked for me was an older man. When I was tapped to take that assignment, I knew it would be rough. But I just felt like if somebody had to be the first woman to go to New York, I wanted it to be me. I had this burning desire to prove to people that a woman could be successful in this assignment. It was like, "OK, bring it on."
"The things you learn from being a student-athlete — time management, discipline, coaching — I also use in managing my team."
When I went to New York, I wanted to change perceptions of what women were capable of; that we could do more than customer service or administrative work. It took time, but that slowly began to happen. When I was with my all-male sales staff and they introduced me to insurance brokers in the market, the brokers would think I was "Charlie's new girl, his secretary." I would just smile and politely correct them. "Nice to meet you! Actually, I'm Charlie's boss. He works for me." I must admit, being 6 feet 3 inches in high heels didn't hurt, either.  
Where do you think you got that strength? My parents and my older brothers. My parents never, ever said that I couldn't do things just because I was a girl, so it was never part of my mindset. I was encouraged to participate and get involved in any activity that interested me. It certainly helped that I was a good athlete. I always looked up to my older brothers and wanted to play sports with them. To do that, I needed to hold my own as an athlete and be strong as a person. That experience gave me strength and resilience to stay the course despite occasional mistreatment or exclusion along the way.
Your family, friends, and colleagues talk about how willing you always are to give time to others and go above and beyond in helping those you care about. What drives that when you're obviously a very busy person? Where does that come from? I find that helping people is extremely rewarding and satisfying. It feeds my soul. I also think that sharing the bounty of what I have — knowledge, experience, advice, perspective — is important. I feel it's important to share the good and help people along the way. Other people helped me, and now it's my turn to pay it forward. The people in my life are my family, and families help each other. You get so much goodness back when you give of yourself. I believe you reap what you sow.
You've long been passionate about Title IX. Can you tell me more about that? When Title IX was passed, I was a freshman in high school. The girls' teams were always second class; we never had prime gym time and always had to work around the boys' schedule. For basketball practice, we only could use half the gym, which was separated by a removeable wall divider, so the boys could still use the other side.
The day after Title IX was passed, I remember it vividly; I was in the bleachers waiting for practice, and the wall divider started to move across the floor to divide the gym in half, just like it did every other day. Two women coaches ran out from their offices yelling, "Oh no, no, no, this is a new day. The door stays open. Welcome to Title IX."  They retracted the door, and the whole gymnasium opened for us to use. Natural light flooded in through the windows. At that moment, pulling back that wall became a metaphor for what was happening in real life.
"The experiences that came with playing sports impacted me deeply and shaped who I am today. I want to make sure that today's generation of young girls has the same opportunity that I had."
That event became pivotal to what came next for me and for many other young girls. We were now afforded the opportunity to experience sports at the same level as boys. The experiences that came with playing sports impacted me deeply and shaped who I am today. I want to make sure that today's generation of young girls has the same opportunity that I had, and it worries me that free recreational sports programs are disappearing. For many years, I've had a vision of forming a community of women my age, former athletes who are standing on the shoulders of Title IX, to create the means to pay it forward to the next generation who may have financial barriers that keep them from participating.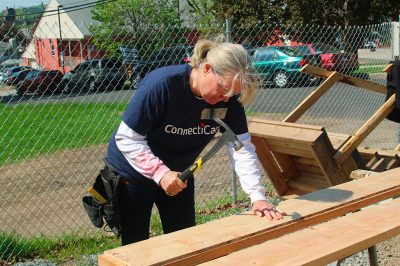 Even being at the pinnacle of your career, are there other goals you see ahead of you? Right now, I am running this company called WellSpark Health and bringing to life a vision that I've had for about four or five years. I'm not done until I can see that come to life. I've watched my staff work with clients to transform their health and change their lives for the better.  I'm in the process of scaling that good work into a national business. I've joined some boards of organizations that are focused on helping young women thrive. I'm in a "pay it forward" phase in my life, and I will continue to seek projects that fulfill that mission for me.
How do you see WellSpark Health's work in helping companies to have healthier workforces coming together? How do you sell that? Why is it important? WellSpark has a nontraditional model for keeping employees healthy and productive. Most workplaces focus on an employee's physical health, and traditional wellness programs are built around activities like getting flu shots and screenings in exchange for a monetary incentive. Our programs are focused on the bio-psycho-social aspects of a person's life and how that impacts physical health. We try to help people solve for the things in a person's daily orbit — the everyday stressors of life — that may be impacting their physical health. Everyone has a very personal circumstance for what's standing in the way of living a healthy lifestyle. We help people realize their 'why or why not?' and get them on a good path. It's a new approach to wellness, disease prevention, and psycho-social support.
We also help people who have been diagnosed with a chronic disease, such as type 2 diabetes.  Most people self-manage their chronic disease day in and day out, all by themselves. Our nurses and health coaches are trained in giving people with chronic disease ongoing education and emotional support, so they can stay on track. Over time, this helps people stay out of the hospital or avoid expensive medications.
WellSpark's brand name captures the essence of what we do. We're focused on finding the emotional spark that will make a meaningful difference in a person's bio-psycho-social world and getting them on a path to a meaningful and healthy life.
Personally, with your own employees, how do you make sure they're taking care of themselves? Working in a startup can be stressful. We work at a very fast pace and must nimbly change direction when we see opportunity. Not everyone thrives in that kind of environment. We've adopted a cultural pledge that came from my employees themselves. It states that for us to serve our clients and keep them healthy, we need to be healthy ourselves. This means pledging to keep our workplace positive, it means taking care of our whole selves, and it means staying balanced with work and family. As a workforce, we pledge to practice what we preach, and we hold each other accountable to do that.
One of your colleagues calls you a 'unicorn' for what you have done in and beyond the workplace; she describes you as someone who always considers the well-being of others, doesn't judge people, and always gives 100 percent. I am fortunate to work for a company that aligns with my personal values. At ConnectiCare and at WellSpark, we believe in the power of community and feel accountable to the residents and business owners in the state of Connecticut, and across the country. As a leader in this company, I believe that with great gifts comes great responsibilities. Yes, I am competitive, and I want to win. But I believe that you can do all that and treat people very well along the way.  I believe in the Golden Rule, I practice random acts of kindness, I believe in the power of team and in the power of women to achieve great things. If that's a rare sighting, then maybe the world needs more unicorns.