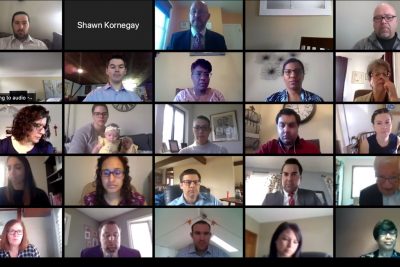 Neag School students completing the UConn Administrator Preparation Program (UCAPP) this spring presented their change projects — the program's signature capstone assignment, in which students identify a need or opportunity for school improvement and work toward positive change — during the 6th Annual Change Project Day.
The program, designed to prepare school leaders to serve in the state of Connecticut, last month brought together 23 students to share their projects and field questions from alumni and fellow cohort members during presentations held via a Zoom web conference call.
Change Project Day provides the opportunity "to celebrate our students' UCAPP two-year leadership journey," says Richard Gonzales, associate professor-in-residence and director of Educational Leadership Preparation Programs in the Neag School. The projects, he adds, serve as a "capstone assignment that provides an authentic opportunity for our students to apply what they have learned, and to lead improvement around an area of need in their internship or home school."
Gladis Kersaint, dean of the Neag School, shared words of encouragement with the UCAPP grads and their guests during the online event. "The Class of 2020 will go down in UConn's history as nothing short of unforgettable, with everything that has transpired over these past few months," she said. "Your perseverance has been extraordinary, but even beyond that, what's just as commendable is your enthusiasm about wanting to become capable leaders when the world is in greater need than ever before."
Responding to the Pandemic: 'A Real-Time Case Study'
While the Change Project Day normally would have occurred on the UConn Storrs campus, the coronavirus impacted that as well as the program's spring semester, including the launch of UCAPP 3.0, the third-generation design of the program.
"Due to the pandemic, our students had to deal with significant changes to their personal and professional realities in addition to managing the demands of UCAPP."

— Richard Gonzales, Director, Educational Leadership Preparation Programs
UCAPP had redesigned its program, introducing changes that went into effect this past July, through a nationwide $48.5 million four-year partnership program funded by the Wallace Foundation. UConn is one of seven universities participating in the initiative, aimed at improving training for aspiring school administrators. As part of UCAPP 3.0, students will now have leadership coaches guiding them in planning and strategizing their change projects. The coaches, like the program's mentors of the past, will continue to be selected from among current and retired principals and school administrators.
In response to the pandemic, all UCAPP courses continued without interruption, shifting to a distance-learning format. Instructors adjusted syllabi to incorporate discussions about leadership in K-12 public education in the face of unprecedented change.
"The crisis served as a real-time case study for analysis, discussion, and reflection," says Gonzales.
The bigger change occurred in the area of the practicum, or internship. With schools closed, Year 2 students who presented in April could not bring closure to their school improvement initiatives (i.e., change projects). As a result, some students had to report limited, or 'in progress' outcomes, according to Gonzales. 
Leadership coaching also shifted to a distance-learning format. As with the coursework, UCAPP leadership coaches used examples of school/district responses to the crisis as a case study for discussion about effective school leadership practices.
"Due to the pandemic, our students had to deal with significant changes to their personal and professional realities in addition to managing the demands of UCAPP," says Gonzales. "Similarly, our faculty (instructors and leadership coaches) had to plan to support student learning differently and use technology to teach online."
"All of this happened within a few weeks, and it honestly went as smoothly and positively as realistically possible. This speaks to the high capacity, professionalism, character, and commitment of everyone involved," he says.
Learn more about the University of Connecticut Administrator Preparation Program (UCAPP).