This summer marks one year since the Neag School's University of Connecticut Administrator Preparation Program (UCAPP) began implementing changes as part of a nationwide effort known as the University Principal Preparation Initiative (UPPI). In 2016, UConn was one of seven universities selected to join this initiative, funded by New York City-based Wallace Foundation, aimed at improving training for aspiring administrators. The Wallace Foundation prioritizes practical training to ensure that principals have the knowledge, skills, and judgement required to lead successful schools.
UCAPP underwent a series of self-study, visioning, planning, and administrative procedures to bring the newly designed program to life beginning in July 2019. Within the first year of UPPI's implementation, Richard Gonzales, director of the Neag School's Educational Leadership Preparation programs, says the collaboration and conversation involved with this new model rapidly increased students' skills and capacity.
"More today than ever, the social fabric of the reality of what's happening in society and in communities matters in schools."

— Richard Gonzales, director,
Educational Leadership Preparation Programs
"We don't know yet what the candidates look like when they finish the whole cycle," says Gonzales. "We've only taught them half of the program, and yet we are able to see them being able to do things halfway through the program that is at, or even exceeding, what other groups could do."

A History of Partnership
UCAPP began building relationships with Connecticut school districts in 2012 when Hartford Public Schools expressed interest in a partnership to strengthen its principal candidate pool. Gonzales says they designed a restructured program that prepared principals for what they should know and be able to lead effectively in the Hartford Public Schools. New Haven Public Schools underwent a similar restructuring with UCAPP, beginning a close and long-standing partnership.
One of the goals of the Wallace Foundation was to expand district partnerships where UCAPP graduates will lead schools. Beyond that was the need to redesign the curriculum and assessment plan, which appeared disjointed, along with the internship portion of the program. Meriden Public Schools thus joined as a partner for UConn's UPPI project.
"Going through UCAPP is just as rigorous as it ever was, but I think that, on our side, we have organized a differently thoughtful and differently meaningful experience that fits what it is to be a principal," says Gonzales.
Changing Curriculum
Prior to receiving the Wallace Foundation funding, the UCAPP curriculum aligned with the topics administrators are required to know in order to be certified.
"Now, it's, not about what topics we must cover," Gonzales says, "but what must a principal know and be able to do, and what kind of judgement do they actually exercise in applying the knowledge and skills."
Rather than focus on the narrow topic of teacher evaluations, for instance, UCAPP has expanded its focus to the broader competency of talent management. Redesign of the coursework also focused on instructional leadership and organizational leadership, shifting from other discrete topics such as school improvement, curriculum, and school climate.
"It didn't make sense to teach those narrow topics anymore," says Gonzales. "We need to teach those concepts in the context of broader practices that matter out in the real world."
An essential aspect to the program redesign was developing a "spiraling" curriculum, where competency areas would be revisited throughout the two years, rather than only being covered in a single course. Students are then able to make connections between concepts, especially as ideas discussed in class relate to their internship experience.
Foregrounding issues of social justice and equity in the program curriculum was also a huge part of the redesign, and one UCAPP is still working to improve.  

"More today than ever, the social fabric of the reality of what's happening in society and in communities matters in schools," says Gonzales. "You can't do the work of school leadership without understanding the kinds of things that matter to helping students and families in their situations."
In the midst of determining how to best implement social justice and equity in the new curriculum, Gonzales says the program needs to improve at connecting the dots between those ideas and principalship work. Student feedback shows that they understand the importance of equity but are unclear on how to put systems into place that create change. 
"The students are telling us what's working for them and how we can get better; that never used to happen before," says Gonzales. "This new design has created a lot of conversation and feedback loops."
"What matters to the principalship is that you understand and value that you are getting better, and you are constantly being aware of what works and what doesn't work — and adjusting accordingly."

— Richard Gonzales
Papers to Projects
Prior to the revamp, students were assigned final papers to demonstrate their understanding of the readings and theories covered in class. The new efforts to engage students in practice required a shift from the traditional paper assignment to a project-based assessment approach. The projects are done independently, over the course of multiple semesters. They are designed to engage material learned in class and in the internship, so that students can demonstrate that they have the knowledge and skills needed for principalship.
"It's much more practice-based and more of doing the work of the principalship than it was before," says Gonzales.
The changes in assessment bring an increased awareness of each student's strengths and weaknesses. While a paper can demonstrate understanding, the projects provide a more concrete way to assess students' progress in key areas of leadership.  
"When they practice, we can show what they can do and what specific areas they can improve on," says Gonzales.
Internship Redesign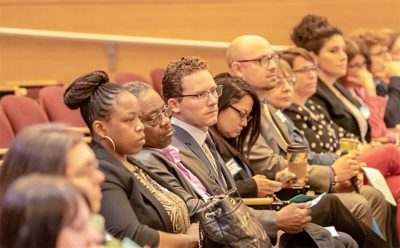 Students in UCAPP complete a 12-credit internship over the course of two years, engaging with a Connecticut school community and building relationships with veteran school principals. The internship has always been a component of the program, but now there is a greater focus on getting feedback and utilizing the feedback in practice rather than simply completing the required credit hours.
Each student is also assigned a leadership coach, a former school administrator who assists in connecting the material learned in class to the internship experience. The coaches work closely with the student to monitor their progress and set goals for improvement.
The ability to receive and respond to constructive feedback is vital to principalship. The internship and leadership coaching opportunity allows students to gain a new perspective on their performance.
"What matters to the principalship is that you understand and value that you are getting better, and you are constantly being aware of what works and what doesn't work — and adjusting accordingly," says Gonzales.
Building Strong Leaders
With the support of the Wallace Foundation, UCAPP has undergone a holistic transformation. The newly designed program prioritizes competency areas and real-world practice over theoretical knowledge, allowing students to improve based on their individual leadership development plans.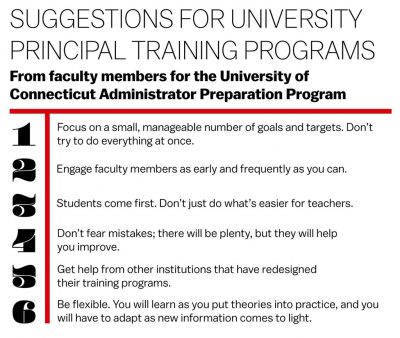 When asked whether UCAPP graduates are prepared to lead schools amidst the uncertainty brought by the COVID-19 pandemic, Gonzales says they as well prepared as anyone from any other preparation program in the country.
"We think about how to support students' learning, and teachers' learning and improvement," says Gonzales. "I think those things transfer into their careers, and it puts them in a position to adapt to whatever they will face."
UCAPP was among hundreds of university preparation programs invited to apply for the Wallace Foundation initiative. Their successful planning and implementation of a newly designed program earned them a profile series on the Wallace Blog, showcasing their progress and their goals for future improvement. The RAND Corporation is also conducting an independent evaluation of the initiative; the report is slated for release next year.
"The Wallace Foundation is the vanguard of principal knowledge and practice in our field," says Gonzales. "UConn is right there in the center of the work towards changing the field in the next 10 to 20 years."
Read each installment from the Wallace Foundation Blog series highlighting UCAPP's success as part of UPPI: