The Neag School of Education and its Alumni Board are delighted to announce the 2021 Neag School Alumni Awards honorees. Six outstanding graduates will be formally recognized at the School's 23rd annual Alumni Awards Celebration on Saturday, March 13, 2021.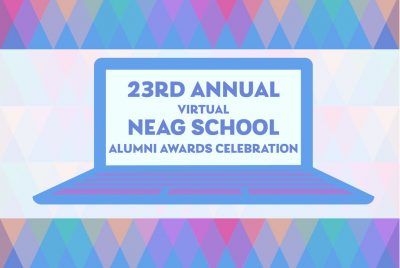 Outstanding Early Career Professional
Maria Enrique '16 (ED), '17 MA
A graduate of the Neag School's Integrated Bachelor's/Master's Program, Maria Enrique today is an eighth-grade math teacher at Ellington (Conn.) Middle School known for her welcoming energy and student-centered, innovative teaching. Within her first three years of teaching, she has actively taken part in events, professional development opportunities, and other activities that are making a positive impact on the community in numerous ways. In support of students at Ellington Middle, Enrique advises a statewide student math competition and an after-school study skills club, serves as a track and field coach, has established a summer school math program and a homework help club, and has chaperoned several student trips beyond the traditional classroom. She also has presented to hundreds of math teachers from across the state, while also seeking out ways to share her insights and experience with pre-service teachers, including current Neag School students.
Outstanding School Educator
James Wildman '05 (ED), '06 MA
In addition to supervising and evaluating a staff of 19 fellow world languages educators at Glastonbury (Conn.) High School, James Wildman serves as head teacher for the school's Foreign Languages Department. He teaches Spanish, advises for the Model UN and Foreign Language Honor Societies, and has coordinated student study abroad programs in Spain, Costa Rica, Russia, and China. He also has been instrumental in securing funding for the district through a federal grant program that supports the teaching and learning of languages. Presenting at state, regional, and national levels, Wildman has continued to share his expertise with practicing teachers amid the pandemic through presentations on creating virtual classrooms and using digital choice boards. An award-winning educator, a leader in state and regional foreign language associations and workgroups, as well as a member of the Board of Directors for the Northeast Association for the Teaching of Foreign Languages, he continues to advocate at all levels for language learning.
Outstanding School Administrator
Lauren Rodriguez '03 MA, '06 6th Year
Lauren Rodriguez has served since 2013 as principal of Southeast Elementary School in Mansfield, Connecticut. There, her compassionate leadership and supportive approach to engaging with all members of the school community has fostered an inclusive environment that has ultimately earned the school recognition numerous times as a Connecticut School of Distinction. From implementing enrichment clusters for students to integrating positive behavior supports to allow for healthy social and emotional development, Rodriguez is known for having built strong and positive relationships with teachers as well as parents. She has proven herself not only as a leader, but also as a hands-on collaborator, having, for instance, co-written the district's grade-level benchmarks for 21st century learning and led the professional development rollout for three district elementary schools. Over the years, Rodriguez also has remained closely engaged with the Neag School community, including as a mentor in the University of Connecticut Administrator Preparation Program, a longtime champion of the Schoolwide Enrichment Model, and as an organizer for Neag School leadership conferences.
Outstanding Higher Education Professional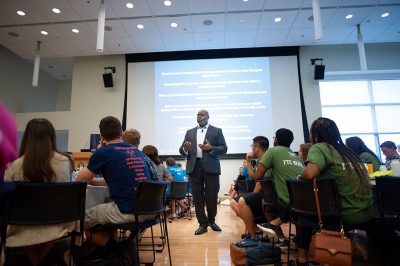 Sylvester Kent Butler Jr. '85 (CLAS), '94 MA, '99 Ph.D.
A professor of counselor education and school psychology at the University of Central Florida (UCF), Sylvester Kent Butler Jr. has been serving in higher education for more than two decades. A three-time UConn graduate, with two advanced degrees from the Neag School, Butler is now also part of the UCF president's cabinet, overseeing the Office of Diversity and Inclusion as interim chief equity, inclusion, and diversity officer. His research — spanning such areas as African American student achievement and success as well as multicultural and social justice issues in counseling — has been widely presented and published in books and journals at the national and international levels. Among his many accolades, Butler has been recognized by UCF as a Faculty Fellow for Inclusive Excellence, received the Tennessee Association for Multicultural Counseling and Development Appreciation Award, and named an American Counseling Association Fellow. Known as an accessible and engaged faculty member, he also has demonstrated his leadership in two large counseling professional organizations, including the Association for Multicultural Counseling and Development, for which he has served as president. His most proud leadership role includes being elected the 70th president, and second-ever African American male to serve, of the American Counseling Association.
Outstanding Professional
Melissa Thom '15 MA
A graduate of the Neag School's talent development and gifted and talented education master's program, Melissa Thom serves as a library media specialist for Bristow Middle School in West Hartford, Connecticut. In that role, she is known for her passion for enriching the educational lives of students and teachers. She has been recognized with multiple teacher of the year awards, including a National Council for Geographic Education Distinguished K-12 Teacher Award. Thom's leadership efforts include serving as the vice president of the Connecticut Association of School Librarians (CASL). With CASL, she recently organized a virtual conference with 150 authors and 500 attendees. An accomplished presenter, Thom has spoken to local, national, and international audiences. During the pandemic, she has used her extensive social media presence, including her nearly 4,000 followers, to support and engage with other educators.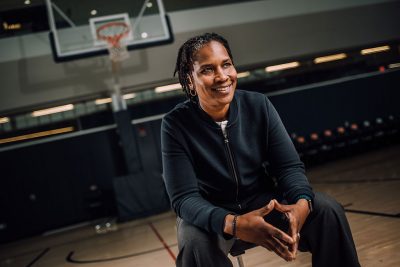 Distinguished Alumna
Jamelle Elliott '96 (BUS), '97 MA
A standout student-athlete and member of UConn's first NCAA Championship team, Jamelle Elliott is in her second stint as an assistant coach for the UConn women's basketball team entering the 2020-21 season. A two-time UConn graduate, including an advanced degree in sport management, Elliott was previously on the UConn Athletics staff from 1998 to 2009, helping guide the UConn Huskies to five national championships. Elliott went on to serve as the head women's basketball coach at Cincinnati from 2009 to 2018. The Bearcats earned two postseason berths, and every student-athlete who exhausted their eligibility earned their degree. After Cincinnati, Elliott returned to UConn to serve as the associate athletic director for the National C Club, before being named assistant coach. The National C Club connects alumni athletes with one another, as well as with UConn's current student-athletes, through mentorship, networking, and internship opportunities. She implemented the Positive Performance Mental Training Academy for student-athletes during her tenure and also spearheaded a student-athlete leadership development program. Elliott is known among the coaching staff and players as a great teacher, communicator, and recruiter.
The 23rd Annual Neag School Alumni Awards Celebration begins virtually at 5:30 p.m. on March 13, 2021. Join us for the celebration by registering online at s.uconn.edu/NeagAlumni2021. Questions? Contact neag-communications@uconn.edu.