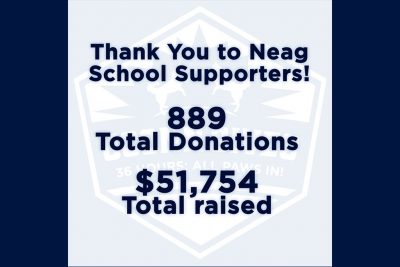 Thanks to 889 individuals, the Neag School of Education garnered more than $50,000 in contributions during this spring's annual Giving Day at UConn.
The University-wide fundraising event raised upwards of $700,000 in total for UConn in just 36 hours, with incoming donations set up to support everything from scholarships and academic programs to student groups and athletics.
The Neag School, including its Alumni Board, promoted six different education- and sport management-affiliated projects during this year's Giving Day campaign, held over the course of two days in March.
One of these projects — the sport management program's William M. Servedio Scholarship Fund — came in first place across all UConn Gives projects this year, raising upwards of $35,000. With more than 630 donations from all over the world, the project initially raised nearly $20,000. Two Giving Day matching gift challenges funded by the Neag School Dean's Board of Advocates as well as donors from across UConn Nation then added another $16,500 to the scholarship's total.
Giving Day Success for Servedio Scholarship
Professor Emeritus Servedio recently launched his scholarship to help fund Neag School students in sport management, a program he had established and built from the ground up while serving as professor and department head roughly three decades ago. From the start, Servedio ensured that a key focus of the program was the opportunity for students to gain real-world experience in the realm of sport through internships and graduate assistantships.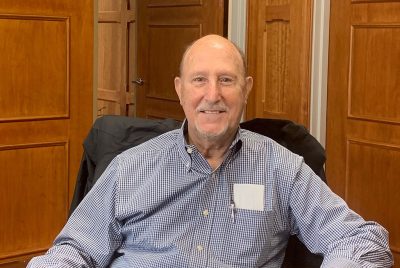 Such famed alumni as Jamelle Elliott '96 (BUS), '98 MA, former UConn's women's basketball player and now the team's assistant coach; Sean Lester '96 MA, current deputy athletics director at the University of Kansas; and longtime UConn baseball coach Jim Penders '94 (CLAS), '98 MA all took part in the program during Servedio's time as its leader.
"As donors, the impact of future internship placements will be enhanced because of this new funding source," Servedio told the UConn Foundation. "I am indebted to all who support my vision of keeping the internship as a critical component of the learning experience."
"UConn Gives was fun and energizing as our community came together to support Dr. Servedio and student development and learning in the sport management program," added Danielle DeRosa '09 (CLAS), '16 MS, clinical instructor in sport management. DeRosa noted that the project was coordinated by a team of sport management faculty, staff, and students that included Professor Jennifer McGarry; Leah Ward '06 (ED), '09 MA, program administrator; and current student Kess Elmore.
Additional Neag School-sponsored projects included funds to support various departments, research centers, and scholarship efforts, raising another $15,700 from 250 donors. Altogether, the Neag School more than doubled its UConn Giving Day fundraising totals compared with two years ago.