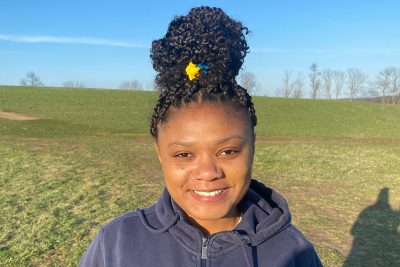 Editor's Note: As Commencement approaches, we are featuring some of our Neag School Class of 2022 graduating students over the coming days.
Major:
Sport Management and Women's Gender Sexuality Studies
Hometown:
New Haven, Connecticut
Why did you choose UConn?
If I'm being frank, I came to UConn because it was the best financial decision. I knew I didn't want my mom paying for my education. So, with the scholarships I earned and the money I was receiving, I decided to come here.
What's your major and why did you choose it?
My major is sport management with a minor in women's gender sexuality studies. I choose this being I have a genuine love for sports. I played football in high school as the only girl on the team, and it solidified things for me, my path, and what I desired to study and do in the future.
What are your plans after graduation?
My plans after graduation are to hopefully work in collegiate athletics somewhere, either a part of the facilities and operations or marketing team.
What activities were you involved with as a student?
Two activities that I was involved in were my internships/jobs. I was an intern in the equipment department. It is where I learned how to handle inventory and budgeting for athletics. I've learned how we take care of athletes surrounding the pandemic. However, Operations was my favorite! With this job, I attended actual games and events, was part of in-game assistance, dealt with fans and built my network.
How has UConn prepared you for the next chapter in life?
With my job, internships, networking skills, and attendance of conferences, UConn has set me up for success, be more vocal, and take risks. I am no longer allowing myself to stay in my comfort zone. As a black woman in a white man's industry, a white man's world, I have to be stern, know what I want out of my career, out of life, and I feel like UConn has contributed to that.
"With my job, internships, networking skills, and attendance of conferences, UConn has set me up for success, be more vocal, and take risks."
What's one thing that surprised you about UConn?
What surprised me about UConn is that the campus is so big with thousands of students, but once you get here, it can feel tiny and be considered comfortable. When you establish the group of people you're going to surround yourself with, from going to the dining halls or having a friend group to celebrate spring weekend, it can feel small.
Any advice for incoming first-year students?
For incoming first-year students, I would say nothing is off-limits, out of reach, and is too hard or too big. I saw this quote that says, "let your dreams be your wings," and I wholeheartedly believe that. So apply for that major, add that minor, join the extracurricular activity, don't ever second guess yourself, know what you bring as an individual.
What's one thing every student should do during their time at UConn?
Every student should attend a SUBOG concert and all the sporting events that you attend. There is nothing like college sports at all.
Who was your favorite professor and why?
This, I feel is a trick question because I had a lot of professors that I loved. Starting with my two counselors, who are also my professors, Drs. Burton and Summer. Out of all the staff I encountered, these two women meant the most to me. Dr. Burton always recognized my hard work and determination. She's allowed me to pursue my dreams of a sports career and always had my best interest at heart. With Summer, it is a bit more personal to the point where I've cried in her office when things got hard. However, she helps in any way possible to ease stress off of students and makes sure that I am on top of things like registration, etc. As I said, there are a lot of professors that I enjoy/appreciate: Danielle DeRosa, Justin Evanovich, and Doug Glanville.
What's one thing that will always make you think of UConn?
One thing that will always make me think of UConn is late night. I always used to go during my first year. The mozzarella sticks took all my points, karaoke night was a blast, and just building memories with my sister and friends through it all is what made it worth going.