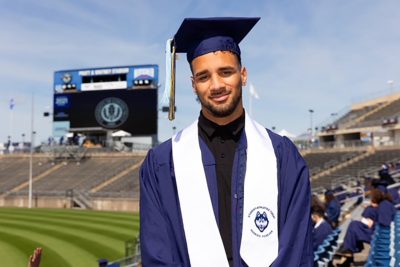 Editor's Note: As Commencement approaches, we are featuring some of our Neag School Class of 2022 graduating students over the coming days.
Major:
History and Secondary Education
Hometown:
Scotland, Connecticut
Why did you choose UConn?
I chose to come to UConn because it offered academics and extracurriculars that fit my needs to be successful. In high school, I was lucky enough to have had the opportunity to run track at a competitive level and to be able to continue that into college. However, I also knew that I wanted to become a teacher, and so I wanted to attend a university that supported both ambitions. UConn had a competitive track team and had one of the top education programs around. I also didn't want to be too far from my hometown.
What's your major and why did you choose it? 
In undergrad, I had double majored in history and secondary education with a concentration in social studies. In my graduate year, I will be receiving my master's in curriculum and instruction. I chose these majors because I had already known I wanted to become a teacher but wasn't sure what I wanted to teach. However, I could then narrow it down once I became interested in the general education history course I was required to take. This was the first time I had a chance to learn about the history that wasn't the cookie-cutter history we learned in high school. This sparked my interest and made me want to take more classes to teach me history that I didn't know about previously.
What are your plans after graduation?
Sleep and relax. In all seriousness, I plan to continue my internship at E.O. Smith High School and coach their track and field team. I will also be preparing to teach at Farmington High School in the upcoming school year.
What activities were you involved with as a student?
I spent most of my time practicing and competing for the UConn track and field team as a student. During the fall, we spent a lot of time training and preparing for our indoor meets, and then during the spring, we did most of our traveling for them. I was blessed to travel the country to states such as Florida, Georgia, Kansas, and quite a few others.
How has UConn prepared you for the next chapter in life?
UConn has given me the independence that many people need after leaving high school to grow. At UConn, I learned about time management skills, collaborated with others, and met different people with different ideas. UConn has given me plenty of opportunities to have a platform and use it to speak up about things I am passionate about. That is something I look to continue as I move into the next chapter of my life.
"UConn has given me plenty of opportunities to have a platform and use it to speak up about things I am passionate about. That is something I look to continue as I move into the next chapter of my life."
What's one thing that surprised you about UConn?
When deciding on a college, I had a lot of hesitation about UConn because I always felt like it was the school that everyone in Connecticut went to. However, after being on campus for a few years, I realized that there are a lot of students and a lot of opportunities to meet new people. I was also surprised about how close of a community UConn is. I always felt like I would see someone I knew pass by as I walked to class or practice.
Any advice for incoming first-year students?
Get involved and attend the school planned events; they are great ways of meeting new people that you may have something in common with.
What's one thing every student should do during their time at UConn?
Every student should walk to the Dairy Bar and take a walk up Horsebarn Hill at least once. I also recommend sledding down the Horsebarn Hill after it snows.
Who was your favorite professor and why?
One of my favorite history professors would have to have been Professor Frank Costigliola. Professor Costigliola introduced new perspectives to American history that I had never heard of. This also was one of the few classes I always looked forward to attending and participating in. Besides the content of the class, Costigliola also made it clear that he cared for you as a student and valued your voice.
What's one thing that will always make you think of UConn?
Basketball games in Gampel. Attending basketball games at UConn is something that I will never forget and will always associate with me positive experience at the University of Connecticut.