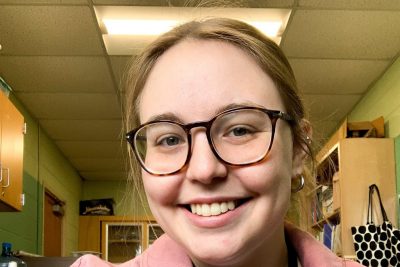 Editor's Note: As Commencement approaches, we are featuring some of our Neag School Class of 2022 graduating students over the coming days.
Major:
Biology Education
Hometown:
Carlisle, Massachusetts
Why did you choose UConn?
I chose UConn because I wanted to go to a big school with many opportunities and groups of people. Also, knowing that I was going into education, UConn was the perfect fit with an integrated bachelor's and master's program.
What's your major and why did you choose it? 
My major is biology education. I have always loved working with kids and found a love for science growing up because I could connect it to myself. Biology education was the perfect career. I love helping students see where they are already doing and using science in their lives to connect their experiences to science.
What are your plans after graduation?
I will be a middle school science teacher at John Lewis Invictus Academy in Atlanta Public Schools, Georgia!
What activities were you involved with as a student?
I was a student coordinator for the Honors Initiative for Prospective Students (HIPS) and a member of UConn Future Educators. I was also fortunate to have participated in an alternative spring break through Community Outreach in Detroit and tutoring at both Windham High and Mansfield Middle School! I also worked at the cafes on campus!
How has UConn prepared you for the next chapter in life?
UConn has set me up with so many experiences, especially within the Neag School, making me feel more than ready to start teaching. Each placement in a new school helped me learn how different schools function and gave me many great mentors to look up to in the teaching world.
"UConn has set me up with so many experiences, especially within the Neag School, making me feel more than ready to start teaching."
What's one thing that surprised you about UConn?
I feel like I am leaving UConn with such an amazing community of support. I have made lifelong friends, connected with professors, and learned from some great teachers, and I can't wait to be able to collaborate with them for the rest of my career!
Any advice for incoming first-year students?
Get involved and explore new things! I am so grateful that I did so many activities and tried new things throughout my time at UConn. They have truly made me into the person I am today!
What's one thing every student should do during their time at UConn?
Go on an alternative spring break or be involved with community outreach in other ways! Not only did I meet some of my best friends, I feel like my mindset about education and my future was shaped by the experience.
Who was your favorite professor and why?
It is so hard to choose just one; both Grace Player and Danielle Filipiak are amazing! I am so sad that I only crossed paths with both of them my last semester at UConn. Still Intro to Critical Pedagogy and Multicultural Education have been the best classes I have taken at UConn. Player's love and care for her students inspires me to continue to form relationships with students and co-create spaces of love, joy, and resistance. She has shown me what an outstanding educator looks like and helps pave the way to being a critical and just educator for me. Filipiak has challenged me and led the way to ensure that we are doing the work to make school a place for all of our students to be heard and loved. I am forever grateful to them for helping me grow as an educator and showing me love and patience as I continue to learn.
What's one thing that will always make you think of UConn?
Basketball. I am a UConn basketball fan for life now!