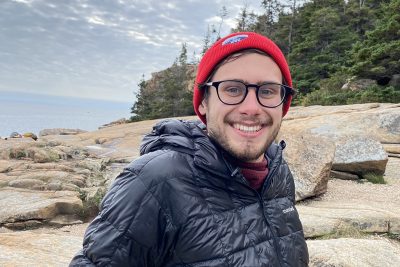 Editor's Note: As Commencement approaches, we are featuring some of our Neag School Class of 2022 graduating students over the coming days.
Major:
English Education
Hometown:
Tolland, Connecticut
Why did you choose UConn?
UConn was my first-choice college because of its school of education. I was very impressed by the Neag School of Education and thought it would be the perfect fit as I pursued a degree in secondary English education. I grew up in Tolland, Connecticut, so I was also fortunate enough that I was 20 minutes away from my hometown, giving me enough independence but the convenience of a quick drive home when I needed a home-cooked meal.
What's your major and why did you choose it? 
I am an English and secondary English education major! One of the ways I frame my major is by discussing storytelling. I see the English education major as a way for people to connect through the power of storytelling. One of the significant components of my classes is reading other people's stories. We read about the lives of historical figures, unheard heroes, fictional characters, etc. All of these stories give readers a glimpse into someone else's life. This is a valuable opportunity in teaching compassion. Through reading, synthesizing course objectives, and writing, students can start to practice the act of compassion through the medium of storytelling. If I had to describe English education, I would discuss the journey you might take in reading about diverse people through the plethora of multicultural and region-based English classes.
What are your plans after graduation?
After graduation, I will be continuing at UConn to finish the Neag School's five-year IB/M program to get my master's degree in curriculum and instruction!
What activities were you involved with as a student?
Endurance Club co-president: A long-distance running club for those runners that can never stop themselves from going the extra mile. After years of running, I have developed one of my lifelong passions into a more active role where I can teach what I have learned. I planned weekly meetings to discuss running techniques, led two group runs a week on campus, and prepared for months out-of-state races each semester. Community Outreach Department Involvement: coordinator of Alternative Breaks program; MYS COPE – weekly mentoring of Mansfield middle school students during the pandemic; volunteering at Windham Center Elementary School – for my first year, I volunteered in a third-grade classroom with the UConn America Reads program; tutoring at Windham High School: tutoring in a freshman Manual Mathematics class; UConn Rec Climbing Center: manager at the Climbing Center on campus where I spend most of my free time!
How has UConn prepared you for the next chapter in life?
UConn has taught me to trust that every new experience is a learning experience. I have learned to take advantage of the opportunities and resources available––which this campus has so much of! At UConn, I tried to fill my time with memorable experiences and lean into the opportunities that challenged me to grow.
"UConn has taught me to trust that every new experience is a learning experience. I have learned to take advantage of the opportunities and resources available––which this campus has so much of!"
What's one thing that surprised you about UConn?
How much walking you end up doing! It's no joke.
Any advice for incoming first-year students?
Every year try to join something new! The university experience provides so many opportunities, but it is on you to take advantage of these new experiences. Take a class that interests you outside your major, join a new intramural sport, find a new picnic spot for lunch, or study in that building you pass every day and wonder what happens in it. These are the experiences that I think of when I get sentimental about my undergraduate time ending, but it is also the ones that make it so memorable.
What's one thing every student should do during their time at UConn?
A late-night walk around campus after a study session at Homer Babbidge. There is something magical about the campus when the lamp posts are on, and you get to enjoy the nighttime silence of a bustling campus for most of the day.
Who was your favorite professor and why?
I have been lucky to have phenomenal professors here at UConn, but Shareen Hertel is my favorite. I took her Comparative Perspectives on Human Rights HRTS 3212 class, and it inspired me to add a human rights minor for the second half of my college career. The class forced me to be disciplined and synthesize human rights accounts across the international sphere. Her lectures were insightful and, most importantly, very engaging. Her class set the tone for my work with human rights, and I was always grateful to have such an impressive introduction to the field.
What's one thing that will always make you think of UConn?
The UConn Dairy Bar has spoiled me and has created an ever-lasting impact when I have other ice cream brands! It's just too good!