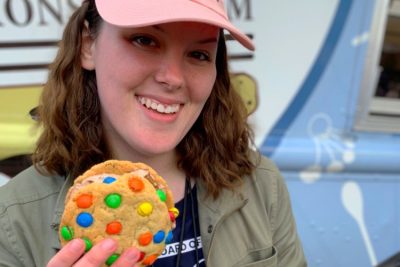 Editor's Note: As Commencement approaches, we are featuring some of our Neag School Class of 2022 graduating students over the coming days.
Major:
Special Education
Hometown:
North Franklin, Connecticut
Why did you choose UConn?
I knew that the Neag School of Education had a nationally recognized teacher prep program. Additionally, the special education program is filled with top faculty in their fields of research, and I was so excited to learn from their expertise. Not only did I attend for the academics, but I knew that in Storrs, I could be free to challenge myself through my extracurriculars.
What's your major and why did you choose it?
I have a bachelor's in special education and am currently in the final semester of earning my master's in educational psychology. I decided to enter the field of special education for multiple reasons. First, after my involvement in Unified Sports Club and classes at my high school, I wanted to become part of the next generation of educators that could support students with disabilities with individualized and appropriate education. Learning about the laws, court decisions, and development of educational rights in the United States within my program has not only led to intellectually stimulating conversations in classes. Still, it has motivated my further exploration of education.
What are your plans after graduation?
I plan to teach in a Connecticut school district as a special education teacher.
What activities were you involved with as a student?
As an undergraduate and graduate student, I have participated in many clubs and activities. Any that piqued my interest, I joined. I met many of my close friends as a freshman in the Street Performers Club. I was the vice president of the Yarn Crafts Club. I was also a member of the UConn Future Educators and American Sign Language (ASL) clubs. I even participated in the Huskython Dance Marathon for three years. During the basketball season, you could also find me in the student section cheering on the Women's and Men's teams in Gampel. I spent most of my time involved with the Student Union Board of Governors (SUBOG). I was a member of all committees (Concert, Outreach, Films, Sports, Major Weekends, Special Events, and Comedy). I was a vice-chair of marketing for two years and one of the dance representatives for the SUBOG Huskython team. From my involvement with SUBOG, I was fortunate enough to have a lot of amazing experiences, from meeting comedians like Pete Davidson to organizing large events like Homecoming, sports trips, Food Truck Festival, and so many more!
I have also had a job on campus for the past ten semesters as an audio-visual technician at the Student Union. As a graduate student, I am the A/V training manager, creating and implementing training programs for newly hired technicians.
How has UConn prepared you for the next chapter in life?
UConn has provided me with opportunities to explore my interest, knowledge, and perspective. The University truly has a global outreach with folks from all walks of life and backgrounds. As a result, I feel more equipped to effectively communicate and collaborate with individuals. As someone going into the education field, I have a diverse set of skills thanks to the clinic, internship, and student teaching experiences I have endured. In my placements, I've seen multiple settings, age groups, student populations, teaching styles, and even how to teach in person, virtual, and both simultaneously. With the COVID-19 Pandemic, I have witnessed firsthand how it has and will continue to impact students and educators alike, leading to an even greater motivation to enter the workforce upon graduation.
"As someone going into the education field, I have a diverse set of skills thanks to the clinic, internship, and student teaching experiences I have endured."
What's one thing that surprised you about UConn?
One thing that surprised me about UConn is the overall sense of community. Regardless of the activity or where I was on campus, I could always walk into a space and feel welcome. Starting a simple conversation with someone in a class, club, or event has helped me meet so many friends. Finding not only my own smaller community on campus was so vital to the college experience, but the greater UConn community is supportive throughout.
Any advice for incoming first-year students?
Don't limit yourself to the possibilities. If I did not join certain clubs, volunteer, jobs, attend classes, etc., my college experience would be vastly different. Don't get discouraged from the possibility of new experiences, and find what interests or motivates you. If you cannot find your interest in an already established club or organization, make one yourself!
What's one thing every student should do during their time at UConn?
Do something outside of your comfort zone.
Who was your favorite professor and why?
There are so many wonderful professors that I've had. However, one that has specifically impacted me is Linda Pelletier. I took all of her interpreting between English and American Sign Language courses. She provides lots of practice with constructive feedback during class. She also expresses the importance of maintaining not only the interpreting skills, language development, and involvement with the Deaf community beyond the classroom.
What's one thing that will always make you think of UConn?
All the friends and people I've met throughout.