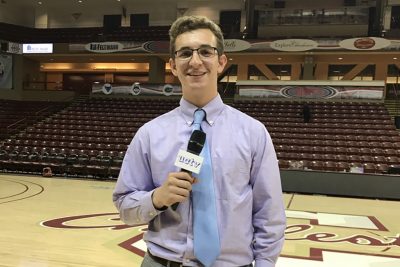 Editor's Note: As Commencement approaches, we are featuring some of our Neag School Class of 2022 graduating students over the coming days.
Major:
Sport Management
Hometown:
Lexington, Massachusetts
Why did you choose UConn?
I chose UConn because from the minute I first stepped on campus, I could feel the energy and love that people have for this university. It was a feeling that made me know I wanted to come to school here. Add to that the spirit for UConn Athletics and the opportunity to get involved with the Athletics department, and I knew UConn was the right fit.
What's your major and why did you choose it? 
I'm a sport management major, and I chose it because I have not only loved watching sports my whole life, but I've had a passion for getting involved with them on a deeper level. From sports media to inclusive sports to officiating, I have always been interested in working in sports, understanding what goes on in the sport industry, and engaging with sports in various ways.
What are your plans after graduation?
I am hoping to work in sports media! I would love to be on-air one day, but until then, I just want to be involved in sports media.
What activities were you involved with as a student?
During my very first week at UConn, I joined UCTV. UCTV is the student television station on campus. After that, I joined the sports department, where I've covered UConn Athletics both in Storrs and across the country. I've interviewed so many coaches and players, developed a strong professional network, and met my best friends! I am also a part of the SUBOG Sports Committee as a vice-chair, and I broadcast some basketball games for WHUS during my senior year! Before COVID, I was involved with UConn's Special Olympics chapter.
How has UConn prepared you for the next chapter in life?
UConn has given me many real-world opportunities that have prepared me for the next chapter in life. It has been a place where I have been challenged, learned to problem solve, and been supported by peers, teachers, and mentors who care about my success. I feel ready to step into a job and do meaningful, impactful work because of my experiences here in Storrs.
"UConn has given me many real-world opportunities that have prepared me for the next chapter in life."
What's one thing that surprised you about UConn?
It is the vast array of opportunities you have to do cool things. During my time at UConn, I have traveled to and covered two women's Final Fours, two UConn Football games, two weekend-long Men's Basketball tournaments, a sports media conference, a conference media day, and more. All of this for free! These have all been through UCTV and WHUS, well-funded campus organizations that provide opportunities to do some extremely cool things. UConn's resources to support student success and adventure have been surprising and awesome.
Any advice for incoming first-year students?
Get involved! Don't hesitate because you feel you won't fit in as a first-year. One of my favorite aspects of my early years at UConn is that people don't care what grade you are in! If you put yourself out there, you will fit right in. Also, if you find out you don't like an activity you are involved in, don't be afraid to step away! There are so many other places and groups you can be involved with that could be more meaningful.
What's one thing every student should do during their time at UConn?
Wait in line multiple hours before a UConn basketball game and be in the front row!
Who was your favorite professor and why?
I have two – so I am cheating. The first is Professor Doug Glanville, who taught my junior year Sport in Society course. Professor Glanville encouraged a new lens of critical thinking, pushing me to change how I thought of sports. He shared testimony from his playing days in the MLB and offered brilliant insight into important topics. He also started a show with me for UCTV! It's called Beyond the Play, and we aim to discuss connections between sports and social issues and bring it to the UConn community. The second professor is Rory McGloin. He taught my first-year public speaking class, which instilled so much confidence in me. It was a challenging class. There was lots of writing, and I was nervous to deliver speeches, and gained critical feedback. But I grew so much and have no fear of speaking in front of big groups now! Rory and I co-taught a first-year seminar the following year, which was a neat full-circle moment!
What's one thing that will always make you think of UConn?
Watching UConn basketball. Some of my fondest moments came from UConn games – storming the court at the XL Center after a win over Villanova, selfies with Coach Hurley after big wins, or calling the UConn Women's Team in the Final Four during my senior year. Watching the Huskies will always bring me fond thoughts about UConn!