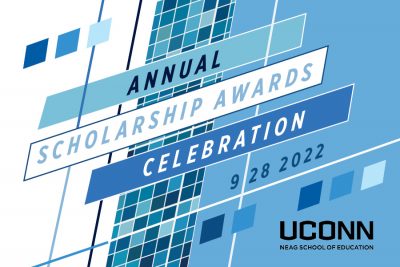 For the first time since 2019, UConn's Neag School of Education held its annual Scholarship Celebration in person to commemorate the students who have benefitted, financially and personally, from numerous donors' generosity. Students highlighted their personal experiences and thanked the individuals who helped them turn their educational dreams into reality.
The ceremony was hosted by Dean Jason G. Irizarry, who began the celebration by shedding light on how important these scholarships are to students and the entire Neag School community.
"Scholarships have an immense impact on our students, who go on to impactful careers throughout Connecticut and New England, as well as throughout the nation and abroad," he said. "We instill in our students our mission of improving educational and social systems to be more effective, equitable, and just for all. And they continue to carry out that mission after they graduate."
This past year alone, the Neag School distributed nearly $415,000 in scholarship aid to 320 deserving students.
Strengthening Her Role as a Future Educator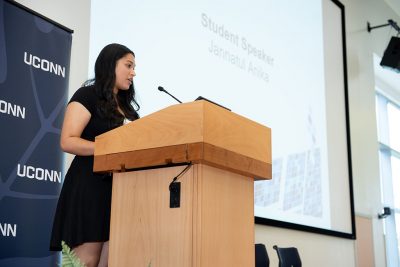 Jannatul Anika, an undergraduate pursuing an Integrated Bachelor's/Master's degree in biology education, is one of this year's student scholarship recipients who shared her insights during the Scholarship Celebration. She is a University Scholar and the recipient of the Paula Riggi Singer Endowed Scholarship Fund and the Fuller Scholarship for Social Justice in Education.

During a time of unprecedented challenges, scholarships have lifted enormous financial burdens for many Neag School students, including Anika.
Anika shared with the Scholarship Celebration's guests that she likes to believe that "passion and perseverance have built the foundation for my success." Her parents instilled those values, and she has carried them throughout her undergraduate years.
In addition, she has had "amazing opportunities to strengthen her role as a future educator" through conducting research on teaching diversity, mentoring students in UConn's First Year Experience program, participating in leadership conferences, and building relationships with some extraordinary individuals, including her fellow scholarship recipients.
"This academic year, I am excited to continue my research, student teach in the spring, and even start a club with my friend," Anika said. "These scholarships have helped me be able to dedicate time to those roles."
"Today's celebration represents the belief from our esteemed donors in the success and potential that my fellow peers and I have, and we deeply admire that trust and confidence," she continued. "It's the same belief that my previous advisor had in me and it changed the direction of my career path [from pre-med to teaching]. There is so much power in seeking potential in others but even more in helping those individuals see it within themselves, too."
"Thank you once again for believing in me. I am excited to fulfill my aspirations in pursuing a career in educational policy or administration. Who knows, maybe I'll even become the future secretary of education. Knock on wood," she said. "You have reaffirmed that those future dreams are possible, and the time to start working toward them is now."
Paying It Forward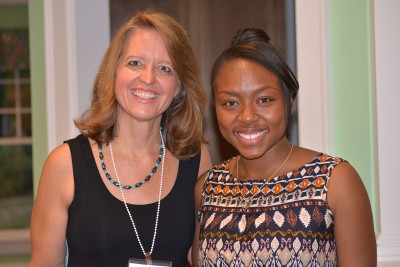 Symone James '16 (ED), '17 MA, '22 6th Year, a past recipient of the James and Beth Degnan Family Scholarship and current fifth-grade teacher at Roger Sherman Elementary School in Meriden, Connecticut, joined the Scholarship Celebration virtually and shared her story on how the scholarship helped her as a former Neag School student.
James, who is in her sixth year of teaching and is now considering administrative positions after completing her 092 certification this past year, spoke about her appreciation for the Degnans and how their support during college still impacts her today.
"Since graduating, I've been very blessed to have so many different experiences, like being an equity leader in my district and providing professional development, co-organizing the 'Me and Magic Conference' with fellow educators, and most recently graduating with my administrative certification from none other than UCAPP," she said.
"When I first started as a first-generation college student who was just figuring out my next step to be a teacher, scholarships from generous supporters allowed me to experience and understand the importance of supporting others and giving to the communities that we care about," she recalled.
James spoke about how, "As educators, we give of ourselves constantly, not only to the students in our classrooms, but sometimes to the students who are just passing by our rooms and they ask for a hug because they're having a tough day, to parents in need of support, and of course to our colleagues we work together with to support our students."
"One of the things that I'm always reminded of is that the impact doesn't stop with the giver or receiver," she said. "Every year, I talk about going to college with my students and that it's a possibility for every single one of them through financial aid opportunities like scholarships."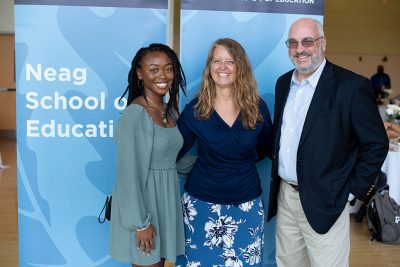 She also shared a story about a former student who greatly impacted her as a teacher, including an email from the student, which read, "Hi, Ms. James. School is great, and I'm having fun with my new teachers and friends. I'm so happy you wrote back to me. You impacted my life with your help and kind words. You are a bright and smart teacher, and you gave me the smarts I'm going to need in my life, and I thank you for that. My grades are excellent, and I want to try to get a scholarship, but school is going great, and I hope you love your new class full of students."
"It's messages like this that, for me, impacts the work we do as educators," she remarked. "It's invaluable for her to think about her future, and the possibilities of earning scholarships to achieve her dreams speaks volumes to the importance of donors who choose to support students."
"We hope that the lives we touch continue to touch others, and because of the support that I received, I've been able to work hard to positively impact the lives of my students and help them to imagine the possibilities for their future," she said. "I am deeply grateful for that."
James concluded her remarks with encouraging thoughts: "Whether it's supporting students here in Neag or being a student who will eventually graduate, you have the power to positively impact those around you through the important work you are doing."
Access a recording of the event, view photos from the event, and view a video of student scholarship recipients. To learn more about supporting the Neag School of Education, visit this page.