Throughout the academic year, the Neag School is proud to share the latest achievements of its faculty, staff, students, and alumni.
Explore their most recent promotions, awards, retirements, publications, and more:
Dean's Office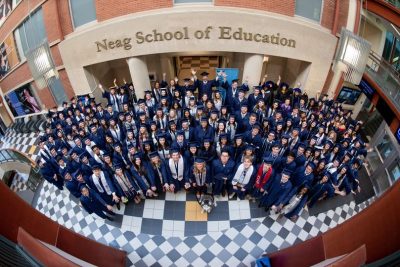 The Neag School celebrated the Class of 2023 during Commencement Weekend, May 7 and 8, 2023, on the UConn Storrs campus. Read more about the Undergraduate Ceremony — and check out a video featuring a special performance by music education majors, plus photos from the Undergraduate procession, featuring Jonathan XIV, the Undergraduate ceremony, the receptions for undergraduate, master's/6th Year students, and doctoral students. View featured grad profiles.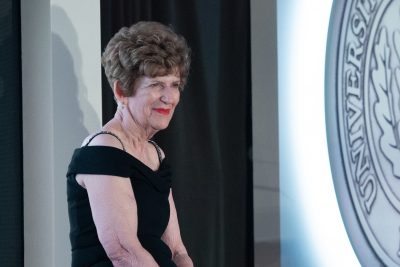 Carole (Vestali) Neag, a philanthropist and retired registered nurse whose generosity transformed UConn, passed away on April 16 at age 80. Neag, the widow of philanthropist Ray Neag '56 '01 H, is survived by her son David Hogan and his wife Heidi, her daughter, Elizabeth Lamoin, and her husband James, grandchildren, nieces, nephews, and extended family. A native of Torrington, Conn., Carole spent her later years in Wyomissing, Pennsylvania. Read more about Carole Neag's legacy.
U.S. News & World Report issued its 2023-2024 rankings of the best graduate schools of education in the nation, with the Neag School ranking among the top 25 public graduate schools of education  for the eighth consecutive year. In addition, Neag School's Special Education program stands among the top 20 in the U.S., tied at No. 17.


The Neag School of Education honored several faculty, staff, and students at the May Neag School meeting with its annual awards recognizing research, teaching, and service. The Neag School's Dean's Office solicited nominations in March from current students, faculty, and staff. The 2023 award recipients are:
Perry A. Zirkel Distinguished Teaching Award – Danielle Filipiak
Outstanding Mid-Career Researcher Award – Jennie Weiner
Outstanding Early-Career Researcher Award – Ido Davidesco
Outstanding Student Researcher Award – Ashley Taconet
Valerie J. Pichette Outstanding Staff Award – Megan Pichette
The 2023 Neag School of Education Alumni Board Scholarship was awarded to three students: Megan Go, a master's student in higher education and student affairs (HESA); Kenya Overton, a doctoral student in curriculum and instruction with a concentration in secondary mathematics education; and Amanda Sutter, a doctoral student in research methods, measurement, and evaluation. The Alumni Board Scholarship provides an $1,000 annual award to students enrolled in a Neag School master's, doctorate, or sixth-year program who have proven academic excellence or demonstrated financial need. Read more about the students.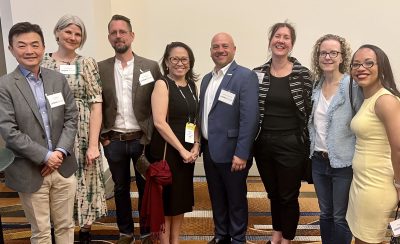 The Neag School hosted a reception for faculty, students, and alumni during the annual American Educational Research Association (AERA) Conference in Chicago in April. View a link to presentations from the AERA Conference. Check out photos from the event.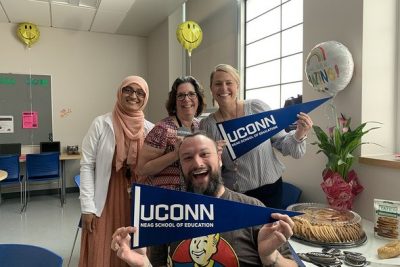 In honor of Teacher Appreciation Week, the Neag School advancement team brought cookies to four partner schools, including EO Smith High School, North Windham Elementary, Verplanck Elementary, and Marvin Elementary School. In addition, EO Smith High School and Marvin Elementary were winners of the Teacher Appreciation Week photo contest. View photos from the cookie delivery.
The Neag School hosted a music education alumni reception before the Connecticut Music Educators Association (CMEA) Conference. The reception at the UConn Hartford campus in March reunited alumni and friends attending the conference. View photos from the event.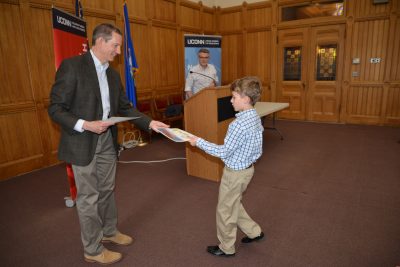 The Neag School, UConn's Department of English, and the Connecticut Writing Project recognized Connecticut's 30th annual Letters About Literature contest winners. Doug Kaufman and alumnus Jason Courtmanche '91 (CLAS), Ph.D. '06 served as faculty advisors for the competition. The statewide contest is for students in grades four through 12. The Neag School served as a co-sponsor of the state's contest for the eighth consecutive year, with students, alumni, and friends of the Neag School serving as judges for the contest submissions. View photos from the recognition ceremony held at the Capitol Building in Hartford in April.
Neag School's Center for Education Policy Analysis (CEPARE) hosted a speaker series featuring Phitsamay Sychitkokhong Uy from UMass Lowell, who spoke on "Combatting Invisibility of Asian American Students." Special guests included Angela Rola, UConn's director of the Asian American Cultural Center. View photos from the event.
Department of Curriculum and Instruction (EDCI) and Office of Teacher Education

Tracy Sinclair has been appointed as the new director of the Neag School's Teacher Certification Program for College Graduates (TCPCG). Sinclair joined the Neag faculty in 2020 as an assistant clinical faculty member and has played a critical role in the IB/M and TCPCG special education certification pathways.
Fifth-year music education students in Joseph Abramo's Popular Music course performed in May at Hops 44 in Storrs. Opening for the students and guests was the faculty band, the Vygotskys. View photos from the event.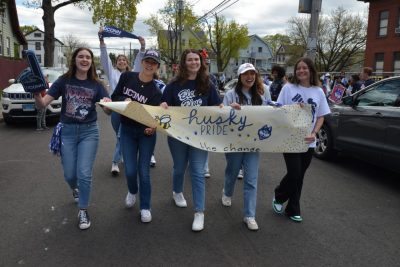 Kennelly School in Hartford, Connecticut, hosted "UConn Day," which included a celebration, schoolwide parade, and basketball game with students versus the teachers in April. The annual UConn Day is an opportunity to recognize the Neag School students who were finishing their student teaching and internships and encourage the Kennelly students to think about college. View photos here.
Neag School alums Caitlin Swan and Caitlin Murphy, together with another colleague, won Best in Conference for their presentation on social justice and social-emotional learning (SEL) for novice level Spanish learners at the Connecticut Council of Language Teachers (CT COLT) conference in March.
Environment Corps, including Neag School team members Todd Campbell, Rebecca A. Campbell-Montalvo, Gladis Kersaint, Byung-Yeol Park, Hannah Cooke, and others across UConn, was featured in UConn Today.
The Office of Teacher Education announced the inaugural cohort of Faculty Equity Fellows to begin in Summer 2023. The purpose of this program is to support faculty in incorporating more equity and justice-focused themes, texts, and pedagogies in their teacher education courses. In addition, Fellows will work with Director of Teacher Education Alyssa Hadley Dunn and fellow Fellows to revise a course for the coming academic year. This year's inaugural Fellows include Joe Abramo, Cara Bernard, Tutita Casa, Susannah Everett, Doug Kaufman, Tom Levine, Katie Nagrotsky, and Megan Staples.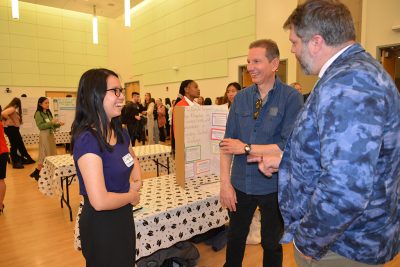 The Teacher Education Program hosted a Master's Day of Research where master's students presented their research projects from the past semester. The event was held in the UConn Student Union in May. View photos from the event.
The Office of Teacher Education welcomed participants from 66 school districts across the state for the annual Education Career Fair in April at UConn Storrs. In addition to connecting with recruiters, roughly 200 graduating teacher education students had the opportunity to interview with school district representatives for teaching, counseling, and school psychology positions. Check out photos from the Spring 2023 Career Fair.
Department of Educational Leadership (EDLR)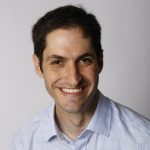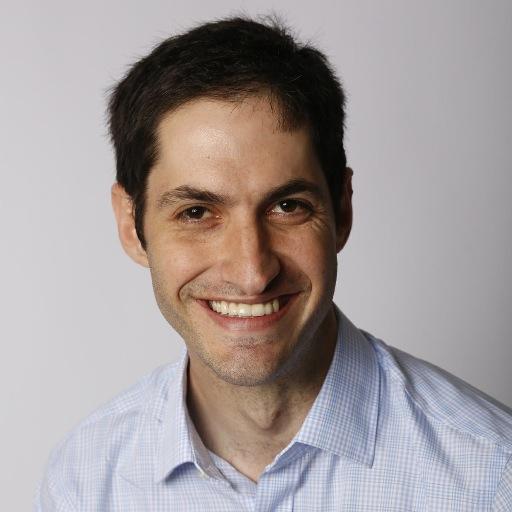 Our friend and colleague Eli Wolff passed away in April. Wolff was a fierce and powerful disability sports advocate. He was an instructor in the Neag School of Education's Sport Management program and generously gave his time to students in the program and to students across UConn who were interested in sport and peace. Read more about his legacy.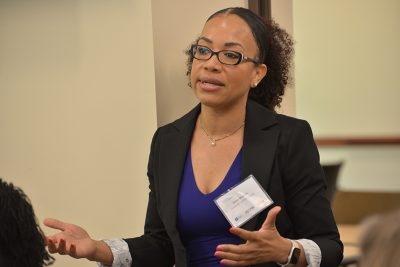 The Neag School sponsored for iCARE4Justice, bringing together a group of transnational critical scholar-practitioners to analyze, assess, and design important considerations for establishing a global strategy and framework for advancing equity for racially and ethnically minoritized communities in education research, praxis, and policy. Neag School faculty participants included Frank Tuitt, Saran Stewart, Luz Burgos-López, Milagros Castillo-Montoya, and doctoral students Ayaa Elgoharry, Yasmin Elgoharry, Omar Romandia, Kelly Schlabach, and Joylette Williams. View photos from the event.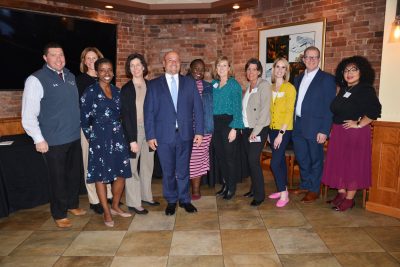 The Department of Educational Leadership hosted a networking night with recent graduates of the Executive Leadership Program (ELP) in Hartford in March, kicking-off the new Executive Leadership Program Alumni Sharing and Learning Series. This learning series will provide recent graduates with continued professional learning and networking opportunities. View photos from the event.
The HESA Master's Program Class of 2023 hosted a pre-graduation celebration in the UConn Student Union on May 5. The students graduated on May 8. View photos from the celebration.
Adam McCrady and Ashley Robinson '23 Ph.D. presented their research at the 2023 National Association of Pupil Services Administrators (NASPA) Annual Conference in April in Boston.

Department of Educational Psychology (EPSY)
The Department of Educational Psychology hosted the 11th annual iPad Conference on the UConn Storrs campus in May. This conference for educators provides insights on integrating iPads, Chromebooks, and Cloud-Based Computing devices into the teaching and learning process. In addition, this learning-filled day offers an opportunity for fellow educators to share how they are using technology to promote student learning. View photos from the iPad Conference.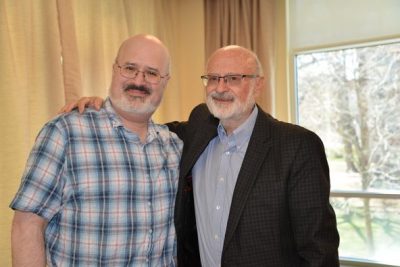 The Department of Educational Psychology hosted a special guest speaker, Dr. Alan S. Kaufman, an expert on intelligence testing, who spoke on "IQ Tests: Their History, Controversies, and Relevance for Future Practitioners." Kaufman, a clinical professor of psychology at Yale University's Child Study Center in the School of Medicine, is an expert on psychometrics, test construction, and clinical assessment. The event was held in April on the UConn Storrs campus. View photos from the event.
The Counselor Education Program published its spring newsletter: "Spring 2023: News From the Counselor Education Program."

Faculty/Staff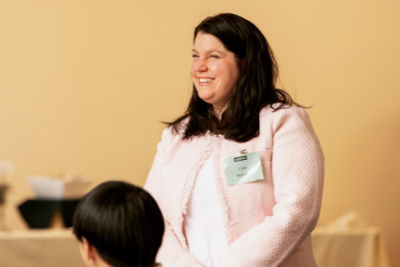 Cara Bernard was recognized with a University Teaching Fellow Award.
Melissa Bray co-authored "Health-Related Disorders in Children and Adolescents" (American Psychological Association, May 2023).
Laura Burton was a keynote speaker at la iGualtat en Joc, in Barcelona in April.
Jacqueline Caemmerer was awarded a research grant from the Woodcock Institute for the Advancement of Neurocognitive Research and Applied Practice for a project titled "Relations between Children's Cognitive Abilities, Basic Reading, and Broad Writing."
Rebecca Campbell-Montalvo has been appointed to the editorial board for the National Association for Research in Science (NARST)'s and Journal of Research and Science Teaching's journals.
Todd Campbell was recognized by AERA with the 2023 Experiential Education and Community Engagement: Scholarship and Practice SIG 41 Outstanding Conference Submission Award. Campbell was also the co-author of "Engineering for Ecological and Social Justice" for the February issue of Engineering for Ecological and Social Justice.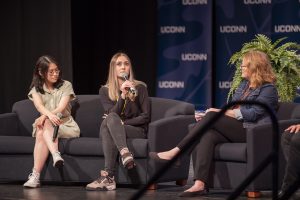 Sandra Chafouleas moderated W.I.S.H. Fest – or Waterbury Innovation, Sustainability, and Health. The event, held at the UConn Waterbury campus in April, was created through a partnership of UConn Waterbury and the City of Waterbury to help expose students to the campus and encourage emotional and physical health.
Casey Cobb's co-authored book "Private and Public Education in America: Examining the Facts" was reviewed by the National Center for the Study of Privatization in Education (Teachers College, Columbia University).
Ido Davidesco, lead author of a study about how students whose brain waves are more in sync with their classmates, was featured in UConn Today. Davidesco also co-published "Detecting Fluctuations in Student Engagement and Retention During Video Lectures Using Electroencephalography" for the April issue of theBritish Journal of Educational Technology.
Alyssa Hadley Dunn published "'Why Did We Never Learn This?': Preparing Educators to Teach for Justice and Equity on Days After" for the April issue of the International Journal of Qualitative Studies in Education.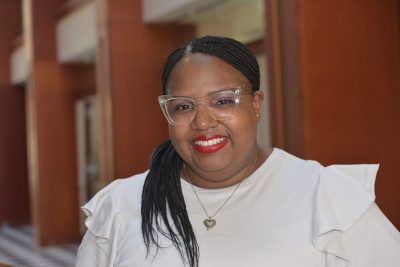 Sakeena Everett was featured in a "10 Questions" article about her recent publication for the National Council of Teachers of English.
Rachael Gabriel was interviewed on Jennifer Serravallo's To the Classroom podcast. Gabriel also hosted a virtual event, "Evaluating Cultural Responsiveness in Curriculum," through the Reading and Language Arts Center in May.
Doug Glanville was featured in the seventh episode of UConn's video series "Worth Repeating." He was interviewed by UConn President Radenka Maric about his baseball career, writing publications, teaching aspirations here at UConn, and more.
Preston Green authored "Charter Schools Aren't Public Schools. Here's Why We Need to Change That." for Public Voices for Public Schools.
James Kaufman has been recognized with this year's International Creativity Award from the World Council for Gifted and Talented Children. The award is for international recognition in the field of creativity for individuals who have made significant contributions to promoting creativity in education. He will be recognized at the virtual event in August. Kaufman also co-published "Creativity With Six Degrees of Freedom: Feasibility Study of Visual Creativity Assessment in Virtual Reality" for the April issue of Creativity Research Journal.
Alan Marcus conducted professional development on teaching the Holocaust through an interactive multimedia exhibit with middle school teachers and students in White Plains, New York, this spring. View photos from the event.
Bianca Montrosse-Moorhead was the co-host of the virtual symposium "Emerging Artificial Intelligence and Its Implications for Evaluation" held in March.
Diandra Prescod co-presented "Holistic Strategies for Nurturing Undergraduate International Students' Success in U.S. Higher Education" for the National Career Development Association's virtual event in April.
Students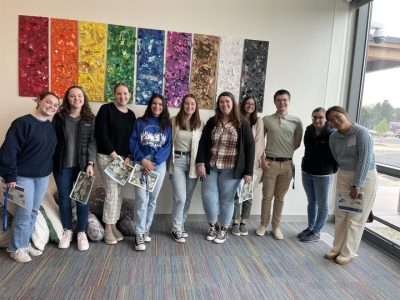 Juniors and seniors from Neag School's Integrated Bachelor's/Master's Program recently visited the newly opened Mansfield Elementary School (MES) in Mansfield, Connecticut. The new school is a Neag partner and a potential student placement site. MES is one of over 50 partner schools where the students gain clinical experiences by working with public school teachers who are committed to helping prepare new teachers.
Neag School of Education's Leadership in Diversity (LID) student group held its Eighth Annual Multicultural Education and Culturally Responsive Teacher Conference in April on the UConn Storrs Campus. This year's theme was "Steering the Course of Education: The Drive Towards Equity."
Sarah Luria was selected to receive the John Tanaka Graduate Student Fellowship for 2023 from the Connecticut Chapter of the Honor Society of Phi Kappa Phi. The $1,000 fellowship, first granted in 1993, is awarded each year to one or more outstanding University of Connecticut graduate student members of Phi Kappa Phi. 
Cheryl Lyon is a co-recipient of the AERA Research in Reading and Literacy Special Interest Group's Graduate Student Award for Literacy Research Excellence 2023. The co-recipients were asked to provide a short review of their work at the Business Meeting at the AERA Conference in April.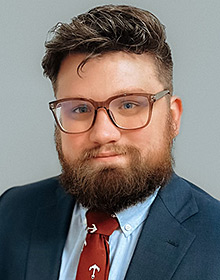 Lee Page was named the 2023 Student to Leadership Development Program Alumni of the Year by the American Society of Radiologic Technologists. A U.S. Navy veteran, he works as an adjunct clinical instructor for the University of Hartford in West Hartford, Connecticut, is a technologist at Lawrence + Memorial Hospital in New London, Connecticut, and is pursuing a master's degree in research methods, measurement, and evaluation.
Mara Power co-published "A Preliminary Assessment of the Effectiveness of States' Non-Suspension and Non-Expulsion Policies" for the April issue of Preventing School Failure.

Kimberly Richmond was recognized by the Connecticut School Counselor Association (CSCA) with the CASA Graduate Scholarship.
Amanda Sutter was recognized as a student awardee by the Eastern Evaluation Research Society for her study on "What Are Evaluation Priorities on Participation and Knowledge? An Evaluation Practice Beliefs Instrument Study."

Alumni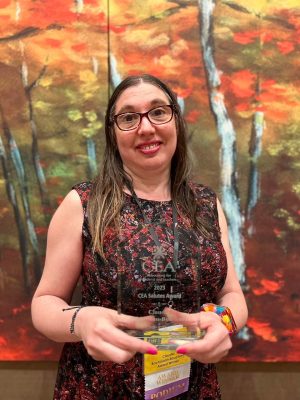 Claudia Bachmann-Bouchard '19 MA received the Connecticut Education Association (CEA) Salutes Award at the CEA Representative Assembly at the Mohegan Sun in May.
Susan M. Carroll '73 (CLAS), '75 MA, '81 Ph.D., recently co-published "Simplifying Statistics for Graduate Students" (Rowman & Littlefield, 2023).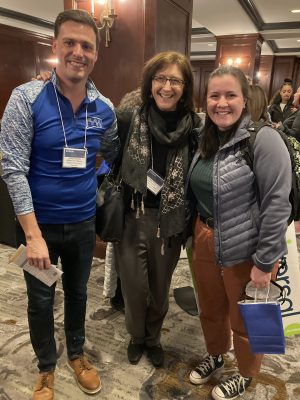 Jeff Corbishley '07 (ED), '08 MA, the grades six through 12 math and science supervisor for Ridgefield Public Schools in Danbury, Connecticut, received the Robert A. Rosenbaum Award from the Associated Teachers of Mathematics in Connecticut (ATOMIC). Corbishley was the 2020 Neag School Outstanding School Educator.
Megan Davenport '22 (CAHNR) '23 MA, who works at her family's dairy farm, was featured by UConn Today about the UConn Meat Science Program.
Kate Grayeb '11 (ED), '12 MA who teaches at University High School in Hartford and is a Noyce Fellow, was announced as a state finalist for the Presidential Award for Excellence in Mathematics and Science Teaching.This is a very competitive and rigorous process, and she has advanced to the national level, where they will select the state (up to two) and national winners.
Byung-Yoel Park '21 Ph.D. co-published "A Study of a Teacher Professional Development Program for Addressing Diversity Issues in School:The Case of Smithsonian Science Education Center" for the April Journal of Science Education issue.

Kara Hennessey '04 (ED), '05 MA, K-12 literacy specialist at Coventry Public Schools, was named the recipient of the Connecticut Reading Association (CRA) Literacy Leader Award for 2023.
Patricia Jepson '78 (CANHR), '81 MA, '06 Ph.D. was featured recently in Cromwell Life. Jepson retired after teaching at UConn and previously oversaw the agriculture education program for TCPCG. 
Michael Litke '01 6th Year, '19 Ed.D. was appointed director for Zone 1 for the National Association of Elementary School Principals. Litke is the principal of Naubuc Elementary School in Glastonbury, Connecticut.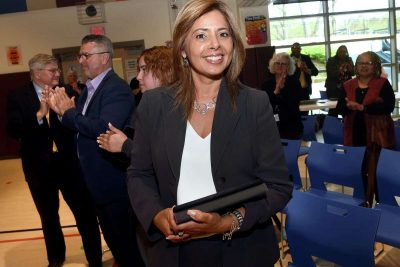 Madeline Negrón '98 MA, '23 Ph.D., '15 ELP was named New Haven's superintendent. Negrón is currently the acting deputy superintendent of academics and school leadership for Hartford Public Schools; she previously served as the chief of academics, teaching, learning, and student supports.
Nichole Pitruzzello '17 (ED), '18 MA worked as a fourth-grade teacher for a few years, and now is the state coordinator for Connecticut's Kid Governor, a civics program for fifth graders.
Ashley Robinson '23 Ph.D. was selected as a Fellow for the University of California (UC) Center for Free Speech and Civic Engagement, in Irvine, California.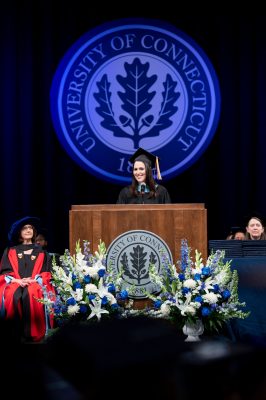 Amanda Slavin '08 (ED), '09 MA was the Neag School's 2023 Undergraduate Commencement speaker on May 7. Slavin co-founded CatalystCreativ/CatalystU, a creative agency that empowers brand success by forging deep audience engagement.
Chris Stasaitis '03 MA was present during the UConn men's basketball national championship game and helped cut down the basketball net. Stasaitis is the assistant manager for athletic equipment and facilities for UConn Athletics.
Kristine Schlichting '92 (CLAS), '97 MA, '01 Ph.D. was named a 2023 Women in Business Honoree by the Hartford Business Journal. Schlichting is the CEO of Hopewell Health Solutions, a private mental health group practice.

In Memoriam
Ruth A. Azif '45
Roy P. Bishop III '75
Donna T. Brown '68
Melissa B. Cross '78
Marilyn M. Deegan '60
Craig J. DePriest '70
Michael T. Fiore '81
Paul A. Funk Jr. '93
Carmen A. Golas '86
Patricia A. Harrington '65
Daniel P. Heffernan '49
Richard C. Joy Sr. '65
Gerard J. Kennedy Jr. '77
Jonathan D. Kleinberg '77
Angela V. Lepore '75
Michael J. Marquis '61
Joseph E. Murray '63
Horace G. Puglisi '86
Robert E. Sanford '52
Judith L. Selzer '64
Warren A. Swanson '61
David R. Turkington '69
Mary M. Wellman '80
Eli Wolff – sport management instructor
Audrey H. Wolcott '68
Congratulations to our Neag School alumni, faculty, staff, and students on their continued accomplishments inside and outside the classroom. If you have an accolade to share, we want to hear from you! Please email us any news items or story ideas.