Throughout the academic year, the Neag School is proud to share the latest achievements of its faculty, staff, students, and alumni.
Explore their most recent promotions, awards, retirements, publications, and more:
Dean's Office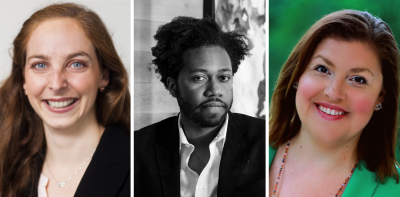 This fall, the Neag School welcomes new faculty and announces new appointments for existing members of the community. Read more about the Neag School's new hires and appointees.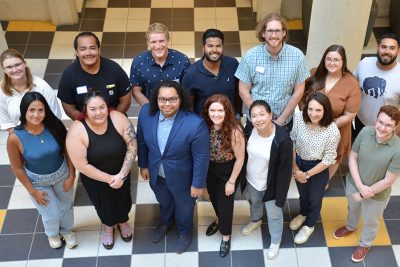 To better connect doctoral students across the Neag School's three departments and get them acclimated and excited for the coming academic year, an orientation was held in August. The orientation included a panel with Jennie Weiner, educational leadership faculty member and coordinator of the Neag School's doctoral programs; Dorothea Anagnostopoulos, associate dean for academic affairs; Michael Coyne, department head for Educational Psychology; Todd Campbell, department head for Curriculum and Instruction; and Laura Burton, department head for Educational Leadership. Check out photos from the orientation.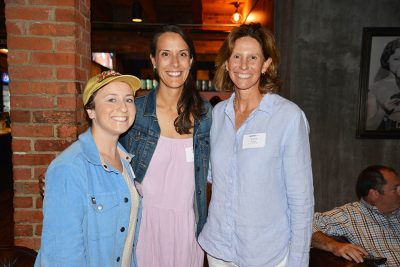 The Neag School has expanded its Early College Experience courses, allowing high school students to explore careers in education. Over 350 students from 21 partner schools were enrolled in the Neag School's ECE courses in 2022-2023, an increase from 201 students in five districts the year before.
The Dean's Office at the Neag School hosted a family gathering in August at the Mansfield Bicentennial Park. Faculty and staff and their families enjoyed an afternoon of food and fun before the school year commenced. View photos from the event.
The Neag School of Education's Alumni Board hosted a Summer Networking Event last week at Elicit Brewing in Manchester, Connecticut. Guests met up with friends and colleagues, reconnected with classmates, and met new alumni. Check out photos from the gathering.
Department of Curriculum and Instruction (EDCI) and Office of Teacher Education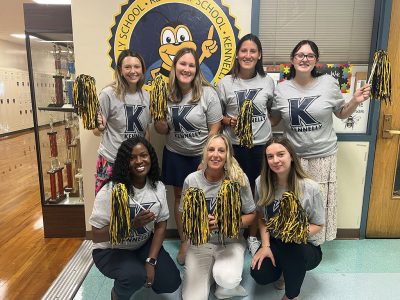 The Reading and Language Arts Center, under the leadership of Rachael Gabriel, sponsored a speaker series titled "Evaluating Cultural Responsiveness in Curriculum," where the featured speaker was Dr. Leah Q. Peoples. Over 170 people registered to attend a presentation by the authors of this seminal report on the cultural responsiveness of the English Language Arts (ELA) curriculum.
The Equity in Mathematics Education: A Position Statement for Connecticut was co-authored by the three professional mathematics education organization in the state – the Associated Mathematics Teacher Educators in Connecticut (AMTEC), CCLM, and ATOMIC – in collaboration with the Connecticut Department of Education. Megan Staples was one of the seven members of the author team. The group originally gathered to discuss what could be done to advance mathematics education in the state. They ultimately decided on writing a position statement, which was reviewed by math educators in the state and then adopted by each of the mathematics professional organizations across Connecticut.

Department of Educational Leadership (EDLR)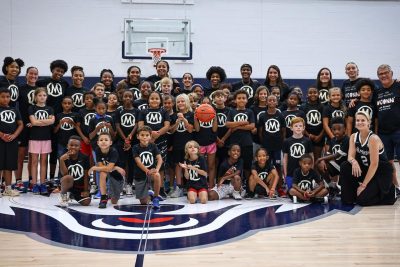 The Neag School of Education has created a new Emerging Women's Leadership online graduate certificate to train young, emerging women leaders to put leadership theory into practice in their respective fields. The certificate program grew out of UConn's affiliation with the BOLD Women's Leadership Network, which facilitates opportunities for women's leadership on campus through scholarships, programming, and service projects. Led by the Neag School's Board of Trustees Distinguished Professor Sally Reis, BOLD at UConn creates small cohorts of women who commit to two years with the program. The BOLD Program was also recently featured by WTNH/News 8.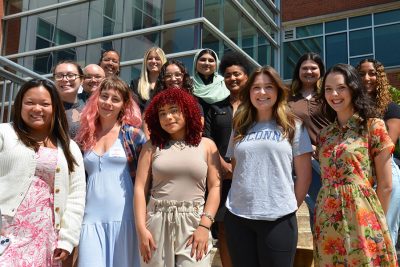 The UConn Women's Basketball team hosted a skills clinic in partnership with The Mamba and Mambacita Sports Foundation in memory of Kobe and Gigi Bryant in August. UConn Husky Nutrition & Sport was a partner in this clinic, and they hosted 40 kids at the UConn Storrs campus in August to participate.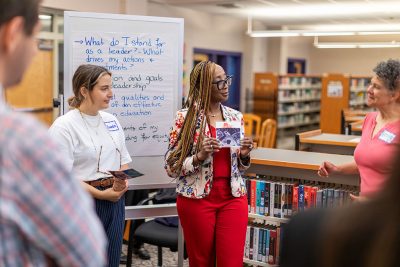 The Neag School's Higher Education and Student Affairs (HESA) program hosted an orientation in August for its first-year and second-year cohorts. Check out photos from the orientation.
The incoming cohort of UCAPP leaders gathered at a middle school in Glastonbury, Connecticut, for a retreat before commencing their program of study in July. The retreat was an opportunity to kick off the two-year program and foster connections between the participants. During the event, program faculty and consultants led activities centered around cultivating personal leadership and leadership for equity. 
The Neag School's Executive Leadership Program (ELP) wrapped up its yearlong program with a gathering in July to recognize its students and faculty. The ELP students are now endorsed for the CT 093 Superintendent Certification. These aspiring superintendents and district leaders have gained the background and knowledge necessary to successfully meet the current challenges of district leadership. Check out photos from the gathering.
Department of Educational Psychology (EPSY)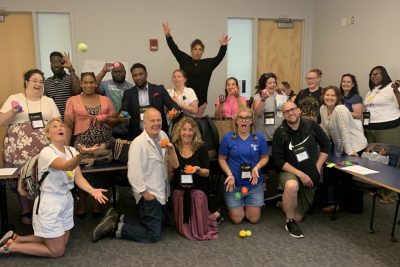 UConn is one of 20 award recipients nationwide of a five-year cooperative agreement from the Centers for Disease Control and Prevention for a project to protect and improve the health and well-being of school-age children and adolescents. Led by Sandra Chafouleas and Marlene Schwartz, with assistance from co-investigators Jessica Koslouski and Kathleen Williamson '13 MA '17 Ph.D., the team has received $2 million to support their work with Connecticut schools and districts to implement the Whole School, Whole Community, Whole Child (WSCC) model.
The Feel Your Best Self Collaborative Project, led by co-founder Sandra Chafouleas, won four Telly Awards. In addition, the FYBS program, which uses puppets to help kids and their caregivers explore emotion-coping strategies with a free toolkit, has extended a license to New York's THIRTEEN public broadcasting channel.
Confratute hosted its 45th summer conference, which included 395 attendees from 28 states and 10 countries. They held the conference both in person and virtually. Next year, they will host the 46th annual conference on July 14-18, 2024. View photos from the conference.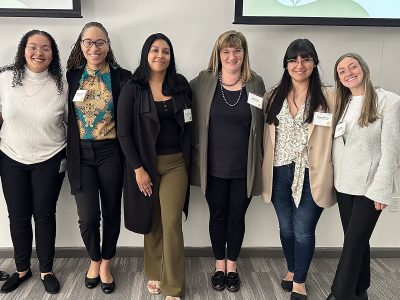 After a lengthy hiatus, the Modern Modeling Methods (M3) Conference, hosted by the Neag School at UConn, came back this summer with an in-person event. M3 is an interdisciplinary gathering that displays the most recent modeling techniques and presents research associated with these approaches. Check out photos from the event.
Catherine Little (president-elect) and D. Betsy McCoach (at-large director) have been elected to the National Association for Gifted Children (NAGC) Board of Directors positions. They take office this month.
For two consecutive years, the Neag School's Counseling Education graduates achieved 100% employment. Eleven students were hired by 11 school districts in Connecticut.
Faculty/Staff
Joe Abramo and Cara Bernard contributed the following resource for the National Association for Music Education, co-authored with Liz Howard: A Resource Guide for Implementing Sheltered Instruction for English Learners in Music.
Joe Abramo sits on the National Association for Music Education (NAfME) Diversity, Equity, and Inclusion Committee.
Cara Bernard is president of the American Choral Directors Association (ACDA) Connecticut Chapter. She is the program chair of the International Association of the Philosophy of Music Education (ISPME) Biannual conference in Oslo, Sweden. She also edited a special issue on School Improvement and the Arts in "Arts Education Policy Review."
Melissa Bray co-published a book, "Health-Related Disorders in Children and Adolescents: A Guidebook for Educators and Service Providers, Second Edition" (American Psychological Association, 2023).
Mary Beth Bruder is a principal investigator for a $10 million federal grant to support the new Early Childhood Intervention Personnel Development Equity Center at the UConn School of Medicine.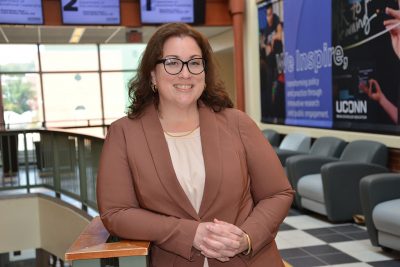 Rebecca Campbell-Montalvo is the author of a new book, "The Latinization of Indigenous Students" (Rowman & Littlefield, 2023), and is the recipient of a new grant (OVPR). She also was recognized as the co-author, along with Neag School doctoral student Hannah Cooke, Todd Campbell, Chester Arnold, Maria Chrusochoou, Byung-Yoel Park,  and Peter Diplock, of a research paper that won the American Society for Engineering Education (ASEE)'s Community Engagement Division Best Paper Award: "Community-University Relationships in Environmental Service-Learning: Social Network Vectors and Modalities of Communication."
Todd Campbell co-published with Byung-Yoel Park '21 Ph.D. and others "Onto-Epistemological Realities and Assumptions Beyond Western Science" for the August issue of the "Journal of Science Teacher Education."
Tutita Casa has served the National Council of Teachers of Mathematics (NCTM) in the following ways. First, she served on the "Journal for Research in Mathematics Education" Editorial Panel. Second, she continues to serve NCTM as a member of their conference program planning committees. She contributed to their 2022 Baltimore Regional Conference in December 2021-December 2022 and has started to prepare for the 2024 Annual Conference.
Chen Chen published "Sport and Imperialism: Time for An(Other) Anti-Imperialist Front" for the May issue of "Sport in Society."
Casey Cobb was a virtual panelist for the Council of Chief State School Officers (CCSSO) session "Using ESSER Funds to Strengthen High-Quality Out-of-School Time Learning" in July.
Morgaen Donaldson was the co-author of a paper on a research project, "Studying the Superintendency: A Call for Research," by the Annenberg Institute at Brown University.
Hannah Dostal was elected editor-in-chief of the "Journal of Deaf Studies and Deaf Education" (JDSDE), a peer-reviewed scholarly journal published by Oxford University Press. She also led an interdisciplinary/cross-college, one-week study abroad program with UConn students in Kingston, Jamaica. An article about this work in Jamaica was published in April 2023 in the International Literacy Association journal. Finally, Dostal designed and hosted two intensive and sustained professional development programs focused on addressing the language and writing needs of deaf or hard-of-hearing students while considering their diverse linguistic backgrounds for teachers of the deaf across the U.S.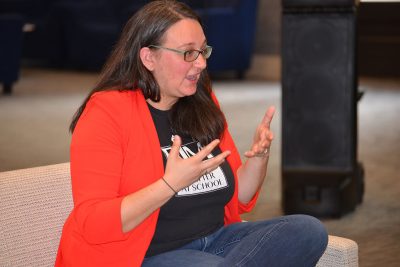 Alyssa Hadley Dunn was featured in UConn Today regarding her book "Teaching on Days After" and her academic work.
Jennifer Freeman and Neag School doctoral student Mara Power, along with others, co-published a chapter on "Promoting a Positive School Climate for Students with Disabilities" for the book "Creating an Inclusive School Climate" (Routledge 2023).
Alexandra A. Freidus published "White Organizers and White Organizations? Dilemmas of Whiteness in a Youth-Led Movement for School Integration" for the summer issue of "Harvard Educational Review."
Rachael Gabriel recently published "Doing Disciplinary Literacy" through Teachers College Press (2023). Gabriel was featured in UConn Today regarding her book.
Preston Green co-authored "Understanding the First, Second, and Third Order Effects on Disparities in K-12 Funding and Outcomes" for the July issue of "Poverty & Race Research Action Council." A report on school funding that Green co-published was mentioned in a dissent before the U.S. Supreme Court.
Liz Howard, together with Manuela Wagner of UConn's Literatures, Cultures, and Languages Department, has been leading a three-year grant from the U.S. Department of Education's Office of Postsecondary Education, titled "Reimagining Dual Language Education: Promoting Equitable Bilingualism Outcomes through a Focus on Sociocultural Competence."
Risa Isard co-authored "Solving the Mystery of the WNBA 'IsoFan'" for SBJ Sports Business Journal.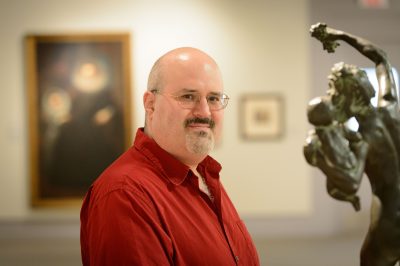 James Kaufman recently co-published "Lessons in Creativity From Musical Theatre Characters" (Routledge Books 2023). Kaufman also authored "The Creativity Advantage" (Cambridge University Press 2023); a chapter "Intelligence and Wisdom's Role in Moral Versus Amoral Creativity" for the book "Intelligence, Creativity, and Wisdom"; and co-authored "Toward Equitable Creativity Self-Assessment: Measurement Invariance and Mean Differences Across Ethnicity in the Kaufman Domains of Creativity Scale" for the July issue of arXiv (Cornell University).
Allison Lombardi was the editor of the August issue of "Career Development and Transition for Exceptional Individuals." Lombardi also co-published with Neag School alumni Jessica Monahan '09 (ED), '10 MA, '20 Ph.D. and Ashley Taconet '23 Ph.D. and others "Policy and Practice Considerations to Support College and Career Readiness for Youth With Disabilities: A Systematic Mixed Studies Review" for the May issue of "Journal of Disability Policy Studies."
Alan Marcus collaborated with the nonprofit Common Circles to support their work with secondary students in exploring issues of identity, reducing bias, promoting empathy, and building bridges between community members. The work in schools and parallel research brought a museum exhibition into middle and high schools. They featured the first-ever use of the Shoah Foundation's Dimension in Testimony virtual interactive Holocaust survivor experience.
D. Betsy McCoach co-published "Testing For Intersectional Measurement Invariance With the Alignment Method: Evaluation of the Eight‐Item Patient Health Questionnaire" for the June issue of "Health Services Research."
Bianca Montrosse-Moorhead co-authored "The Youth Transformative Participatory Evaluator Education and Training Approach: The EvalYouth Experience" for the May issue of "New Directions for Evaluation."
John Settlage, collaborating with colleagues in UConn's Department of Ecology, is applying systems theory to investigate STEM teacher turnover in Connecticut. This project is funded by the National Science Foundation.
Saran Stewart was a virtual presenter on "Krik? Krak!, Keti Koti Table, Groundings, Liming & Ole Talk: Understanding Caribbean Decolonial Research Methodologies" for the QualLab at Ohio State in June.
Jennie Weiner recently co-published "Education Lead(her)ship: Advancing Women in K–12 Administration" through Harvard Education Press. Weiner was featured in UConn Today about her book.
Students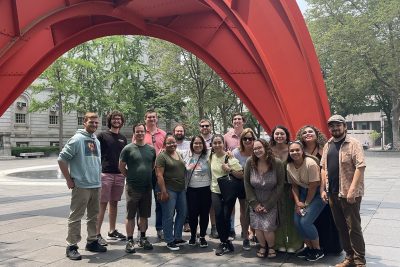 Rachel Gabrilowitz, a master's student in educational psychology, was recognized by the Connecticut Association of School Psychology as the Intern of the Year. 
Sarah Khouja, an elementary education major from Stratford, who studied at the Umbra Institute in Perugia, Italy, was the recipient of a Gilman Scholarship. She will provide outreach to Stratford-area high school students.
Emily Lisy, a graduate student in Curriculum and Instruction, published "Teaching Social Justice in the Science Classroom" for the July/August issue of "The Science Teacher."

Daniel Long, along with D. Betsy McCoach, Del Siegle, E. Jean Gubbins, and another researcher, co-published "Inequality at the Starting Line: Underrepresentation in Gifted Identification and Disparities in Early Achievement" for the May issue of "AERA Open."
Lee Page, a graduate student in educational psychology, has been selected for an award by the American Society of Radiologic Technology, the leading professional society for radiologic technologists. Page is a radiologic technologist with Yale New Haven Health and an adjunct faculty member at the University of Hartford.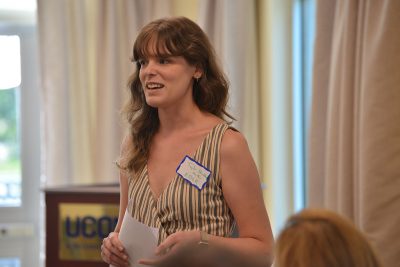 Alia Pugh, a doctoral student in educational psychology, co-authored with Devin Kearns and another colleague "Text Types and Their Relation to Efficacy in Beginning Reading Interventions" for the June issue of "Reading Research Quarterly."
Kristin Simmers co-published "A Theory of Mental Frameworks" for the July issue of "Frontiers in Psychology."
Taylor Strickland, a doctoral student in educational leadership, prepared a rapid research brief with the Center for Education Policy Analysis, Research, and Evaluation (CEPARE) titled "From Recruitment Through Retention: Strategies to Repair and Strengthen the BIPOC Teaching Pipeline."
Amanda Sutter, a doctoral student in educational psychology, was selected as a student trainee social science research analyst with the U.S. Department of Health and Human Services.
Alumni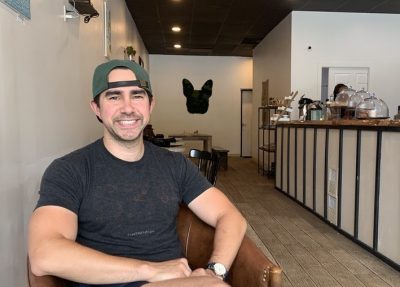 Anthony Artino Jr. '08 Ph.D. co-published "Faculty and Student Perceptions of Unauthorized Collaborations in the Preclinical Curriculum: Student or System Failure?" For the August issue of "Academic Medicine." Artino is the associate dean and a faculty member at the George Washington School of Medicine & Health Science.
Thomas Broderick '08 (CLAS), '09 (ED), '09 MA, an eighth-grade social studies teacher at Scotts Ridge Middle School in Ridgefield, Connecticut, was featured by CT Mirror about being a teacher activist and educator.
Daniel D. Burkey'23 (ED) is a co-recipient of the David Himmelblau Award for outstanding innovations in computer-based chemical engineering education from the American Institute of Chemical Engineers' computing and system technology division. Burkey is the associate dean of undergraduate education and diversity and the Castleman Term Professor in Engineering Innovation at UConn's School of Engineering.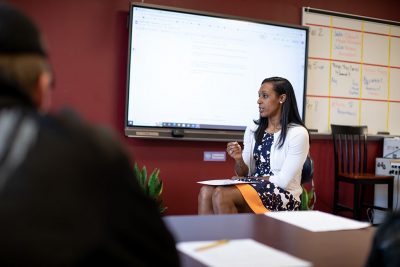 Dave DeLucia '80 (CLAS), '81 MA, '83 6th Year was featured by UConn Magazine about his seashell collection. DeLucia is a retired high school educator who now teaches piano at a local school in New Haven, Connecticut.
Samuel Kamin '22 Ph.D. accepted a position as an associate education consultant in the Performance Office of the Connecticut State Department of Education.
Ashley LaPane '16 (ED), '17 MA, was recognized as the Canton Public Schools Teacher of the Year.
Keyokah Mars-Garrick '22 MA, a special education teacher at Wheeler High School in North Stonington, Connecticut, was profiled in UConn Today and is the featured representative for the Teacher Certification Program for College Graduates 2023-24 admissions recruitment campaign.
Thomas "TJ" McKenna '18 Ph.D. published "From Startup to Success: Guiding Nonprofits with Six Core Principles of Improvement" for the July issue of "Practical Tools & Topics for Nonprofits, By Nonprofits." McKenna is a professor of science education at Boston University.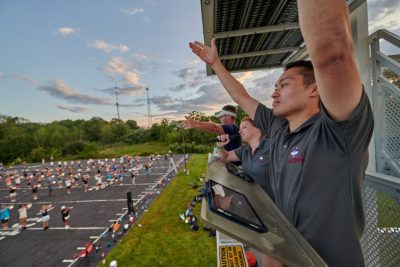 Justin McManus '11 (SFA, ED) '13 MM was hired as UConn's director of athletic bands. McManus marched in the tuba section as an undergrad and was student manager of the UConn Marching Band, where he gained experience with band logistics and equipment management. He most recently served as the assistant director of university bands at Notre Dame University.
Uyi Osunde '03 (CLAS), '08 MA, '20 Ed.D., superintendent for Stratford Public Schools, and Mark Benigni, superintendent for Meriden Public Schools, co-authored "Leadership Sustainability = Staff and Student Success: 10 Tips for Job Satisfaction and Retention" for the August issue of "American Association of School Personnel Administrators." Osunde also co-published "Back to School Advice From Our Superintendent" for the Stratford Crier.
Diana Payne '03 Ph.D. was named to the Global Group of Experts on Ocean Literacy. Payne is the Connecticut Sea Grant's education coordinator and is a past Fulbright awardee to Denmark, where she worked with DTU Aqua and the SeaChange campaign to create ocean literacy education materials for various audiences.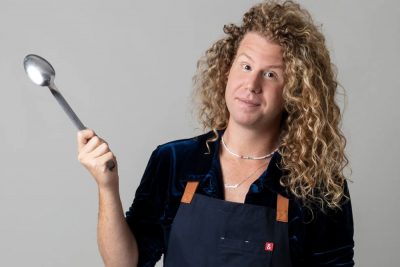 Emily A. Piergustavo '22 (ED) was hired as an assistant softball coach at Tufts University. She was a member of UConn's softball team as an undergraduate student.
Amy E. Rizzo '22 6th Year was appointed principal of John F. Kennedy Elementary in Milford, Connecticut. She most recently served as the teacher leader for instructional technology for the district.
Garrett Schlichte '15 MA, a copywriter from San Francisco, was featured by UConn Magazine for his participation in "America's Test Kitchen: The Next Generation," where he became a finalist.
Konatsu Sonokawa '18 (ED), '19 MA is a recipient of a 2023 Early Career Educator of Color Award from the National Council of Teachers of English (NCTE). She is an elementary school teacher at Martin Elementary in Manchester Public Schools (MPS) in Manchester, Connecticut, and was the 2022 MPS Teacher of the Year.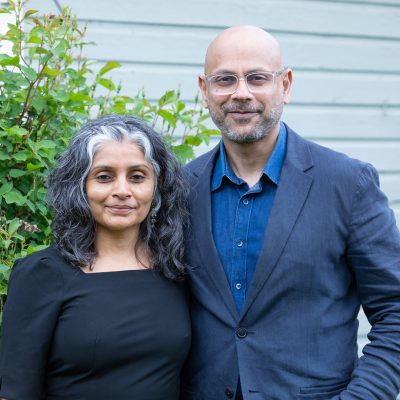 Jessica Stargardter '16 (ED), '17 MA co-published "Non-Native Gifted Students in a Finnish Teacher Training School: A Case Study" for the June issue of "Education Sciences." Stargardter was one of six UConn studentswho received a U.S. Fulbright in 2021.
Ashley Taconet '23 Ph.D., Neag School doctoral students Shannon Langdon and Christopher Esposito, along with Allison Lombardi and others, recently published "Using Data to Support College and Career Readiness for Students With Disabilities" for the June issue of "Intervention in School and Clinic."
Fahd A. Vahidy '95 (CLAS), '98, and his partner Monika Doshi '99 (CLAS), were featured by the UConn Foundation for their philanthropic support of the Asian American Cultural Center.
Christine Wenzel '03 (CLAS), '05 MA was hired as the executive director of UConn's Center for Students with Disabilities. She previously served as the interim director and, before that, she coordinated and oversaw the Beyond Access Program at UConn.

In Memoriam
Gret Atkin '67
Robert K. Bergeron '69
Emily K. Collins '04
Gerald C. Cove '68
David B. DeMatteo '79
Patricia D. Dicks '94
Harriet F. Farney '87
Joan M. Ford '57
Kathryn W. Goodrich '78
Andrew P. Hechtman '76
Albert M. Heinzmann Jr. '69
Sylvia S. Hellstrom '74
Jeannette C. W. Holley '75
Marjorie L. Hoskin '54
Joan A. Hubbard '69
Ruth Ellen Hunt '62
Daniel A. Innaimo '67
Julia R. Kasprow '68
Peg N. Kaswer '59
Nancy Ives Kobs '62
George A. Lagios '77
Louis P. Leta, Jr. '61
John S. Lis Jr. '66
John F. Marchetti '80
Patricia H. McCormack '60
Judith B. Morrell '61
H. Thomas Nelson '61
Chester L. Pepin Jr. '69
Frederick A. Peterson Jr. '77
Mary M. Piazza '83
Robert T. Picchione '71
Arthur M. Pite '57
Caroline S. Plantz '61
Rosemary S. Pooler '61
David M. Provoncha '85
Carol M. Riccucci '68
Loren W. Schave '72
A.Z. Soforenko '61
Karen T. Stockwell '70
Sally A. Swanson '95
Joan H. Taylor '75
Wanda J. Ward-Maclean '81
Terry L. Wethered '86
Dana M. Wong '76
Congratulations to our Neag School alumni, faculty, staff, and students on their continued accomplishments inside and outside the classroom. If you have an accolade to share, we want to hear from you! Please email us any news items or story ideas.