Congratulations to our Neag School alumni, faculty, staff, and students on their continued accomplishments inside and outside the classroom. If you have an accolade to share, we want to hear from you! Please send any news items and story ideas to neag-communications@uconn.edu.
In addition to the Dean's Office and Department achievements, explore this edition's list of Accolades for the following: Faculty/Staff; Alumni; Students, as well as In Memoriam.
Dean's Office and Departments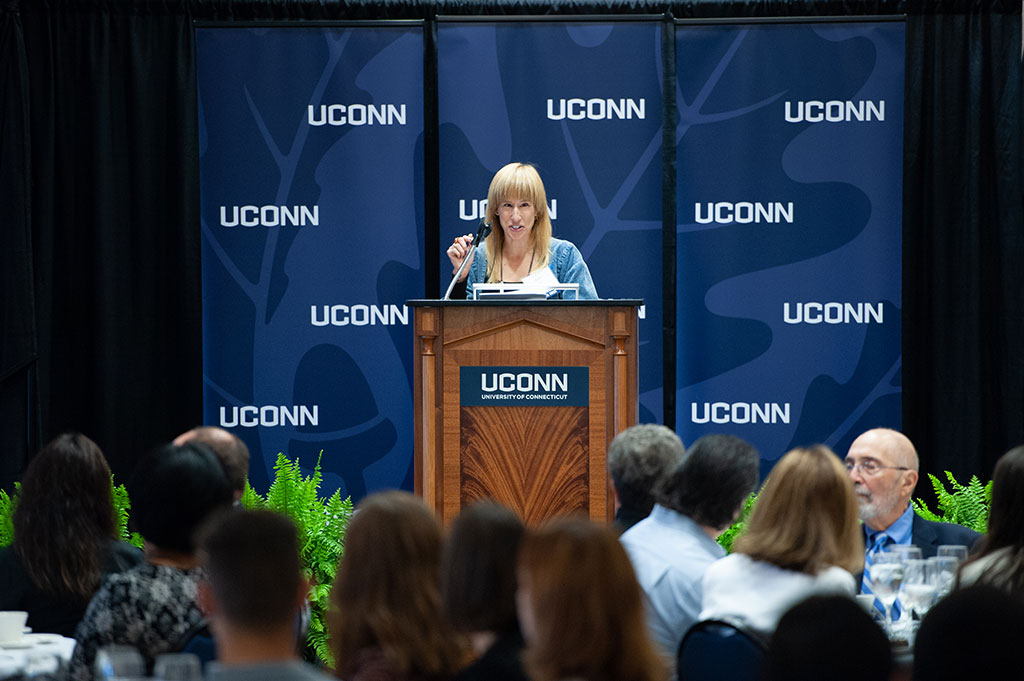 The Neag School of Education hosted the Annual Scholarship Awards Celebration on the UConn Storrs campus in September. Donors, alumni, faculty, students, family members, and friends gathered to recognize the student scholarship recipients and hear from speakers impacted by Neag School scholarships. Alum Justis Lopez '14 (ED), '15 MA gave remarks and served as the event emcee, and current doctoral student Emily Tarconish was the featured student speaker. Check out photos from the event, along with a video that was shared during the celebration.
The National Science Foundation awarded Neag School faculty a total of more than $2.5 million for two research projects, including $400,000 for "Collaborative Research: Windows of Opportunity-Understanding Black Male Engineers in the Pursuit of Advanced Degrees," co-led by Erik Hines, and $2.2 million for "Integrating Computational Thinking in Mathematics and Science High School Professional Development," co-led by Suzanne Wilson and Bianca Montrosse-Moorhead.
The Neag School  hosted a professional development session and discussion aimed at helping K-12 teachers incorporate writing and reading that addresses human rights issues in new and creative ways. The event was hosted in conjunction with the annual Connecticut's Book Fair at UConn, held on the UConn Storrs campus in November. Check out photos from the event.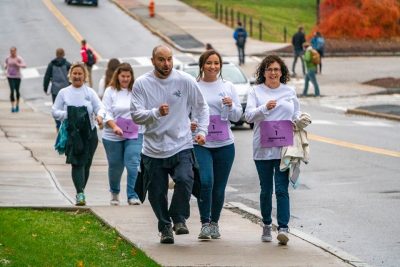 The Neag School is serving as a co-sponsor, with schools and colleges from across UConn, for the inCHIP Lecture Series this fall.
The Neag School hosted the second annual Robert Run on the UConn Storrs campus in November, in memory of Robert Colbert, a faculty member in educational psychology who passed away in 2016. See photos from the event.
A new $32.6 million grant from the U.S. Department of Education represents five additional years of funding for the National Technical Assistance Center on Positive Behavioral Interventions and Supports (PBIS), which just celebrated its 20th year. Read more.
Department of Curriculum and Instruction (EDCI) and Teacher Education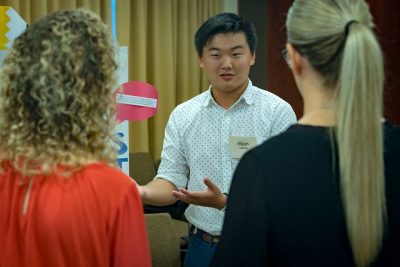 Juniors from the elementary education cohort participated in a Curriculum Conference where they presented their analyses of lessons from readily available curricular resources. See photos from the event.
EDCI hosted the World Language Summit, an annual event in which world language teacher candidates and in-service teachers from partnership districts come together to discuss a variety of issues. This year focused on Connecticut's new Seal of Biliteracy initiative and curricula at middle and high school levels. See event photos.
EDCI hosted a Music Education Summit, led by Robin Hands, for clinic teachers, cooperating teachers, internship supervisors, and university supervisors. Joseph Abramo and Cara Bernard facilitated a discussion on competencies required when mentoring music education students. The event, held on the UConn Storrs campus in October, also included networking for music educators from across the state of Connecticut.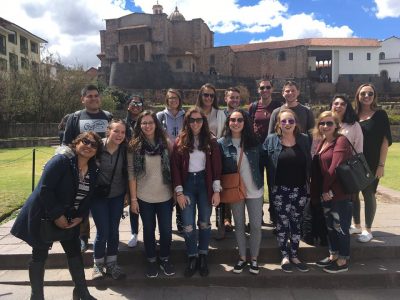 Eight students in elementary and music education are spending this fall semester in Cusco, Peru, taking courses in Spanish and service learning; working in local schools; and traveling to several of Peru's cultural and historic sites. This is the first year of the Neag School's study abroad program in Cusco, organized in conjunction with CISAbroad and Peru's Universidad San Ignacio de Loyola (USIL). One of the student's projects includes organizing and establishing a library in a local school. Check out a photo album from their program.
Department of Educational Leadership (EDLR)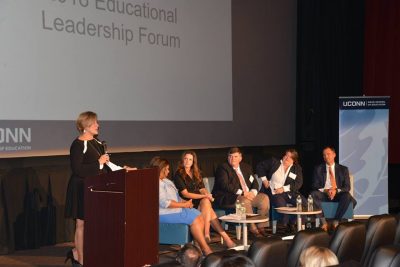 The Neag School hosted the fourth annual Educational Leadership Forum at the Spotlight Theatre in Hartford, Conn., in October. The event included a networking reception along with a panel discussion with a special focus on leadership for equity, featuring several Neag School alumni. Check out a photo album from the event. Read more.
The Center for Education Policy Analysis (CEPA) co-hosted a speaker series featuring Kirabo Jackson of Northwestern University in September on the UConn Storrs campus. See photos from Jackson's talk. CEPA also hosted another speaker series event featuring Sarah Woulfin, who spoke on "Crystallizing Coaching" in October. Check out a photo album from her presentation.
The Graduate Certificate in College Instruction (GCCI) blog/newsletter, co-authored by Emma Bjorngard-Basayne, a graduate of the GCCI program, and Kristi Kaeppel, a current GCCI student, was featured in a recent Chronicle of Higher Education piece. The blog was also mentioned in a May episode of the UConn 360 Podcast.
Husky Sport was awarded $1.35 million over the next three years by the U.S. Department of Agriculture's Supplemental Nutrition Assistance Program-Education to continue its work in Hartford, Conn. Husky Sport also received a $10,000 grant to support AmeriCorps public ally Joanne Mata from the Ensworth Charitable Trust.
The Neag School's sport management program hosted its annual Career Night in Sport in October on the UConn Storrs campus. The event featured remarks by Jamelle Elliott '96 (BUS), '98 MA, Neag School alumna and associate athletic director at UConn. The annual tradition brings together the program's experienced and current students, along with alumni, for an exciting evening of conversation and connection. See photos from the event.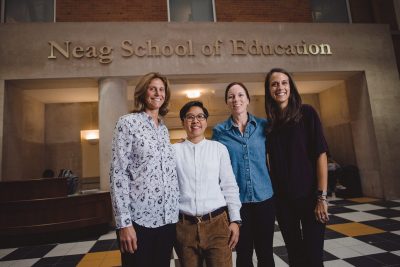 For the third year in a row, the sport management program participated as a mentorship site as part of the Global Sport Mentorship Program (GSMP). Laura Burton, Jennifer McGarry, and Danielle DeRosa acted as the hosting mentors. As part of the GSMP, they hosted Tra Giang "Jane" Nguyen for several weeks in October, during which time Nguyen spent time with sport management faculty at UConn to learn more about the context of sport in the U.S., nonprofit development and social entrepreneurship, and gender and leadership development in sport.
The sport management program hosted a "Beyond the Field" lecture series on the UConn Storrs campus in October featuring Sarah Hillyer, founder of Sport 4 Peace, a nonprofit organization dedicated to improving the quality and availability of sporting opportunities for girls and women around the world.
The Talent Office at the Connecticut State Department of Education released the Resource Guide for New Administrators, a reference tool for educators in Connecticut, which was developed with support from the Wallace Foundation through the UConn UPPI project. UPPI was also a contributor to a national report titled "Launching a Redesign of University Principal Preparation Programs: Partners Collaborate for Change," released by RAND Corporation in October.
UConn's Student Affairs Association hosted a "Higher Ed Leadership Panel" in September on the UConn Storrs campus. This panel discussion included members of UConn's administration Eleanor Daugherty, associate vice president of Student Affairs and dean of students; Michael Gilbert, vice president of Student Affairs; Hans Rhynhart, UConn chief of police; and Suzanne Onorato, executive director of Student Health Services.
Department of Educational Psychology (EPSY)
The Center for Behavioral Education and Research (CBER) hosted a Breakfast Brown Bag featuring UConn Provost Craig H. Kennedy's talk, "Lessons Learned and What it Takes to Become a Successful Researcher." The event was held on the UConn Storrs campus in October. See photos from the event.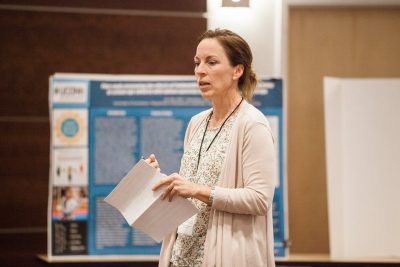 The UConn Collaboratory on School and Child Health (CSCH) held its second Encore Conference at the Hartford (Conn.) Public Library in September, providing an opportunity for participants to learn about work related to school and/or child health that CSCH affiliates had presented previously at external conferences. Following a welcome from CSCH Steering Committee member Jennifer McGarry, affiliates were given the opportunity to peruse posters, network, and find collaborators for those interested in making seed grant pitches. See photos from the Encore event. CSCH also published a report "Think About the Link: Safe Environment" in September, co-authored by Sandra Chafouleas, and hosted a CSCH-Public Health House Learning Community event in October on the UConn Storrs campus that included a discussion on employee wellness needs and research. Lisa Sanetti, Jennie McGarry, and Jaci VanHeest, faculty director of the leanring community, also took part. Check out photos from the events here.
ESPY faculty and doctoral students helped create master's-level courses for the National Center for Leadership in Intensive Intervention.
The UConn Foundation partnered with the ScHOLA2RS House Learning Community, led by faculty director Erik Hines, to host an opportunity in Washington, D.C., in September for alumni and friends to meet with students while they were in town for the Congressional Black Caucus Legislative Conference. Read more.
A report about gifted English-language learners from the National Center for Research on Gifted Education was featured in Education Week.
Faculty/Staff
Ronald Beghetto was profiled in an article "Creativity, Uncertainty, and Beautiful Risks: A Conversation with Dr. Ronald Beghetto" for the September issue of the Association for Educational Communications & Technology.
Patricia Bellamy and Justin Evanovich presented a poster "Community-School and University Partnership Alignment for School Wide-PBIS and Student Engagement" at the National Positive Behavior Intervention Supports (PBIS) Leadership Forum in Chicago in October.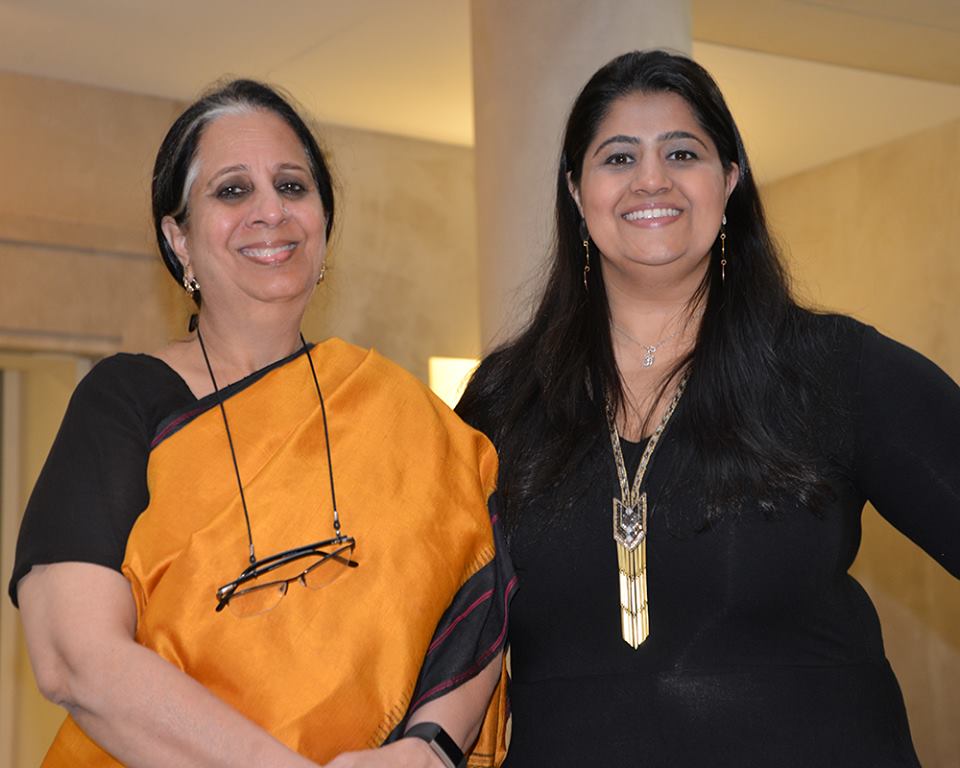 Aarti Bellara hosted Jyoti Chandiramani, dean of faculty for humanities and social sciences at Symbiosis International University in Pune, India. Bellara and Chandiramani are working in collaboration to help build the capacity for assessment and evaluation at the university, where Bellara has given professional development workshops.
Laura Burton co-authored "Sportscasting Success: Varying Standards May Apply" in the spring issue of Journal of Sports Media. She also co-presented "Personal Development and Personal Growth: The Importance of Servant Leadership in SDP Organizations" with alum J. Welty Peachey '09 Ph.D. and other faculty members at the North American Society for Sport Management Conference in Nova Scotia in June. She also is an editor of the second edition of Sport Leadership in the 21st Century (Jones and Bartlett Learning, 2018).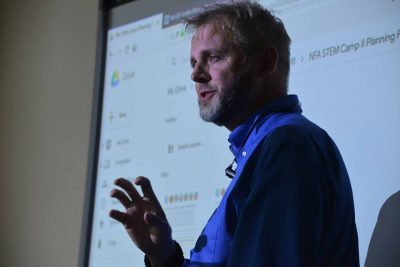 Todd Campbell coordinated SciCamp on the UConn Storrs campus in September as part of the Connecticut Network of Science Educators and Pre-service Teachers project, a Connecticut State Department of Education-funded mathematics and science partnership grant that Campbell co-leads with other science education higher education faculty members across the state. See photos from the event. Campbell also co-wrote "Adding Math to Science" for the October issue of The Science Teacher and was a participant of "Open Science for Open Knowledge: A Roundtable" on the UConn Storrs campus in October. He also presented "Human Impact on Local Water Resources," a project funded by the U.S. Department of Agriculture's National Institute of Food and Agriculture, with Neag School research assistant and alum Laura Rodriguez '16 (ED), '17 MA at the Connecticut Science Museum in Hartford, Conn., in October. He also recently co-presented on "Learning From the Complex Society of Army Ants and Their Guests Through a NGSS Designed 3D Unit and Assessment" with Neag School alum Victoria Schilling '16 (CLAS), '17 MA. In addition, Campbell, Rodriguez, and David Moss are co-authors of "Connecting Generations Through Informal Geospatial and Conservation Education," published in the Journal of Extension's special September issue on innovation.
Rebecca A. Campbell-Montalvo won first place as well as the People's Choice Award at the 2018 UConn Graduate School Post-doctoral Datablitz Competition. Competitors had five minutes and four PowerPoint slides to explain their research. The award came with a $1,000 cash prize. Check out Campbell-Montalvo's slides, titled "The Birthplace of Errors in Education Statistics: The Overlooked Site of K-12 School Registration." In October, she also was featured in a Collaboratory on School and Child Health Twitter chat focused on her research.
Milagros Castillo-Montoya was part of a group of more than 500 academic experts who submitted an amicus brief supporting race-conscious college admissions in a case being considered by the U.S. District Court. Castillo-Montoya also co-authored "Learning Latinidad: The Role of a Latino Cultural Center Service-Learning Course in College Students' Latino Identity Inquiry and Sociopolitical Capacity" in the June issue of Journal of Latinos and Education.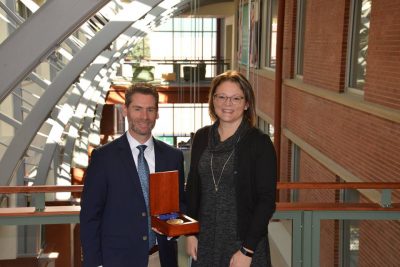 Sandra Chafouleas has received the UConn Foundation Office of Alumni Relations' Faculty Excellence in Research and Creativity Award in the Humanities, Arts, and Social Sciences, which recognizes faculty who have made significant and/or creative contributions to a field of knowledge or area of inquiry. She was also featured in UConn Magazine's Fall issue. In addition, Chafouleas, Betsy McCoach, and alumna Amy Briesch '05 MA, '09 6th Year, '09 Ph.D. presented "Reproducibility in the Era of Big Data Reproducibility in the Era of Big Data" in October at the BigSurv18 Conference in Barcelona, Spain.
Clewiston Challenger, assistant professor of counseling and a former UConn football player, was featured in a Hartford Courant story about mental health in college athletics.
Joseph Cooper was recognized by the North American Society for the Sociology of Sport with the Society of Sport Journal's Early Career Researcher Award. He was recognized with the award at the NASSS 2018 National Conference in Vancouver, BC, Canada in October.
Michael Coyne and Betsy McCoach co-authored, with other colleagues, "Racing Against the Vocabulary Gap: Matthew Effects in Early Vocabulary Instruction and Intervention" for the August issue of Exceptional Children.
Morgaen Donaldson and Sarah Woulfin co-wrote "From Tinkering to Going 'Rogue': How Principals Use Agency When Enacting New Teacher Evaluation Systems" for the July issue ofEducational Evaluation and Policy Analysis. Donaldson is also serving as chairperson for AERA's Division L, Section 5.
Adam Feinberg co-published "Understanding Home-Based Treatment Fidelity Assessment and Promotion: Implications for School Psychologists" for the October issue of Contemporary School Psychology.
Jennifer Freeman published "Effective Low-Intensity Strategies to Enhance School Success: What Every Educator Needs to Know — A Closing Commentary" for the September issue of Beyond Behavior.
Rachael Gabriel wrote an analysis, featured in The Washington Post, examining the debate around best practices for teaching kids how to read.
Preston Green was a Leadership Policy and Organizations Research Colloquium series speaker at Vanderbilt University's Peabody College of Education and Human Development in October in Nashville, Tenn. He also presented "Charter Schools, Academy Schools, and Related-Party Transactions: Same Scams, Different Countries" at Vanderbilt in October. In September, he was a participant in the National Education Policy Center's 12th Annual Research Panels, titled "The Challenge of Making Research Usable and Used" in Boulder, Colo.
Robin Grenier co-published with colleagues "A Qualitative Investigation into the U.S. Department of Agriculture 18‐Item Household Food Security Survey Module: Variations in Interpretation, Understanding and Report by Gender" for the September issue of Journal of Public Affairs. Grenier also was named a Fulbright U.S. Student Program's National Screening Committee Member for Scandinavia, and was named to the Ballard Institute and Museum of Puppetry Advisory Board in Storrs, Conn.
John Hyman presented "Nudges, College Enrollment, and College Persistence: Evidence from a Statewide Experiment in Michigan" in Boston in October. He also is principal investigator of a $99,892 U.S. Department of Energy grant entitled "The Effects of Wind Energy Installation on School District Revenues and Expenditures, Resource Allocations, and Student Achievement." The study seek to shed light on the extent to which wind energy can provide an important and potentially growing source of financial support for K-12 education and subsequent improvements for student achievement.
Doug Kaufman co-authored "Conceptualizations of Writing in Early Years Curricula and Standards Documents: International Perspectives" in the October issue of The Curriculum Journal.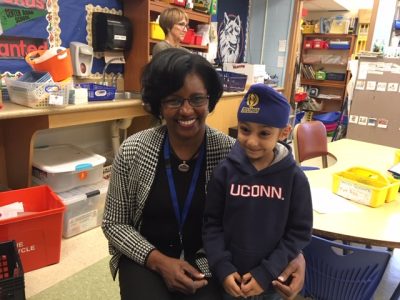 James Kaufman was featured in "James Kaufman: Do Meaningful Work," a Q&A by The Reading Lists. He also published "Finding Meaning With Creativity in the Past, Present, and Future" for the September issue of Perspectives on Psychological Science.
Devin Kearns co-published "A Longitudinal Analysis of the Trajectories and Predictors of Word Reading and Reading Comprehension Development Among At-Risk Readers"in the September issue of the Journal of Learning Disabilities.
Dean Gladis Kersaint was a featured speaker at the Connecticut Association of Schools' "Women in Leadership Conference" held in Cheshire, Conn., in October.
Tamika La Salle developed a set of school climate surveys in 2008 for the state of Georgia to be used by students, families, and personnel on an annual basis as part of their accountability measures. In 2016, these surveys were adopted to the PBIS website and have been available nationally. Most recently, the U.S. Department of Education's Safe and Supportive Schools has endorsed the surveys and made them available on the its website.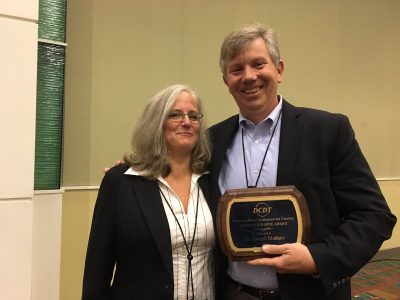 Joseph Madaus received the Oliver P. Kolstoe Award, given by the Council for Exceptional Children's Division on Career Development and Transitionat its national conference in Grand Rapids, Mich., in October. The award ispresented to an individual who has made a significant contribution to the field of career development and transition through means other than direct classroom instruction.
Jennifer McGarry has been invited to join the Connecticut State Department of Education (CSDE)'s School Discipline Collaborative, launched in October to strengthen the CSDE's commitment to positive school climate. McGarry also co-authored "Program Development Within Authentic Partnerships" for the Journal of Educational Leadership and Policy Studies. She was also mentioned in UConn Magazine's Fall issue about her work with Husky Sport.
Kenny Nienhusser coordinated a research brief dissemination series (sponsored by the Neag School, UndocuScholars, and Association for the Study of Higher Education Presidential Commission on Undocumented Immigrants) focused on undocu/DACAmented students. The first event in the series, a Twitter Chat, featured a research brief Nienhusser prepared titled "Implementation of Public and Institutional Policies for Undocu/DACAmented Students at Higher Education Institutions." Nienhusser also joined the American Educational Researchers Association (AERA)'s Books Editorial Board for a four-year term. The board presides over the books publishing program.
James O'Neil co-wrote "Black Fathers Matter: The Role of Paternal Closeness on Adolescent Male Obesity" in the September issue of the Psychology of Men and Masculinity.
Lisa Sanetti co-published "School Psychologists' Beliefs and Practices About Treatment Integrity in 2008 and 2017" in the October issue of Psychology in the Schools.
Richard Schwab has been selected to serve on Boston University Dean's Advisory Board for the Wheelock College of Education as well as on the National Advisory Council for Discovering Amistad.
Del Siegle was named a 2018 Distinguished Scholar in Gifted Education by the National Association for Gifted Education (NAGC). He will be recognized at the NAGC 65th Annual Convention in Minneapolis this month. In September, Siegle gave a closing keynote titled "Understanding Gifted Students' Underachievement and Motivation" at the Münsterschen Bildungskongresses, the 6th Münster Education Congress. The conference was attended by more than 1,200 European teachers and professors.
Suzanne Wilson has been invited to be the co-chair of the Visioning and Development Panels for updating the 2025 National Assessment of Educational Progress Mathematics Assessment Framework.
Sarah Woulfin was featured in a video from Teaching Academia titled "How to Use the Writing Pipeline to Create Academic Success."
Students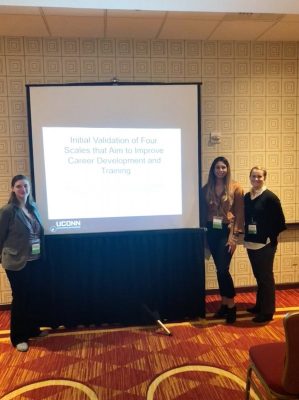 Spanish education fifth-year students Marianna Bedoya and Jenna Bordieri presented at the Connecticut Council on Language Teachers annual conference last month in Cromwell, Conn. They presented with their Glastonbury district internship supervisors on working on interpersonal language skills with students across the district.
Johanna deLeyer-Tiarks '17 MA, a doctoral student in educational psychology, co-published with Melissa Bray and another colleague "Academic Stress: What Is the Problem and What Can Educators and Parents Do to Help?" in the July issue of Positive Schooling and Child Development.
Taylor Hudak, a master's student in the Integrated Bachelor's/Master's Program, authored an op-ed for the Hartford Courant about helping decrease anxiety in overachiever students.
Jessica Monahan '12 (CLAS), '13 MA, a doctoral student in educational psychology, was a recipient of a graduate research award at the Council for Exceptional Children's Division on Career Development and Transition national conference in Cedar Rapids, Iowa, in October.
Keisha Redd-Hannans, 2018-19 Executive Leadership Program cohort member, was recently appointed deputy superintendent in the New Haven (Conn.) Public Schools.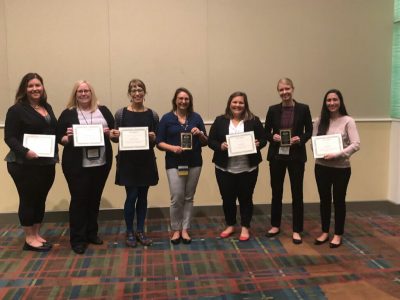 Alumni    
Konnor Bachman '15 (ED), '17 MS is a product support technician with Catapult Sports in Boston after a yearlong internship with the Memphis Grizzlies.
Miguel Cardona '01 MA, '04 6th Year, '11 Ed.D., assistant superintendent for teaching and learning in Meriden (Conn.) Public Schools, authored "Teaching is an Extension of Your Life's Purpose" for the Connecticut State Department of Education's TEACH Connecticut initiative.
Natalie Curran '11 (ED), '12 MS was profiled by Teach.com about her transition from teaching school-age patients in a hospital setting to her position as a partner consultant at LearnWell, a company that provides academic instruction to students who are on an extended absence due to health concerns.
Anna M. Cutaia-Leonard'07 ELP, '13 Ed.D., superintendent of Milford (Conn.) Public Schools, was featured in the Milford Patch.
Jon Dahlquist '03 (ED), '05 MA is dean of wellness and athletics at East Catholic High School in Manchester, Conn.
Lisa Famularo '18 MA is serving as a career consultant for the College of Liberal Arts and Sciences within the Center for Career Development at UConn.
Emily Mattson Flynn '11 (ED), '13 (CLAS) is executive assistant to the director of the West Suburban YMCA in Newton, Mass.
Maryanne Garry '93 Ph.D., a professor at the University of Waikato in New Zealand and researcher for the Institute for Security and Crime Science, was recently installed as a board member for the Association for Psychological Science.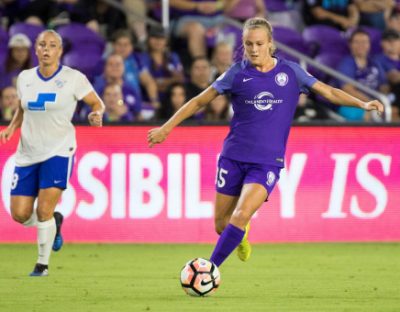 Julie Hubbard '14 MS is a staff physical therapist at Marathon Physical Therapy and Sports Medicine in Boston and also has started Just for Kicks, a website aimed at helping female soccer players and their families better understand ACL tears, an injury that Hubbard experienced as a college soccer player.
Carl Johnson '03 (CLAS), '04 MA, '15 6th Year has been appointed principal of Plainville (Conn.) High School.
Patricia King '09 6th Year was appointed principal of the Connecticut Technical High School System in Middletown, Conn. King has worked in Connecticut school systems for more than 20 years as a teacher, department head, assistant principal, and principal.
Kelsey Murphy LaPrad '09 (ED), '10 MA a special education teacher at Brien McMahaon High School in Norwalk, Conn., received the Lawrence O'Toole grant through the Nellie Mae Foundation. LaPrad plans to use the grant to train students and teachers to implement a peer-assisted classroom model for students with disabilities.
Susan Lubomski '17 ELP was appointed interim superintendent for the Torrington (Conn.) Public Schools.
Gudrun (Haider) Nyunt '06 MA is a visiting assistant professor in higher education at Northern Illinois University, in DeKalb, Ill.
Stephanie Radke-Barbera '05 (ED), '06 MA is a special education teacher for Taylor Elementary in Foxboro, Mass. She most recently served as a special educator in Connecticut and New Jersey public school districts.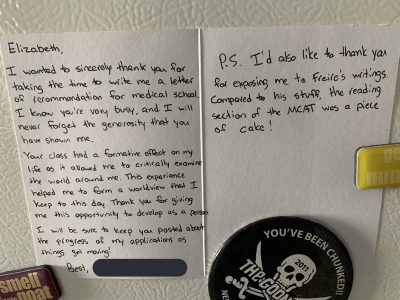 Mitchell Simmons '18 (ED), '18 (CLAS) is in his first year as the director of basketball operations for Boston University Women's Basketball in Boston.
Abigail Smith '17 (ED) and Katrina Camerato '19 (ED) placed first in the Northeast Association of College and University Housing Officers' New Professionals Case Study Competition in October. Their group analyzed interventions for increasing mental health issues within residential spaces on campus.
Mary Vallera '17 6th Year is an assistant principal at Kennelly School in Hartford, Conn.
In Memoriam
John F. Bennett '71
Robert W. Benson Sr. '63
Etta M. Bishop '68
Florence Caillard '93
Catherine Y. Cant '66
Burr R. Carlson '56
Thomas F. Geary '56
Mortimer S. Johnson '56
Sara J. Kaplan  '93, '94
Mary Q. Klarman '59
Joan E. Mulvihill '62
Leon R. Pierce '76
Christine H. Porto '72
Rene J. Racette '78
Marta Rodriguez '91
Emma E. Rose '77
Chauncy Rucker (professor emeritus)
Frankie W. Stapleford '78
Elizabeth W. Symonds '79