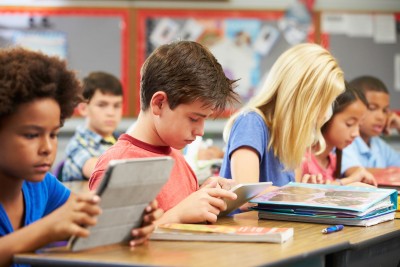 Editor's Note: This piece originally appeared on UConn Today, the University's official news website.
Charter schools should only have a place in our public education landscape if they further the public policy goal of advancing educational equity, according to a new report from professors at the University of Connecticut and the University of Wisconsin-Madison.
Published by The Century Foundation, the report, "Advancing Intentional Equity in Charter Schools," provides a comprehensive list of recommendations for planning, oversight, and complaint procedures at charter schools to ensure that policymakers on both the state and federal level, as well as charter school operators, are mindful of equity throughout the charter school authorization process.
"Charter schools can and should play a role in improving equal educational opportunity," says Preston Green, a professor of educational leadership and law at UConn's Neag School of Education, who co-authored the report with Julie F. Mead, a professor in the Department of Educational Leadership & Policy Analysis at the University of Wisconsin-Madison. "In order for that role to be realized, policymakers need to be dedicated to ensuring educational equity at all levels and throughout each stage of charter school authorization, with particular focus paid to planning, oversight, and complaint procedures."
"It's our view that charter schools should protect the educational rights of students."

— Professor Preston Green
The number of students enrolled in public charter schools has grown steadily since their creation in the 1990s. Six percent of all students enrolled in public schools around the country now attend charter schools, which are publicly funded, voluntary-enrollment schools that are created through a legislative process and operate through a specialized contract in exchange for relief from compliance with some state statutes and regulations.
Research into charter schools has documented that many tend to serve more black and Latino students than white students, enroll smaller proportions of children with disabilities, and serve fewer children who require special attention because their first language is not English.
"Charter schools vary greatly from state to state, district to district, based on the statutes governing their authorization and differing oversight measures that depend on the individual jurisdiction," Green says. "But it's our view that charter schools should protect the educational rights of students."
Supporters of charter school expansion have claimed that such expansion causes little to no harm on the school districts in which they're located, but researchers have argued that the costs associated with charter schools have a negative impact on public school funding, particularly in minority school districts that already struggle with underfunding. Additional research suggests that financial difficulties are a leading cause of charter school failure.
The report suggests that the federal government should adopt funding priorities for charter schools that grant awards to applicants that clearly describe their strategies to serve a diverse set of learners, and further recommends that the U.S. Department of Education require states to include descriptions of their charter school programs and the measures in place to ensure equity as a part of the state plans required under both the Individuals with Disabilities Act (IDEA) and the Every Student Succeeds Act (ESSA). These federal laws require states to comply with certain rules and regulations as a condition of federal financial support.
The authors recommend that states adopt parallel incentives to ensure that entities seeking to operate charter schools plan for equity. To address some of the fiscal issues associated with charter schools, they suggest that operators be required to articulate a clear financial plan, and that states adopt statutory requirements to ensure that charter school authorizers consider the fiscal impact of the charter school on the school district in which the school will be located.
In terms of comprehensive oversight, the authors say, the federal government requires the collection of attrition data from charter schools, arguing that authorizers and state and federal officials may never understand whether discriminatory practices impacted parents' choices to withdraw from voluntary enrollment in charter schools without attrition data.
The authors also recommend that charter school authorizers consider student demographics and service provision as part of any charter school performance review, and argue that states should be able to revoke the authority to charter from any authorizer that fails to fulfill its obligation to provide adequate oversight to the charter schools under its supervision.
"By focusing on planning, oversight, and complaint procedures," says Green, "policymakers and authorizers can help create an environment in which charter schools can provide equal access to all students."
The Century Foundation is a progressive think tank headquartered in New York City with an office in Washington, D.C.