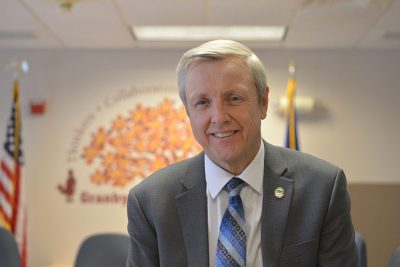 Editor's Note: Alan Addley is currently the superintendent of Darien Public Schools.
In our recurring 10 Questions series, the Neag School catches up with students, alumni, faculty, and others throughout the year to offer a glimpse into their Neag School experience and their current career, research, or community activities.
Alan Addley is in his 11th year as the superintendent of Granby (Conn.) Public Schools. A native of Northern Ireland, Addley started his career as a professional soccer player and mathematics teacher. He has 34 years of administrative and teaching experience in private and public schools in the United States and Ireland. Addley completed a Connecticut Superintendent Certificate through the Executive Leadership Program in 2007 and earned his Ed.D. in 2014, both at the Neag School.
Why did you decide to pursue the Executive Leadership Program (ELP) at the Neag School? Having spent seven years as a high school principal, I was professionally ready for the next step in my career as an educator. The Neag School of Education's Executive Leadership Program has always been highly regarded asone of the premier superintendent preparation programs in the nation. As a UConn alumnus, having previously gone through University of Connecticut Administrator Preparation Program (UCAPP), it was an easy and natural decision to pursue my executive level training to become a superintendent through UConn's ELP.
"Providing the community with clear and consistent communication, engaging them in meaningful decision making, and developing strong relationships are critical skills for a successful superintendent."

— Alan Addley, '07 ELP, '14 Ed.D.
How have the ELP program and your doctorate in education helped you in your career? UConn's reputation for educational excellence positioned me well for the job market, but, most significantly, the ELP was instrumental in providing me with the theoretical, technical, and practical learning experiences necessary in order to best prepare me to meet the complex challenges of the contemporary superintendency. My experiences in the ELP also exposed me to some of the most dedicated and knowledgeable professors and educations in the state who, to this day, remain my teachers, friends, and mentors.
The design of the programs have complemented one another. The quality and consistency of faculty and curriculum have provided thoughtful alignment and coherence to the learning experiences. The common preparation and research-based learning experiences are all practitioner-orientated and include learning via case studies, cohorts, internships, seminars, and problems of practice.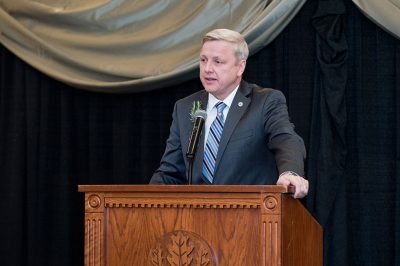 What does being recognized by the Connecticut Association of Public School Superintendents (CAPSS) as this year's Superintendent of the Year mean to you? I am privileged and honored to be named Connecticut's 2019 Superintendent of the Year (SOY) in recognition of the collective achievements and accomplishments of a wonderful Granby community, Board of Education, staff, and student body. As the SOY and an ambassador for UConn, I feel a strong sense of responsibility to provide impactful leadership and service in the educational arena, give back to the university and teaching profession, and use the SOY honor to make a difference for educators and children. 
What do you see as some of the most significant challenges for superintendents today? The complexities of the superintendency are varied and the challenges plentiful. Most pressing issues include ensuring appropriate, equitable funding for public education; reducing achievement gaps; preparing the next generation of teachers and administrators; managing special education programming; addressing students' social and emotional issues; effectively working with constituents and policymakers; a slow erosion of public trust in the profession; and, most importantly, ensuring schools can prepare our students for the future. Doing so requires sophisticated superintendent leadership to build adaptive learning environments that execute what is now working well, while, at the same time, exploring what might be in the future.
How has the challenge of engaging the community changed over time? To what extent does the achievement gap challenge your work? Providing the community with clear and consistent communication, engaging them in meaningful decision making,and developing strong relationships are critical skills for a successful superintendent. Positive relationships with the community provide the trust and foundation for the hard work that needs to take place. Technology has increased communication exponentially, and superintendents must be adept in harnessing social media as a strategic communication tool. Some of the ways I communicate with the community include the use of Twitter, superintendent forums, district website, educational supplements, and monthly newspaper articles.
Connecticut continues to have one the greatest achievement gaps in the nation and schools are microcosms of society. Achievement gaps exist in urban, suburban, and rural communities alike. Championing and being a leader for equity defines the work of being a superintendent. A superintendent must disrupt inequities, create a sense of urgency, and be the voice for all marginalized students. The superintendent must also implement policies and practices and secure the appropriate resources to address inequities. A successful superintendent must have the professional will and courage to do the hard work in the equity arena. 
What motivated you to move to this level of responsibility and complexity? I have always looked at teaching and the superintendency as a calling. While complex and difficult, the superintendency is also tremendously rewarding and, at times, exhilarating. For me, it is a wee bit akin to the ministry. Every day we have the awesome privilege and responsibility to touch the hearts and minds of children. Growing up in the '70s and '80s during the Troubles of Northern Ireland, and being the first in my family to go to college, I understand that education was my passport to a better future and that it still remains the foundation of the "American Dream" for all students.
What attributes or skills do you bring to your job that you think are shining examples of what make you successful? Skills and attributes I would consider important and integral to my success, include relationship building, communication, empathy, trustworthiness, integrity, humor, high expectations, and principled leadership. My skills as a mathematician and as a high school principal also served me well in preparing for the superintendency. Over the years, I have also learned the skill of 'Knowing when to hold'em, Knowing when fold'em, and Knowing when to walk away!' It has served me well.
What are you most proud of in serving as a superintendent? In some small way, the ability to have positively influenced the lives of adults and children … simply, to have made a difference in people's lives and to have provided some meaningful programmatic changes and experiences to the district during my tenure. My hope is that I have influenced, inspired and encouraged.
As a previous educator and administrator in Ireland, what elements of U.S. education are similar or different? While many characteristics of the Irish and U.S. education system are similar, there are perhaps two notable differences, and that is, in Ireland, there exists a very high respect for the profession. The teaching profession is held in high esteem by parents and the community. Another notable difference is that Irish schools are not partially funded through local community property taxes. Fundamentally, the characteristics of students, teachers, and schools are the same all over the world. The challenge for a superintendent is to understand and skillfully manage the context in order to provide caring learning environments where both students and adults learn. 
What would you say anyone considering a career as a superintendent? ELP is preparing the next generation of superintendents. I believe the most successful and happiest superintendents will be those who feel called to the profession, inspired by the challenges,and are able to maintain a healthy balance between home and work.…I have been truly fortunate and blessed, for my passion has also been my career.
The Neag School's Executive Leadership Program will hold a final information session this spring on March 21 in Hartford.
Read past installments of the Neag School's 10 Questions series here.