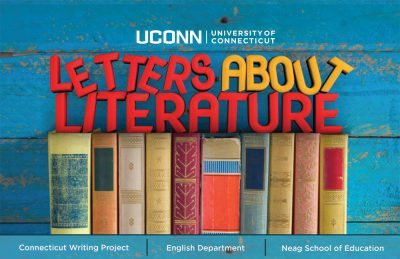 The Neag School of Education, UConn's Department of English, and the Connecticut Writing Project (CWP) at UConn are proud to announce Connecticut's winners of the 26th annual Letters About Literature competition, a nationwide contest sponsored by the Library of Congress for students in grades 4 through 12.
This fall, the Neag School, the Department of English, and the CWP served as the contest's Connecticut sponsors for the 2018-19 academic year; Neag School Professor Doug Kaufman, CWP Director Jason Courtmanche, and Department of English Ph.D. candidate Mollie Kervick served as the contest's representatives for the state of Connecticut.
There were 946 submissions from Connecticut students, and 96 semi-finalists. Each semi-finalist will receive a certificate of recognition. Nine state finalists from the contest's three categories (Grades 4-6, Grades 7-8, and Grades 9-12) have been selected, and each will receive a cash prize and state recognition, which includes a special ceremony at the Connecticut State Capitol Building on Friday, April 26. From those nine state finalists, three first-place state finalists have been selected and will advance to the national competition, for which winners will be chosen later this month. Read more about the contest, and click the student finalists' names below to read their winning essays.
View photos from the April ceremony at the state Capitol, celebrating Connecticut's nine finalists.
Congratulations to the finalists for the state of Connecticut, listed along with their school, teacher, and the work of literature that is the focus of their essay:
Level I (Grades 4-6)
First Place: Lauren Zhang, Middlesex Middle School, Chelsea Marshall, Salt to the Sea by Ruta Sepetys
Honorable Mention: Sara Hassan, CREC Discovery Academy, Meg Smith, Wilma Unlimited by Kathleen Krull
Honorable Mention: Rory Allen, King Philip Middle School, Lucinda Kulvinskas, Hamilton: The Revolution by Lin Manuel Miranda and Jeremy McCarter
Level II (Grades 7-8)
First Place: Sarah Chandler, King Philip Middle School, Lauren Reynolds, Clockwork Angel by Cassandra Clare
Honorable Mention: Grace Wright-Goodison, King Philip Middle School, Cindy Kent, Blind by Rachel DeWoskin
Level III (Grades 9-12)
First Place: Geena Kim, Westminster School, Megan Danyliw, When Breath Becomes Air by Paul Kalanithi
Honorable Mention: Brenna Leech, E.O. Smith High School, Amy Nocton*†, Paper Towns by John Green
Honorable Mention: Kha Dinh, South Windsor High School, Danielle Pieratti*†, Where You Go Is Not Who You'll Be by Frank Bruni
Honorable Mention:

Angela Graziani, South Windsor High School, Danielle Pieratti*†, Cry Silent Tears by Joe Peters
* Affiliated with CWP
† UConn alumna/us
Students in the Neag School and Department of English judged the 96 Letters About Literature contest semi-finalists this past month. The judges selected the best Letters About Literature submitted by Connecticut students at each of the three competition levels (grades 4-5, 7-8, and 9-12).
Thank you again to the contest judges, who are current students in the Neag School of Education Integrated Bachelor's/Master's program with a second major or concentration in English:
Missy Bancroft
Jack Curry
Kiana Foster-Mauro
Elizabeth George
Sheila Higgins
Lauren Jolles
Ruthie Kelley
Sam Taylor Laviero
Theresa Legein
Sammi Mahoney
Julia Mancini
Kassidy Manness
Carly Martin
Jenna Massicotte
Lyric McVoy
Lindsey McMorris
Marisa Nazzaro
Julia Russo
Ajane Santora-Fyne
Matt Scalzo
Natasha Schweitzer
Melissa Scrivani
Suli Serrano-Haynes
Emily Smith
Emily Wade
Delaney Wisniewski
Zhanya Wrentz