Congratulations to our Neag School alumni, faculty, staff, and students on their continued accomplishments inside and outside the classroom. If you have an accolade to share, we want to hear from you! Please send any news items and story ideas to neag-communications@uconn.edu.
In addition to the Dean's Office and Department achievements, explore this edition's list for Accolades from the following: Faculty/Staff; Alumni; Students; as well as In Memoriam.
Dean's Office and Departments
The Neag School of Education hosted the Annual Scholarship Awards Celebration on the UConn Storrs campus in September. Donors, alumni, faculty, students, family members, and friends gathered to recognize more than 150 Neag School student scholarship recipients and to hear from speakers who are supporting or are impacted by Neag School scholarships. Alum Desi Nesmith '01 (ED), '02 MA, '09 6th Year gave remarks and served as the event emcee; current master's student Isabella "Ivy" Horan was the featured student speaker; Sandra Hastings '89 MA, '94 Ph.D. participated in a conversation about supporting the Neag School; and Class of 2021 music education students Jamie Bailey, Emily VanRyswood, and William Mandelbaum performed. Check out a photo album from the event, along with a video that was featured. Read more about the Scholarship Celebration event.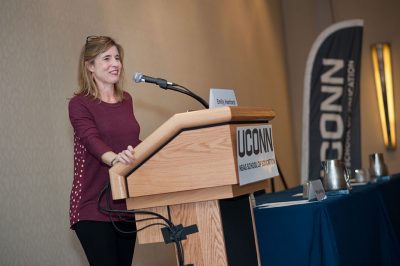 The Neag School of Education hosted the third annual Special Education in Connecticut Summit, sponsored by the Klebanoff Institute at the Hartford Marriott Downtown in October in Hartford, Conn. Joseph Madaus and the Neag School brought together more than 260 special education directors, school administrators, teachers, attorneys, and others from across the state for a daylong summit dedicated to exploring special education issues. Emily Hanford, senior producer and correspondent with American Public Media Reports, gave the keynote. Hanford also served as a facilitator for a panel discussion on "The State of Dyslexia and Teaching Reading in Connecticut." Cynthia Pirani-McGurl with HILL for Literacy, Stephney Gonzalez of the Connecticut Literacy Model Project, and Devin Kearns, associate professor in the Neag School, served as presenters. Check out the photo album from the event.
Department of Curriculum and Instruction (EDCI) and Teacher Education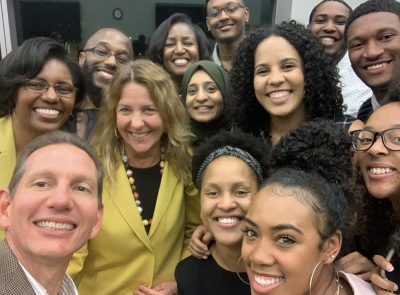 The Neag School of Education and Teacher Education hosted the annual Celebration of Diversity in Education dinner on the UConn Storrs campus in September. The event featured Kimberly Duhart (student speaker), Kiana Foster-Mauro and D'Ande Gibbs (Leadership in Diversity), and PaperVoices of Manchester (keynote presentation). The annual event brings together students of color and encourages them to consider a career in education. Current education students, as well as prospective students from Hartford's Bulkeley High School, were in attendance, along with Neag School alumni and professors, UConn administrators, and community leaders. View a photo album from the event.
Juniors from the elementary education cohort participated in a Curriculum Conference where they presented their analyses of lessons from readily available curricular resources. See photos from the event.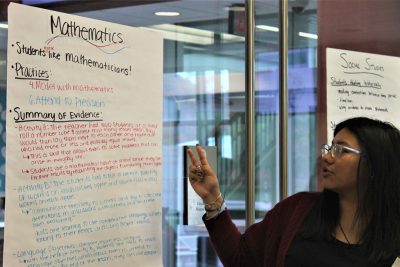 Department of Educational Leadership (EDLR)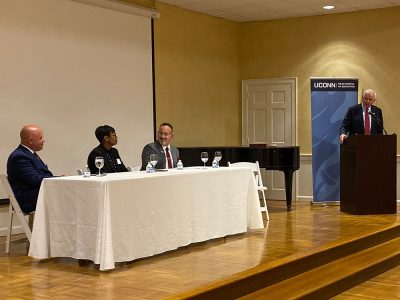 The Neag School held the 5th annual Educational Leadership Forum at the Darien Community Association in Darien, Conn., in October. This year's event, hosted by Jim Degnan '87 (CLAS) and Beth Degnan '87 (CLAS), included a networking reception with colleagues, students, and faculty from the UConn Administrator Preparation Program (UCAPP) and Executive Leadership Program (ELP). The event included a panel discussion and featured remarks by UCAPP alumnus Jonathan Budd '03 6th Year, who was recognized for his outstanding portfolio of work. Other participants included Alan Addley '08 ELP, '14 Ed.D., Darien Public Schools Superintendent; Robert Villanova, Executive Leadership Program Director; Miguel Cardona '01 MA, '04 6th Year, '11 EdD, '12 ELP, Connecticut State Commissioner of Education; Tamu Lucero, Stamford Public Schools Superintendent; and Chip Dumais '09 ELP, Cooperative Educational Services Executive Director. Check out photos from the event. Read more about the event.
The Center for Education Policy Analysis (CEPA) co-hosted a speaker series featuring Rebecca Lowenhaupt from Boston College. See photos from Lowenhaupt's talk. CEPA also recently issued a research brief, authored by Ph.D. student Jeremy Landa, on the distribution of teachers by race across Connecticut school districts.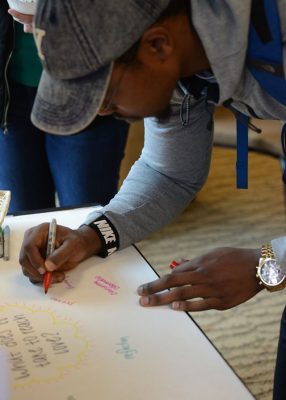 Higher education and student affairs (HESA) first-year students enrolled in EDLR 5105: Structured Group Dialogue in Student Affairs hosted a gallery walk in October at UConn Storrs. The course centers its learning on dialoguing across racial difference, and this culminating event showcased student-created, interactive visuals that expressed students' learning as a result of this course. This event served as an opportunity to gather students, faculty, and campus partners to engage in dialogue around the visuals. Check out photos from the event.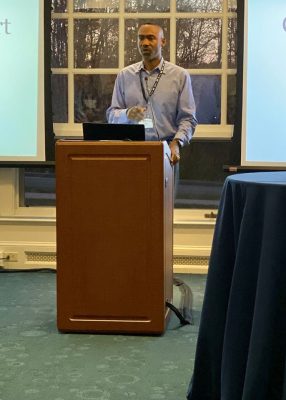 The sport management program hosted the annual Career Night in Sport at the UConn Alumni Center in October. The event featured remarks from Doug Glanville, former MLB player and current academic technician with the Department of Educational Leadership, along with networking and breakout sessions on a variety of topics, including "Navigating the Field," "From Graduation to Graduate School," and "Sport in Education." Check out photos from the Career Night in Sport event.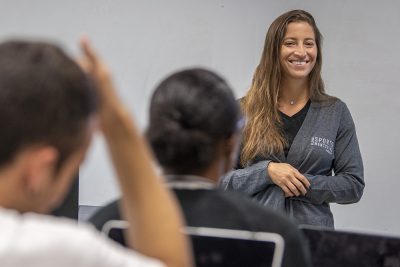 For the fourth year in a row, the sport management program participated as a mentorship site as part of the Global Sport Mentorship Program (GSMP). Laura Burton, Jennifer McGarry, and Danielle DeRosa acted as the hosting mentors. As part of the GSMP, they hosted Karen Chammas for several weeks this past month. Chammas spent time with sport management faculty to learn more about the context of sport in the U.S., nonprofit development and social entrepreneurship, and gender and leadership development in sport. Read more about the Global Sport Mentorship Program.
Department of Educational Psychology (EPSY)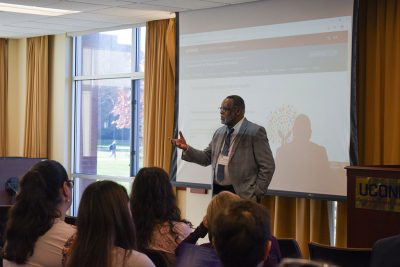 The Neag School of Education co-sponsored the UConn Collaboratory on School and Child Health (CSCH) "Symposium on Trauma-Informed School Mental Health Symposium" on the UConn Storrs campus last month. The symposium provided an overview of school mental health and framed a statewide conversation through a trauma-informed lens. Read more about the event, which featured remarks from DCF Deputy Commissioner Michael Williams, and view the photo album. CSCH also launched a "Wellness School Assessment Tool for the Whole School, Whole Community, Whole Child Model" that was built on the history of the Wellness School Assessment Tool, developed by the Rudd Center.
Neag School educational psychology faculty, including E. Jean Gubbins, Joseph Madaus, D. Betsy McCoach, Sally Reis, and Del Siegle, have secured more than $5 million in federal funding through the U.S. Department of Education's Jacob K. Javits Gifted and Talented Students Education Act for two new research projects centered on gifted education. Reach more about the research grants.
The U.S. Department of Education has awarded $6.5 million to Mary Beth Bruder, director of the A.J. Pappanikou Center for Excellence in Developmental Disabilities Education, Research, and Service (UCEDD) to develop a doctoral leadership program to train 28 future faculty in the areas of early intervention, early childhood special education, and related services, such as occupational therapy, social work or speech, language and pathology. Read more about the $6.5M grant.
The U.S. Department of Education has awarded $2.5 million in funding through its Office of Special Education Programs (OSEP) to special education faculty at Boston University (BU)'s Wheelock College of Education & Human Development and the Neag School of Education for a project that will fully fund five doctoral students at each institution over the next five years. Faculty members involved in the project include Devin Kearns, Michael Coyne, Allison Lombardi, and Jennifer Freeman. Read more about the project.
The U.S. Department of Education's Office of Special Education Programs also is providing the Neag School and Center for Behavioral Education and Research (CBER) with $1 million to fund three doctoral students in special education for four years each. Read more about the grant.
The Neag School launched a new fully online master's degree in research methods, measurement, and evaluation (RMME) within the educational psychology department, the first of its kind at the Neag School.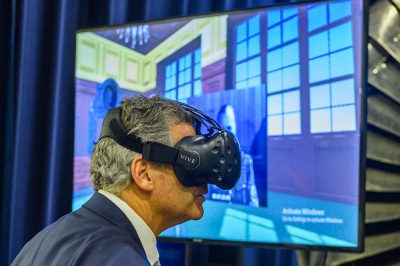 Faculty/Staff
Joseph Abramo co-published "Policy, Interculturality and the Potential of Core Practices in Music Teacher Education" for the October issue of Visions for Intercultural Music Teacher Education.
Melissa Bray co-edited Promoting Mind-Body Health in Schools (American Psychological Association, 2019).
Todd Campbell was recognized by UConn's Center for Land Use Education and Research as a member of the 2019-20 class of affiliated faculty. Campbell also co-published with two Neag School doctoral students, Byung-Yeol Park and Laura Rodriguez, "Using Models to Teach Science" for the Nov/Dec issue of The Science Teacher.
Rebecca Campbell-Montalvo published "Being QuantCritical of U.S. K-12 Demographic Data: Using and Reporting Race/Ethnicity in Florida Heartland Schools" in the October issue of Race Ethnicity and Education.
Sandra Chafouleas has been named the new series editor of the Guilford Practical Intervention in the Schools Series. She is also serving as chair of the UConn Provost search committee, and last month she participated in a social and emotional learning panel discussion on "Where Are We Now?" at Central Connecticut State University in New Britain, Conn.
Clewiston Challenger wrote an original commentary for Education Week about the additional skills students need to thrive – not just survive – in college. He was also a panelist on World Mental Health Day on the Storrs campus in October.
Morgan Donaldson presented a Cooper Leadership of Learning lecture in November at the University of Virginia's Curry School of Education and Human Development.
Danielle Filipiak co-published "Growing Together: Literacy and Agency in an Early-College Research Collaborative" in the October issue of the International Literacy Association's Journal of Adolescent & Adult Literacy.
Richard Gonzales will serve as a panelist on "Constructive and Positive Change in Educational Leadership Preparation," a town hall sponsored by the Wallace Foundation later this month.
Doug Kaufman is a co-editor of Developing Habits of Noticing in Literacy and Language Classrooms: Research and Practice Across Professional Cultures (Routledge, 2019).
James Kaufman co-wrote "The Kaufman Domains of Creativity Scale: Turkish Validation and Relationship to Academic Major" for the September issue of the Journal of Creative Behavior. He was also featured in a podcast from the British Psychological Society titled "How to Boost Your Creativity."
Devin Kearns is part of a team that developed a new game-like app that helps teachers identify younger kids at risk for dyslexia, which was featured in UConn Today. Kearns was also a featured researcher in UConn Today this past month. In October, he gave a presentation on "Why Some Children Struggle to Read" at The Windward School in White Plains, N.Y.
Eric Loken presented "Statistical Intuitions and the Reproducibility Crisis in Science" for the UConn Statistics and Methodology Journal Club at UConn Storrs in October.
Adam McCready wrote an original commentary for The Conversation titled "Here's What's Missing in Efforts to Curb Heavy Drinking and Hazing on Campus."
Jennifer McGarry co-wrote "Final Thoughts on Women in Sport Coaching: Fighting the War" for the 2019 issue (volume 27) of the Women in Sport and Physical Activity Journal.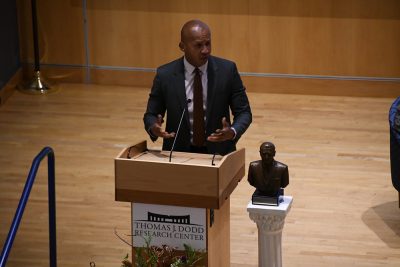 Glenn Mitoma and Danielle DeRosa were co-facilitators for a Thomas J. Dodd Research Center workshop titled "Centering Youth Voices in Human Rights Education and Advocacy" in October at UConn Storrs. Mitoma was also co-presented "Critiquing and Constructing HRE in Higher Education" for the Social Practices for Human Rights 2019 conference in Dayton, Ohio, last month. Mitoma, with doctoral student Kristi Kaeppel, also helped design professional development programming for a discussion on corporate responsibility.
Bianca Montrosse-Moorhead co-authored conference paper titled "Evaluator Education Curriculum: What Ought to Be Taught in Master" for the November 2019 American Evaluation Association Conference.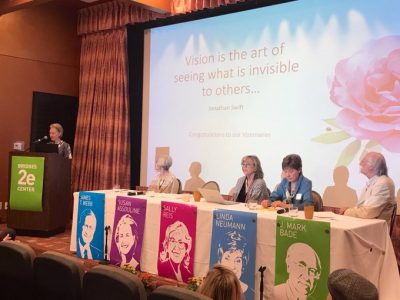 Sally Reis was inducted into the 2e (twice-exceptional) Hall of Fame at the Bridge 2e Center's Vision and Leadership Symposium in North Hollywood, Calif., in October. She was also a presenter at the Nueva School's Innovative Learning Conference in October in San Mateo, Calif.
Chris Rhoads co-published "Associations Between the Qualifications of Middle School Algebra I Teachers and Students Math Achievement" for the October issue of the National Center for Education Evaluation and Regional Assistance's Making Connections.
Lisa Sanetti co-published with Melissa Collier Meek '08 (CLAS), '04 MA, '11 6th Year, '13 Ph.D. "Implementation Science in School Psychology" for the September issue of Journal of School Psychology. They also co-published "Increasing Implementation Science Literacy to Address the Research-to-Practice Gap in School Psychology" for the October issue of the Journal of School Psychology.
Barry Sheckley, professor emeritus, is a Democratic candidate for the East Lyme Board of Education in East Lyme, Conn.
Stephen Slota presented a brown bag lecture on instructional gaming at UConn Storrs in October titled "Cards Against Education Ethics." The presentation was hosted by the UConn Department of Digital Media and Design.
Jennifer Sullivan, an instructor with the Teacher Certification Program for College Graduates, published "Increase Student Learning in Only 3 Seconds" in Faculty Focus.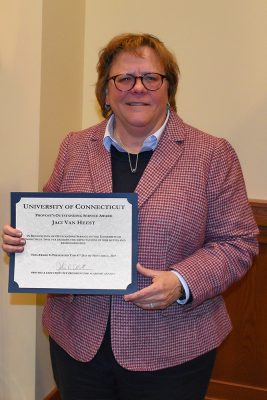 Jaci VanHeest was an invited speaker at the New England American College of Sports Medicine Annual Conference in October in Providence, R.I. In addition, her book The Science of Figure Skating is being translated into Chinese. She also was recognized by UConn this month with the Provost's 2019 Outstanding Service Award for her commitment to service and exemplary enhancement of the University's mission.
Jennie Weiner received a Brock Prize in Education Innovation for her research on issues of educational leadership and organizational change, including the impact of gender and racial discrimination in educational leadership.
Sarah Woulfin presented on her work at the Katholieke Universiteit Leuvan's Center for Educational Policy/Innovation in October in Leuven, Belgium. Read more about her sabbatical experience. She also served on AERA Division L's program committee, participating in its conference planning meeting at the University of Michigan in September.
Students
Kayla Cole wrote an original commentary for the Hartford Courant about the benefits of having international students in U.S. colleges.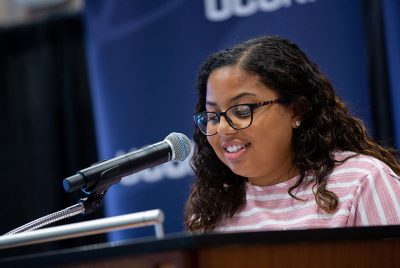 Isabella "Ivy" Horan, who served as a featured speaker at the 2019 Scholarship Celebration in September, published a version of her remarks about what she has learned from her students as original commentary in the Hartford Courant. 
Ajhanai Newton and Charles Macaulay, doctoral students in the LLEP program, received an Initiative on Campus Dialogues (ICD) Fellowship. The ICD Fellowship Program, now in its third year, is a University-wide partnership with participation from academic, service, outreach, and administrative units. Their project focuses on re-conceptualizing the delivery of two prominent core courses within the field of sport management: sport facility and event management, and sport marketing.
Alumni
Harold Bentley III '17 MS was appointed director of championships for the Metro Atlantic Athletic Conference.
Benjamin W. Burger '16 (ED), '17 MA, got engaged to Marie C. Hydro '16 (CLAS). Burger is a math teacher at Framingham High School in Marlborough, Mass.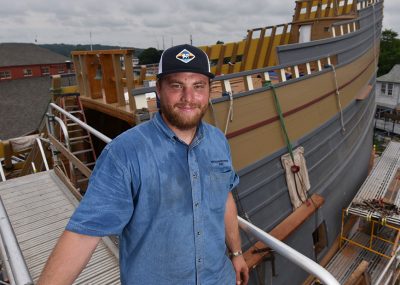 Casey Cochran '15 (CLAS), '17 MS, former quarterback for the UConn football team, was profiled by UConn Magazine about his current role helping to restore the Mayflower II at Mystic Seaport, in Mystic, Conn.
Daniel Crispino '15 6th Year, principal of John Barry Elementary in Meriden, Conn., is a recipient of the 2019 Terrel H. Bell Award for Outstanding School Leadership. He will be honored at a ceremony this month in Washington, D.C.
Jamelle Elliott '96 (BUS), '97 MA, spoke at the UConn Sports Analytics Symposium at UConn Storrs in October, which was co-sponsored by the sport management program. 
Andrew Girard '19 MS is stadium operations manager for the Hartford Yard Goats in Hartford, Conn. He previously served as the stadium operations coordinator.
Ivy Kim '19 (ED) is a production trainee at the National Basketball Association (NBA) in New York, N.Y.
Susan (Lindsay) Irvine '93 (ED), '094 MA, was recognized as Mansfield's 2020 Teacher of the Year. She is an enrichment specialist at Southeast Elementary School in Mansfield, Conn.
Danielle King-Watkins'19 Ph.D. co-wrote "Being an Athlete or Being a Girl: Selective Identities among Fictional Female Athletes Who Play With the Boys" for the fall 2019 issue of Children's Literature Association Quarterly.
Steve Nelson '96 Ph.D. published John G. Kemeny and Dartmouth College: The Man, the Times, and the College Presidency (Lexington Books, 2019). Nelson is a professor of educational leadership at Bridgewater State University in Bridgewater, Mass., and a senior scholar with the Leadership Alliance at Brown University.
Adam Nemeroff '11 (ED), '12 MA co-published "Strategic Design Toward Foundational Learning Goals in Introduction to Sociology" in the September issue of Teaching Sociology.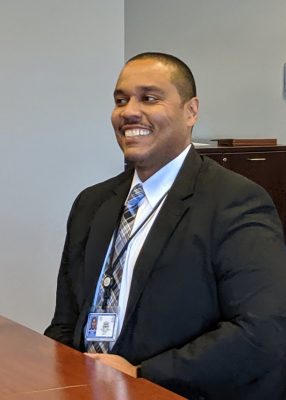 Desi Nesmith '01 (ED), '02 MA, '09 UCAPP was appointed one of two deputy commissioners for the Connecticut State Department of Education. He will oversee education and innovation.
Conor Pescatello '14 (ED), '16 MS is travel operations coordinator at Education First in Boston. He most recently served as an underwriter for The Hartford in Hartford, Conn.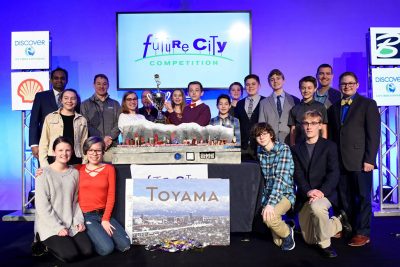 Michael Smith '08 MS was featured in UConn Magazine for his work as the 2019 Future City competition coach for the nationally ranked Warwick Middle School engineering team in Lancaster, N.Y.
Thomas Van Hoof '96 MA has been named a UConn's University Teaching Fellow for 2019-20 by the Center for Excellence in Teaching and Learning.
Kristina Wallace '09 (CLAS), '12 MA, '17 6th Year was appointed assistant principal of Avon Middle School in Avon, Conn. She most recently served as associate principal at Naugatuck High School.
Baoluo Xie '18 MS is international coordinator at Guangdong Electronic Sport Association in China. He also serves as the international coordinator of Asia Pacific Forum on Youth Leadership Innovation and Entrepreneurship for UNDP China.
In Memoriam
Robert W. Barter '79
Carol G. Bollinger '75
Raymond P. Booker Jr. '55
Anne F. Congdon '43
William E. Davis '68
Constance L. Dimock '45
George G. Dunn '68
Sandra M. Fox-Plummer '80
Arlene D. Groth '65
Rhonda A. Julian
Jonathan T. Krusewski '02
Harvey J. Lacombe
Joanna G. Larkins '75
Janet S. Littlefield-York '42
Ralph L. Marshall '71
William F. Mignault Sr. '53
Sally Misuraca '64
Andrew C. Porto '67
Florence K. Rakusin '41
Sylvia G. Rapaport '69
Marcia B. Reback '74
Barbara F. Segal '79
Shelia G. Svonkin '63
Bruce M. Tyler '79