Jenna Karvelis '20 (ED), '21 MA and Ajane Santora-Fyne '20 (ED), '21 MA, both students in the Neag School Integrated Bachelor's/Master's Program, have been named the recipients of the Neag School of Education Alumni Board Scholarship for 2020.
The Alumni Board Scholarship provides a $1,000 award annually to students enrolled in a Neag School master's, doctorate, or sixth-year program who have proven academic excellence or demonstrated financial need. The scholarship is intended to invest in the education and experience of Neag School students.
"The Neag School Alumni Board is excited to be able to continue supporting students who are currently pursuing the advance of their educational degrees,"says Neag School Alumni Board President Kathryn Lenehan '10 (ED), '11 MA, '19 6th Year. "As a Board, we spend much of our time talking about how we can give back to a place that we have all benefited from so much. We hope that this scholarship continues to encourage those considering their next level of education in taking that step."
"Education provides hope and a way out of this broken cycle. … Too often, kids give up and accept the bad hand life has dealt them. I want to show them what can happen when they don't fold."

— Jenna Karvelis,
2020 Alumni Board Scholarship Recipient
Refusing to Give Up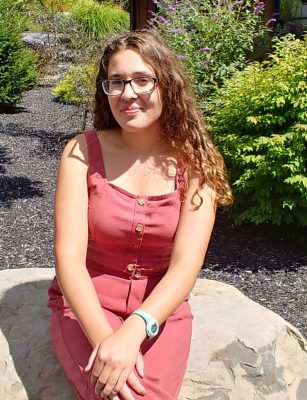 A resident assistant at UConn since 2018, Karvelis facilitates community activities, promotes dialogue, mediates conflict, and provides campus resources for residents.
Serving in this role has confirmed for Karvelis her intention to pursue a path of helping others while also spurring her interest in research about learning communities. In contributing to research efforts at an annual conference for the past three years, including conducting research through UConn's Office of Institutional Equity, Kervelis says she has learned more about working with other students and has analyzed topics for supervisors that help impact decision making on UConn policies.
With concentrations in history and elementary education, Karvelis has also been a leader across campus, including being a First-Year Experience mentor; vice president and co-founder of El Concilio Club; vice president of the Bridge Church club; and vice president for InterVarsity Christian Fellowship. She has also been involved with UConn Future Educators, and has participated with UConn spring break trips, including one to Washington, D.C., where she learned about homelessness, poverty, and political action, and another trip to Baton Rouge, La., where she helped rebuild homes affected by flooding.
In her application for the Alumni Board Scholarship, Kervelis described her home as "broken."
"Back home," she wrote, "my mom, sisters, and I cram into a tiny apartment on a street where people have been shot, and drug deals happen. … Growing up wasn't easy, and neither is life now."
Yet, she added, "Education provides hope and a way out of this broken cycle. … Too often, kids give up and accept the bad hand life has dealt them. I want to show them what can happen when they don't fold."
"I am so grateful to be chosen as the recipient of this scholarship," she says. "This money will help fund my master's degree, completing which is one of the last steps in my journey to becoming a teacher. I can put my all into learning to be the best teacher, which is what my future students deserve."
Inspired by Other Educators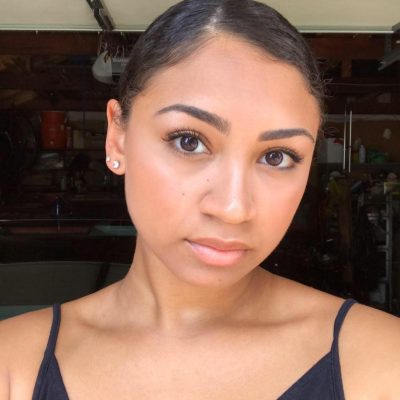 "There is not just one factor or experience that led me to choose a career in education," Santora-Fyne shared in her scholarship essay. Family members, including an aunt who has been a special education teacher for 25 years, as well as educators Santora-Fyne has seen featured in the media who have dedicated their time and resources to help students in need, are among her sources of motivation, she says.
Such inspirational figures, Santora-Fyne wrote, "taught me to strive to fill my future classroom with love, trust, and support so that each of my students can positively impact their future in a positive way, and defy all the odds that society may place on them or that they face at home."
Santora-Fyne struggled through her first year at UConn, working part time as a freshman to pay off her loans. By sophomore year, however, she says she was "able to focus on the big picture: school," and was ultimately accepted to the IB/M program. Scholarships, she says, remain the "only reason" she has been able to continue her education.
"It is my hope to enter a field in which one person can make positive difference in the lives of so many, year after year."

— Ajane Santora-Fyne,
2020 Alumni Board Scholarship Recipient
Focused on English education with hopes of teaching middle-school students, Santora-Fyne says that coming from an underprivileged area has helped her develop "a strong desire to give back to the urban community. I … recognize the power that I will have as an educator to possibly lift up others who are not as fortunate as I was."
Through her Neag School clinical practica at East Hartford Middle School and the Connecticut IB Academy, Santora-Fyne has observed classes and provided one-on-one support for students. She also has gained experience with youth as an after-school teacher at a learning center, summer camp counselor for children, and volunteer mentor for girls at an elementary school.
"Education is a gateway for people, especially students like myself, to realize their full potential," Santora-Fyne says. "It is my hope to enter a field in which one person can make positive difference in the lives of so many, year after year."
"As a first-generation student, I am honored to be awarded by the Alumni Board for this scholarship," she says. "Thank you for your generosity and support, which has allowed me to be able to further my education."
Jenna Karvelis and Ajane Santora-Fyne will be formally recognized at the 2020 Neag School Alumni Awards Celebration, taking place on the Storrs campus in March. Register online for the event at s.uconn.edu/NeagAlumni2020.** For more information on supporting students like these, visit s.uconn.edu/neaggiving.
** The 2020 Neag School Alumni Awards Celebration has been postponed until Fall 2020.
Related Stories: