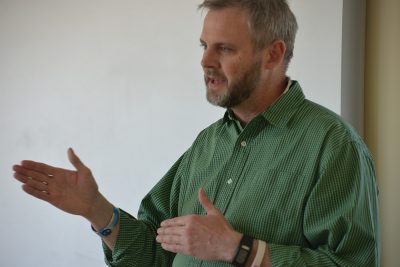 Professor Todd Campbell has been named head of the Department of Curriculum and Instruction, effective Jan. 1. He steps in following Suzanne Wilson's return to faculty to focus on her role as Neag Endowed Professor.
Campbell, who arrived at the Neag School in 2013 from the University of Massachusetts at Dartmouth, was one of 17 new faculty members recruited to the Neag School as part of the University of Connecticut's hiring plan.
"I see this new role as an opportunity for growth for me," he says. "More importantly, this is something I see as service to the students and the department, in addition to leading the department."
Campbell was recognized by UConn's Center for Land Use Education and Research as a member of the 2019-20 class of affiliated faculty and is a co-principal investigator of a $2.25 million grant from the National Science Foundation in support of a project entitled "Redefining Public Engagement at the University of Connecticut: Studying the Impact of an Innovative STEM Service Learning Model on the University Community."
"This is something I see as service to the students and the department, in addition to leading the department."

— Todd Campbell,
Department Head, Curriculum and Instruction
Focusing on science education at the university level for the past 15 years, Campbell started his professional career teaching a variety of science subjects at the secondary level in Iowa. Serving in editor and guest editor posts at numerous science education peer-reviewed journals, Campbell also has been active with regional and national science organizations, has published more than 75 research articles, and given upwards of 110 conference presentations nationally.
Campbell's Vision
Having gained some insights into the research activity of Neag School faculty as a recent member of the PTR (promotion, tenure, retention) committee, Campbell says that "getting the chance to look deeply at some of their materials is just amazing. … I look forward to seeing their work at a more comprehensive level."
He says he plans to step back and look at the cohesiveness of the work and opportunities that exist for collaboration. Campbell says he admired Wilson for her ability to do that and sees her as a mentor.
In preparing for the role, Campbell says he has been reflecting on attributes of department chairs he has served along the way.
"The leaders who have been most impactful have believed in me," he says. "They've helped find ways to support my research efforts through finding enough resources. If I could do that for others, then that would be ideal. My focus is helping the faculty be successful through their scholarly work, along with looking at the programs to ensure they are sustainable and the best they can be."
Campbell earned his Ph.D. in science education, his master of arts in teaching, and his bachelor of arts degree in chemistry, all from the University of Iowa.