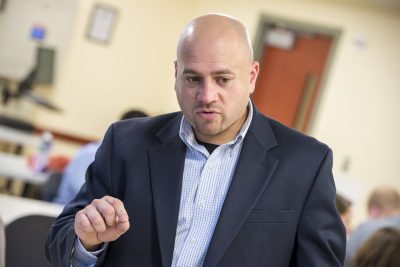 Jason Irizarry, associate professor of curriculum and instruction, has been named the Neag School associate dean for academic affairs. He takes over this month for Joseph Madaus, who is resuming his faculty role to focus on recent research grants, including one focused on supporting academically talented students on the autism spectrum.
Irizarry previously served as the director of urban education at the University of Massachusetts from 2013 to 2016, where he was responsible for building a stronger partnership between the university and schools in Springfield and Holyoke, Massachusetts. The position provided the opportunity for him to work across departments through a school-wide initiative he led, known as the Urban Education Institute, while also working closely with faculty and the dean's council, setting up research projects in the local schools.
"It gave me a glimpse into administration, and it piqued my interest," he says.
Prior to that, he had been a faculty member at the Neag School, worked with Teachers for a New Era project, and served as a faculty associate in El Instituto: Institute for Latina/a, Caribbean and Latin American Studies.
A New Path
Irizarry says he has enjoyed his role as a faculty member, but was looking for ways to increase his impact beyond the schools and communities where he located his field-based projects.
"In this new role, I see this as a great opportunity to help other people do their work bigger and better, and help move the School forward, instead of thinking about how to solely move my work forward," he says. "When the dean asked me to consider becoming the Associate Dean for Academic Affairs it seemed like a great opportunity at the perfect time."
"I'm excited about helping folks move their work forward, especially to advance programs that address the needs of communities that have been underserved."

— Jason Irizarry, Associate Dean for Academic Affairs
His interest in supporting existing academic programs and championing new initiatives, Irizarry notes, are informed significantly by his experiences as a Latino first-generation college student. It wasn't until relatively recently that he fully embraced the idea of becoming an administrator in higher education. However, he believes his time on the faculty, coupled with experiences leading the urban education institute as well as serving as the director of a minority teacher recruitment program earlier in his career put him in a great position to make a valuable contribution to the Neag School of Education in his new role as associate dean.
"In this position, one has a broader view of all the programs across the Neag School, not just in one department," he says. "I'm excited about helping folks move their work forward, especially to advance programs that address the needs of communities that have been underserved."
His goal is to build on the School's existing strengths, which he cites as the wonderful, students, faculty and staff that make up the Neag School. "There are folks here already doing amazing work; I hope to systematically bring them together so that we can maximize our impact."
Connecting Research With Academics
Irizarry's research interests include urban teacher recruitment, preparation, and retention, with an emphasis on increasing the number of teachers of color, culturally responsive pedagogy, youth participatory action research, and Latinx students in U.S. schools.
While still active on projects, including currently co-authoring a chapter for the Handbook on Latino Education and working on a book proposal, Irizarry will be supporting academic programs across the School. And although not a focus of his administrative position, research, he acknowledges, permeates everything that the faculty do.
"If I'm supporting academic programs, they are informed by research," Irizarry says. "I see them as inextricably linked."
Irizarry also understands the commitment to race and diversity at the Neag School and across the University, serving as a member of UConn's chief diversity officer search committee.
"Dean Kersaint has a strong commitment to these issues, along with President Katsouleas," he says. "Being on a team where those commitments inform our work is inspiring. I'm hoping to be able to lend my expertise to those initiatives and feel fortunate to be able to contribute to the conversation and move that forward."
Acknowledging Dean Kersaint, Joseph Madaus, and other faculty and staff for their counsel and mentoring as he joins the dean's leadership team, Irizarry says, "People want you to succeed here. There is a genuine feeling that the rising tide raises all ships."