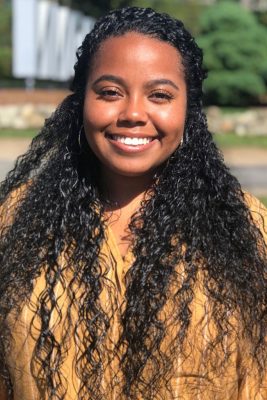 Editor's Note: As Commencement approaches, we are featuring some of our Neag School Class of 2020 graduating seniors over the coming days. 
Major: Secondary English Education
Extracurriculars: Husky Sport; Christian Students on Campus; Teacher Education Student Association
Hometown: Newington, Conn.
What do you aspire to be? I aspire to be a multiculturally focused, equity-driven educator. I have a passion to serve young people; a passion for meeting students wherever they are emotionally and academically and supporting them throughout their endeavors to yield themselves over to the learning process, taking on education at full force.
Who is your favorite professor? My favorite professor is Justin Evanovich. If I hadn't taken his multicultural education class in my junior year of college, I would not be the student, and future teacher I am today. My entire perspective on education, research, and learning, in general, was impacted positively by his guidance and mentorship. I am very appreciative of the time he has put into mentoring my research project and challenging my perspectives on social reform.
What did you accomplish that you're most proud of? I received an IDEA Grant to research the ways in which black women are either stifled or empowered when participating in college-level classroom discussions with the goal of being able to participate in the larger conversation surrounding academic success for students of color. My research project also hopes to provide university stakeholders with information on how to better support students of color in their endeavor to pursue academia. I am proud to have been given the opportunity to work hands-on with research that was created based on my own personal experience and grateful that UConn provided me with the means to be able to participate in this work.
"I will forever be grateful that I chose this prestigious institution to shape me into the educator I am today."
What do you plan to do after you graduate? I plan to complete my master's in Curriculum and Instruction next year and then continue on to get my Ph.D. with the hopes of focusing on multicultural education.
How has UConn prepared you for your future career? UConn has provided me with theoretical knowledge and hands-on practice needed to excel in my future career. UConn offered me the opportunities and experiences that led me to find my purpose in life that I would never have gotten any other place. I will forever be grateful that I chose this prestigious institution to shape me into the educator I am today.
What advice would you give to a student who is just starting out? Be open and willing to embrace new experiences. College is the time for you to be challenged academically, and socially as well as encouraged to pursue your dreams no matter how hard or impossible they may seem. Take on each opportunity you are provided with open arms. Embrace the journey and celebrate your growth along the way.