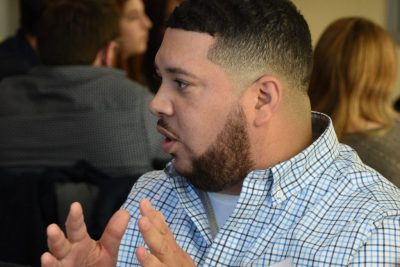 Editor's Note: As Commencement approaches, we are featuring some of our Neag School Class of 2021 graduating seniors over the coming days.

Major:
Elementary Education with a concentration in Science
Extracurriculars:
Scholarships:
CT Minority Teacher Scholarship; William Caspar Graustein Memorial Scholarship
Hometown:
Why did you choose to study this major/minor?
Through the years, I have learned that working in your passion is not an actual job! Instead, it is an opportunity to earn an income while enjoying life. From an early age, I realized that my passion is to help children succeed. Malcolm X once stated that education is a passport to the future, and I want to be a person who provides children with stamps. I truly believe that every child can be whatever they want to be if they are willing to learn, work through adversity, and work as hard as possible.
Who is your favorite professor and/or class? Why?
This is a tricky question. I have met many terrific professors through my time here at the University of Connecticut. Doug Kaufman, Thomas Levine, Joe Madaus, and Ellen Cavanaugh stand out, but Grace Player is my top choice. I met Player at my in-person interview, and her personality and presence solidified my desire to be accepted into UConn. I felt that way after our initial meeting because I met a minority woman who earned a doctorate. In my 38 years, I have only met one other minority woman with that title, but she was much older. That made me feel like UConn gives people who look like me opportunities. However, my praise for her does not end there. I was able to study under Player during my first semester here at UConn. She was leading our multicultural education course, which is the reason I selected her. That class opened my eyes to being culturally responsible as an educator. Her presence and the way she navigated through the tough curriculum were admirable. Player is an awesome asset to our university, and I pray that UConn continues to seek and hire more women of color, specifically with her personality.
"The Neag School is one of the top education programs in the country, and they have provided us with the best and brightest minds to teach us how to be an effective educator."
What did you accomplish during your college experience that you're most proud of?
Wow! Where do I start? First, I am a high school dropout. That alone is my biggest accomplishment to be here. To be considered for an honor such as this. I am team GED, and there are not many of us who fought through that adversity and shame to be called a college graduate. Especially from such a prestigious university. However, being the first person in my immediate family to earn a college degree will be my biggest accomplishment and provide a legacy for my nieces to follow.
What do you plan to do after you graduate?
The Neag School offers an integrated bachelor's and master's degree. Next year I will be completing my master's degree! Once that is completed, I will begin to enter the workforce with the hopes of becoming a principal.
How has UConn prepared you for your future career?
The Neag School is one of the top education programs in the country, and they have provided us with the best and brightest minds to teach us how to be an effective educator. I am prepared to educate our future because of the researched-based strategies and pedagogies they have taught us!
How has UConn shaped you as a person?
UConn has provided me with a top-notch education and has taught me more about culturally responsive teaching than I ever learned before. That has truly shaped me as a person. UConn also provided me with networking opportunities and building relationships with people I would have never met before. Lastly, I have been able to work with UConn Connects and Husky Sport. Both of these organizations have brought me new perspectives that I will take with me.
If you could summarize your experience at UConn in three words, what would they be?
Exciting, Rewarding, and Growth 
What advice would you give to a student just starting at UConn?
You cannot teach work ethic. To be great, you have to be willing to do the work. That means sacrifices will have to be made if you want to succeed in higher education. Have a plan and be willing to give yourself grace!