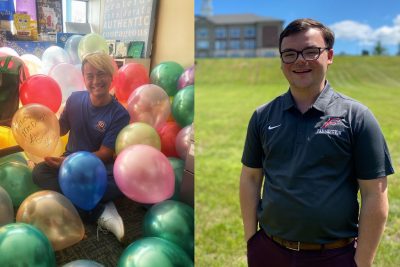 In our 10 Questions series, the Neag School catches up with students, alumni, faculty, and others throughout the year to give you a glimpse into their Neag School experience and their current career, research, or community activities.
Neag School alumni Curtis R. Darragh IV '15 MA and Kurt Daigle '19 (CLAS), '21 MA recently won the Connecticut School Counselor Association's top awards for 2021 for their dedication to school counseling. Darragh, a school counselor for Danbury (Connecticut) Public Schools, was recognized as School Counselor of the Year, and Daigle, a newly hired school counselor for Farmington (Connecticut) Public Schools, was recognized as Intern of the Year.
They are both graduates of Neag School's Counselor Education and Counseling Psychology program.
Q: What does it mean to you to have been named School Counselor/Counselor Intern of the Year?
Curtis R. Darragh: To represent the whole state came as a surprise. Since graduation, I've been a counselor for the past six years at Westside Middle School Academy in Danbury, Connecticut. When you love what you do, you'll never work a day in your life. It's been fun, and you get to learn so much. This year felt like more work, but I feel happy and successful. I feel inspired and enjoy the power of putting smiles on other people's faces.
"When you love what you do, you'll never work a day in your life."

– Curtis R. Darragh IV '15 MA
Kurt Daigle: It was such an incredible honor to be considered worthy of such an award. When looking for an internship site, I looked at Farmington High School, where I graduated in 2015. I knew I would get good experience there, as they were incredible mentors to me in high school and had a comprehensive program. They inspired me to be a school counselor. So, I picked up where I left off six years ago when I left high school. It's been such an honor during this incredibly challenging year to return to the district that inspired me to go into education and continue my learning as a professional. It means so much.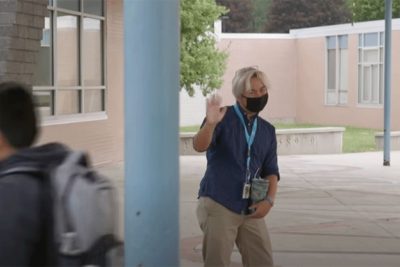 Q: Why did you decide to become a school counselor?
CD: In high school, I did technical preparation courses to earn college credit. At the time, I wanted something in nursing or medicine. … In talking to my parents one night at dinner, they wanted to know what I'd do if that field didn't work out. What was my backup plan? I didn't have one.
I loved reading, and when the Harry Potter books came out when I was 15 years old, he expressed a lot of anger and emotions. I remembered wondering if Harry had someone to talk to at that age, someone he could trust. It was so relatable. I thought maybe about being a mental health counselor.
I loved the college search journey. As an undergrad at Eastern Connecticut State University, I decided to study psychology, concentrating on children. I worked with autistic kids in schools and enjoyed talking to them, including understanding the family dynamics. Each kid was a story. I decided to continue that with graduate school at UConn for school counseling. So, I took a different path than what I originally planned. That's OK. You may have a plan, but have a backup, too.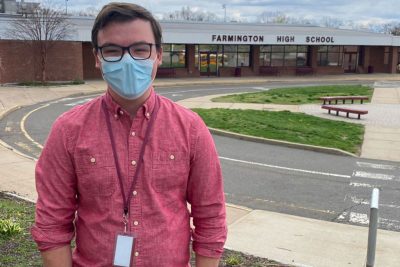 KD: I knew since I left high school that I wanted to be a school counselor. I recognize the rarity in that, and I'm very fortunate that I figured out what I wanted at a young age. In sixth grade, I lost my mother to cancer. If it weren't for my teachers and counselors, and administrators at that point in Farmington, I would not be the person I am today. I would not be on the path of becoming a life-transformative educator without their mentorship.
This is a lifelong career for me, and I can certainly see myself working in the field of education for the rest of my life. I fell in love with the role of a school counselor and had a great relationship with my school counselor … this type of work that's challenging and busy, but very rewarding.
Q: Why are school counselor positions important during these turbulent times?
CD: Because we are here for the kids, we help them with social-emotional issues. There has been a massive rise in mental health [issues] this year. There is anxiety and depression and heightened fears about the coming school year. A lot of school counselors watched kids, seeing them connect, even in a hybrid model. We noticed that some kids were not making eye contact. The role is crucial to rebuilding those emotional connections with a human being. They need the feeling of being loved, which some don't get at home. So, we are there for the emotional ties … It's crucial that the kids can come to school and feel loved, cared for, and safe.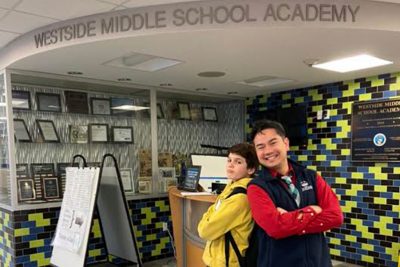 My role is not going to get any easier. We need more counselors to lower the student-to-counselor ratio. Many schools are up to 475:1, my partner and I are at 375:1. It should be around 250:1, according to the American School Counselor Association. That's is why I provided testimony in support of SB 312 (An Act Concerning School Counselors) to the Connecticut School Counseling Association. But, unfortunately, it didn't pass. We have an unmanageable caseload, and this causes high rates of burnout. We don't want that, and we shouldn't have to go through that.
My office is a revolving carousel, in and out. My day may start with a parent who has no internet and no food. Then, I may have to reach out to the Connecticut State Department of Children and Families. I try to figure out how I am going to be helpful. It's always essential to put on that game face, using heroic listening skills.
KD: I see school counselors as tier one interventionists. We are the folks on the ground, and we know the students well and are there to identify students who need additional levels of care. We need to understand their story and context to help them plan for success in and after high school. It's an enormous responsibility. We help the students see themselves in new ways and work with them to make their goals. That's gratifying work that I'm looking forward to doing.
"We know the students well and are there to identify students who need additional levels of care. We need to understand their story and context to help them plan for success in and after high school. It's an enormous responsibility."

– Kurt Daigle '19 (CLAS), '21 MA
Q: How were you able to make it through this past year?
CD: Exercising was beneficial. I also used guided imagery, which I taught to the students. I took time for myself, including lots of hiking. I enjoyed some excellent shows on Netflix. I also ate healthier, which I [taught] myself, since I'm not a big cooker, including watching tutorials on YouTube … I also called my Filipino mother, who would help me out with anything.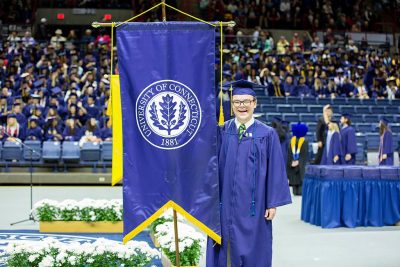 KD: I can't speak highly enough of some of the faculty at the Neag School, including Jim O'Neil, Sara Renzulli, Diandra Prescod, and others. These are wonderful folks and champions in their field, and I can't say enough good things about them. They have challenged me to be a more resilient, open-minded, creative, culturally competent school counselor. So, I take a lot of my success from their classes and their instruction and mentorship.
Also, I can't say enough good things about the cohort model. If it weren't for the other folks in my program, I wouldn't be the school counselor I am today. They gave me reassurance, guidance, support, and friendship. It's great to know that I have friends out there in the professional field of school counseling in Connecticut that I hope to work with further and learn from in the years to come.
Q: What do you like best about being a school counselor?
CD: That's my favorite question! I love middle school, and people think I'm crazy. For a kid that comes into the sixth grade, they are full of adventure and wonder. Then they become seventh-graders, and they experience hormonal rages. The kids don't know why they're crying, nor why they're angry. So, I tell them to "listen to their body" and about the curiosity of attraction. I also tell them about the curiosity of academics …
As eighth-graders, they become more independent, and then they leave you. I'm a mess at eighth-grade graduation! I hear from parents who say, "My kids still talk about you." I get a lot of thank-you cards and hugs and high-fives. I watch them grow over the three years, grow into trusted young adults, and then they leave for high school.
KD: I'm very grateful for my internship, which was a yearlong, on-the-job training. It has been eight years since I've known I wanted to be a school counselor. I'm so grateful to be entering my professional career. But that's just the beginning. I'm excited to work in the district I grew up with. I did my student teaching there and have started my professional career here. I'm excited to get to know my students. I want to continue to teach at the university level. I feel very comfortable at the front of the classroom. A long-term goal of mine is to teach future school counselors.
Q: How did the Neag School prepare you for your role?
CD: I love the Neag School, including the teachers like Dr. O'Neil and Dr. Perusse. I learned a lot from them. The one class that stood out was Dr. Colbert's multicultural class, where I learned more about how people are all different – and appreciate and understand [that]. As an Asian American gay male, there will be lots of kids that will connect with me as their educator. I can represent their school's population and identity. I learned to maintain kindness and respect and love myself. We can educate others on compassion and respect.
"I can't speak highly enough about the professors and the cohort model … I'm very grateful for my time at the Neag School."

– Kurt Daigle '19 (CLAS), 21 MA
KD: I can't speak highly enough about the professors and the cohort model. We get together every week and talk about the challenges, and we bounce ideas off each other. We supported each other during a challenging year. It requires us all to be supportive, and I'm very grateful for my time at the Neag School.
Q: What were some of your favorite memories at UConn and/or the Neag School?
CD: I did the Neag School program with my best friend, Michelle. She's now a counselor at Plainfield High School. We went to high school together, then Eastern's psychology program, and then we both worked for two years. So, some of my best memories are shared through her. We were all in the same classes, in the same cohort. We met some fantastic people, and we have stayed connected.
KD: One highlight of my graduate school experience was proposing, designing, and teaching a brand-new first-year course with Leo Lachut, assistant director of First Year Programs at UConn. It was a course called "defining happiness," and we taught domestic and international sections. This was a great experience to teach happiness and positive psychology during a global crisis, and I was glad to provide the opportunity.
At UConn, I had the opportunity to teach a few first-year classes and worked very closely with first-year programs and the Academic Achievement Center. They solidified my experience in Neag and allowed me to parallel a lot of what I was learning in class.
Q: What would you say about someone considering becoming a school counselor?
CD: Go into the field with warm ears that listen, and a growing heart that cares. This career is a special one, but it does require a lot of time and energy. You must go into it knowing it's a challenge and that you are taking and soaking in every moment. You have the power to change a student's life, don't waste it!
KD: It's an incredible career. It's complex work and one that's challenging, but one that I leave at the end of the day feeling very confident that you know it's a rewarding profession. It's meaningful, and we are changing the students' lives, and it is a life-transformative career.
Q: Is there anything else you'd like to share?
CD: In my first year of school counseling, a student gave me a giant carnival cow with purple spots. I thanked the student but asked him what it was for. The student said, "My daddy taught me to be a purple cow – how to stand out, rather than fit in." That has always stuck with me, to stand up for what you believe, even if you're the only person that's doing that. I've been in positions where it's uncomfortable, but [comfort] is a beautiful place, and nothing will ever grow there. So, to be comfortable, you get uncomfortable. I love what I do, and I can say that I think I'm in the right field.
KD: One important thing to me is continuous learning and professional development and growth. We'll never become stagnant. Students change every year, and each year, we get a new grade of students coming up to the high school who are individually unique. The world around them is quickly changing, so we need to adapt. Our school counseling practices meet the demands and needs of students in any given situation. It's a fun and fast-moving career. There is never a dull day. The best school counselors are genuine, and if they can bring that to the school, they'll be an asset.
Read past installments of the Neag Schoo's 10 Questions series.