Throughout the academic year, the Neag School is proud to share the latest achievements of its faculty, staff, students, and alumni.
Explore their most recent promotions, research grant announcements, publications, and more:
Dean's Office
The Neag School and its Alumni Board are pleased to announce the winners of the 2022 Alumni Awards:
Outstanding School Educator — Jeffrey Danielian '06 MA
Outstanding Professional — Cindy Ouillette '97 (ED), '98 MA
Outstanding Early Career Professional — Wura Olusekun '16 MA
Outstanding School Administrator — Siobhan O'Connor '12 6th Year, '16 ELP
Outstanding School Superintendent — Jody Ian Goeler '07 ELP
Outstanding Higher Education Professional — Bidya Ranjeet '94 MA, '90 Ph.D.
Outstanding Diversity, Equity & Inclusion Professional — Michael Corral '19 Ph.D.
Distinguished Alumna — Donna Bandelloni '77 (ED), '80 MA
In addition, Sandeep Dutta, a doctoral student in learning, leadership, and education policy (LLEP) with a concentration in sports management; Yasmin Elgoharry, a doctoral student in LLEP with a concentration in higher education racial justice and decolonization; and Joselyn Perez, a doctoral student studying research methods, measurement, and evaluation, have been named the recipients of the 2022 Alumni Board Scholarship; and Tamika LaSalle has been named the 2022 Perry A. Zirkel Distinguished Teaching Award honoree. Read more about the scholarship recipients.
All awardees will be recognized at a celebration in March. Read more about the 2022 honorees.
During its December faculty/staff meeting, the Neag School recognized the following individuals for their milestone years of service to UConn:
10 Years of Service: Shawn Kornegay (Dean's Office)
15 Years of Service: Michele Femc-Bagwell (Dean's Office); Robin Grenier (EDLR); Thomas Levine (EDCI); Brandi Simonsen (EPSY); Megan Staples (EDCI); John Zack (EDCI)
20 Years of Service: Sandra Chafouleas (EPSY)
25 Years of Service: Judith Mathews (EPSY)
30 Years of Service: Michael Young (EPSY)
35 Years of Service: E. Jean Gubbins (EPSY)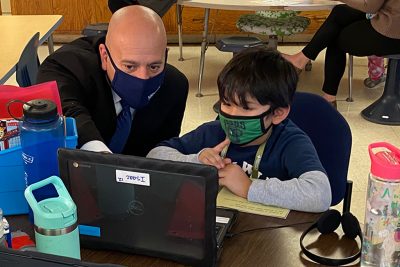 In December, Dean Jason Irizarry visited Mansfield (Conn.) Public Schools as a guest of Neag School alumna and Superintendent Kelly Lyman '92 MA, '93 6th Year, '10 ELP. Dean Irizarry toured classrooms at Mansfield Middle and Goodwin Elementary and visited with educators, alums, and students. View photos from the visit.
The Neag School of Education and Dodd Human Rights Impact recognized International Human Rights Day with a virtual event in December. Alum and U.S. Secretary of Education Miguel Cardona provided opening remarks, and Dean Jason G. Irizarry provided welcoming remarks. The roundtable included former U.S. Sen. Christopher Dodd, Dodd Human Rights Impact director Glenn Mitoma, Conard High School teacher and alumna Abigail Esposito '14 (ED), '15 MA, and Neag School graduate student Tyler Gleen.
Niralee Patel-Lye and Tracy Sinclair appeared (1:44) in UConn's holiday video, "Decking the Husky Halls."
Department of Curriculum and Instruction (EDCI)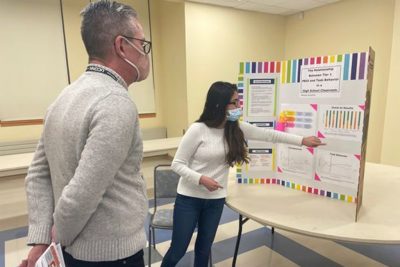 Current Neag School students in the Teacher Certification Program for College Graduates (TCPCG) recently presented their action research projects. These projects provide TCPCG students with an opportunity to discover ways in which teachers can continue to learn, grow, and construct knowledge for themselves, while also allowing these students to study localized problems and examine how practitioners can improve teaching and learning in their classrooms. Check out photos.
Neag School music education majors shared entertainment and education with fellow students, family, and friends at the UConn Music Building in December. The students had a full program of a variety of music presented by their choral and instrumental methods students for an evening of music making–their first in two years. View photos from the event.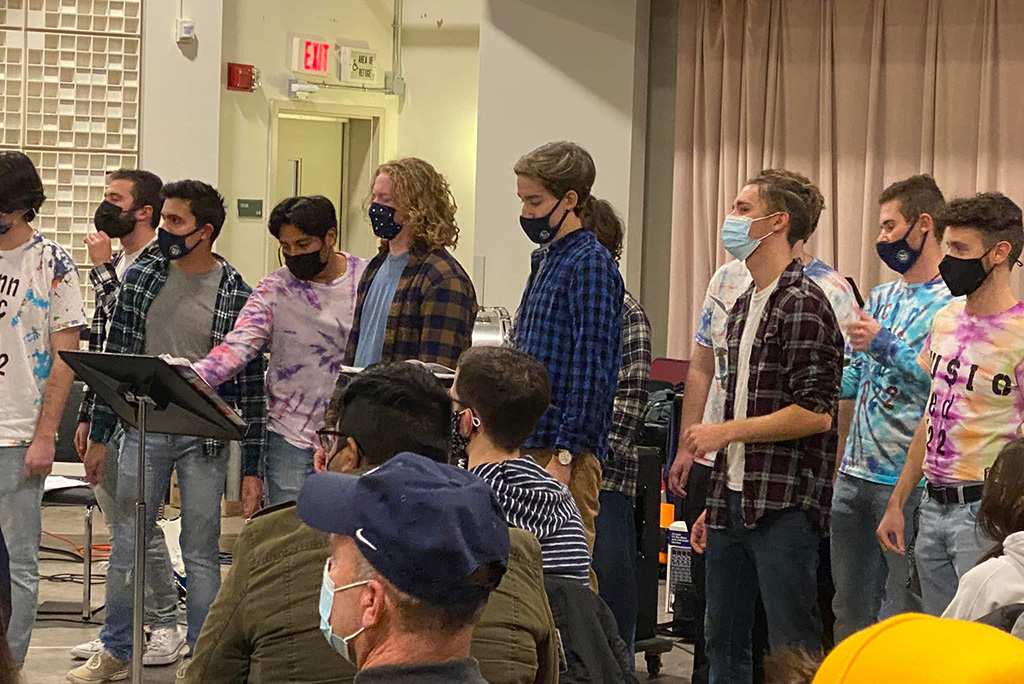 Department of Educational Leadership (EDLR)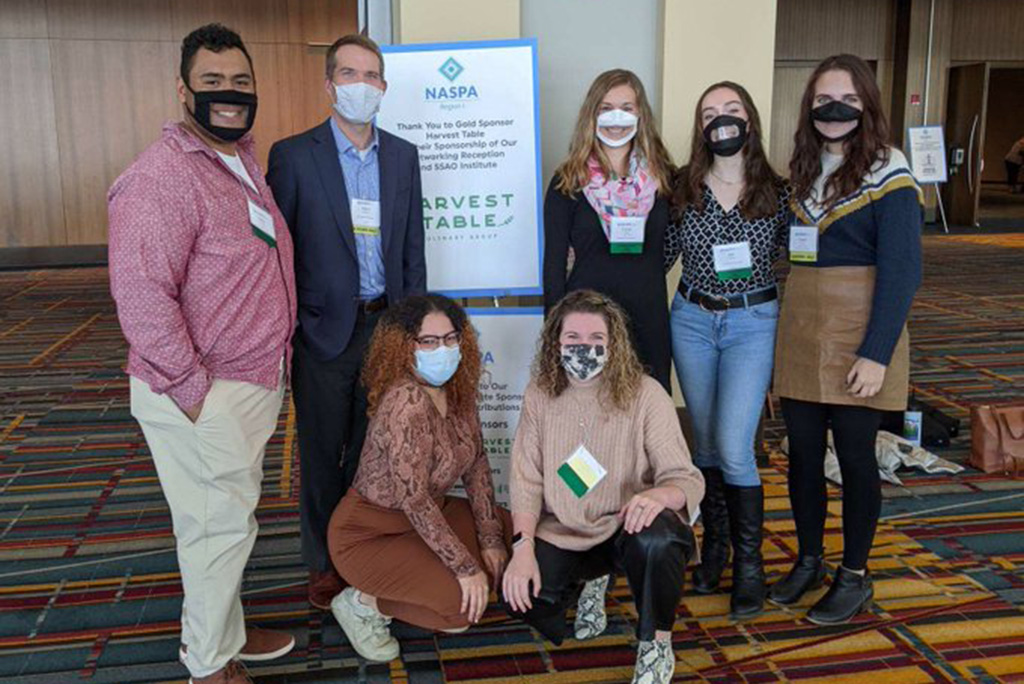 Department of Educational Psychology (EPSY)


UConn's Renzulli Center for Creativity, Gifted Education, and Talent Development is offering a new series of one-hour interactive webinars on topics of interest to educators as well as half-hour interactive webinars for parents of gifted students. The sessions will provide participants an opportunity to stay up to date on the latest issues in gifted education, talent development, and creativity. Register online.
Faculty/Staff
Michele Back co-published "Siempre Adistanciados": Ideology, Equity, and Access in Peruvian Emergency Distance Education for Spanish as a Second Language" for the December issue of Calico Journal.
Cara Bernard co-published an article titled "School Culture Change Through the Arts: A Case Study of the Turnaround Arts Program" for the January issue of Arts Education Policy Review.
Todd Campbell was interviewed in a Lab Out Loud podcast, "Using Phenomena to Help Students Explain the World." The National Science Teaching Association supports Lab Out Loud. Campbell also co-published "What Causes the Disproportionate Impact of COVID-19 on Racial and Ethnic Minority Groups" and for the National Science Teaching Association's (NSTA) Lesson Plan and "Student Agency Through Engineering" for NSTA's January/February issue of Science and Children.
Rebecca Campbell-Montalvo and Gladis Kersaint co-published with others "How Stereotypes and Relationships Influence Women and Underrepresented Minority Students' Fit in Engineering" for the November issue of Journal of Research in Science Education. In addition, Campbell-Montalvo was an editor of Interrogating the Relations Between Migration and Education in the South (Routledge, 2022).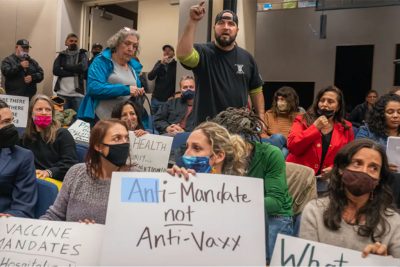 Casey Cobb penned an essay for The Conversation about how to prepare to run for a school board election. Read his essay.
Sandra Chafouleas was a panelist at the Children's Mental Health Webinar with State Representative Jaime Foster in December, hosted by the Connecticut House Democrats. She also co-published with alumna Emily Iovino '15 (CLAS), '16 MA, '20 6th Year, '20 Ph.D. "Engaging a Whole Child, School, and Community Lens in Positive Education to Advance Equity in Schools" for Frontiers in Psychology and published "How to Use Homework to Support Student Success" for the January issue of Psychology Today.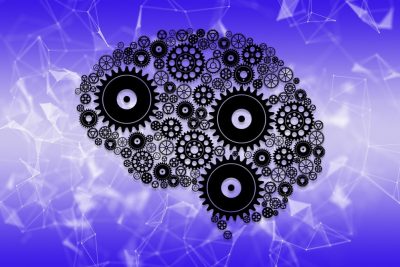 Ido Davidesco was awarded a $1.3 million early-career grant from the National Science Foundation (NSF). Read more from UConn Today. As the principal investigator, he will research how internal attention thinking impacts learning in undergraduate biology classes. Read more. Davidesco was also profiled by UConn's Collaboratory on School and Child Health (CSCH). Read more on CSCH's website.
Nicholas Gelbar, doctoral student Alexandra Cascio '81 MA, Joseph Madaus, and Sally Reis co-published "A Systematic Review of the Research on Gifted Individuals With Autism Spectrum Disorder" for the December issue of Gifted Child Quarterly.
Doug Glanville was recognized in December by the National Association of Black Journalists (NABJ)' 2021 Professional Television Salute to Excellence Award in the Television – Network – Feature: Short Form category for the video "Enough," which he wrote, and at the 63rd Annual Regional Chicago/Midwest Emmy Awards for Outstanding Achievement for Sports – Interview/Discussion category for "Class Is In Session Special: MLB's Decision on All-Star Games," for which he served as the host. In addition, Glanville will be calling ESPN Sunday Night Baseball games on the radio this season.
Preston Green was interviewed for the Brainwaves Anthology Collection on three topics: (1) school funding, (2) charter schools, and (3) teachers make a difference. Green also co-filed a brief to the U.S. Supreme Court on state funding for religious schools, published by the National Education Policy Center.  
James Kaufman co-published "COVID-19 Lockdown and Creativity: Exploring the Role and Emotions and Motivation on Creative Activities From the Chinese and German Perspectives" for the October issue of Frontiers in Psychology.
Devin Kearns co-published, with Cheryl Lyon, a doctoral student in educational psychology, "Improving Literacy Instruction in Co-Taught Middle School Classrooms to Support Reading Comprehension" for the December issue of Contemporary Educational Psychology.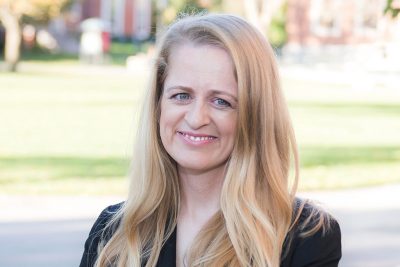 Kathleen Lynch was selected as an Emerging Education Policy Scholar by the Thomas B. Fordham Institute and the American Enterprise Institute (AEI). Lynch also co-published "The Impact of Summer Programs on Student Mathematics Achievement: A Meta-Analysis" for the January issue of Ed Working Papers.
Allison Lombardi is a new co-editor of the journal Career Development and Transition for Exceptional Individuals. 
Alan Marcus and Thomas Levine co-published a paper, "Mapping the Pandemic: Teaching Critical Map Literacy with Interactive COVID-19 Maps," featured in UConn Today. Marcus also co-published with alumnus Ian McGregor '21 Ph.D. and others "Holocaust Education in Transition From Live to Virtual Survivor Testimony: Pedagogical and Ethical Dilemmas" for the December issue of A Journal of Culture and History. 
Adam McCready co-presented "W(h)ither Graduate Preparation Programs Current and Post-Pandemic?" at the Student Affairs Administrators in Higher Education (NASPA) Region 1 Conference in Hartford, Connecticut, in November. In addition, he presented "Precarious Manhood in the Echo Chamber: Alcohol, Hazing, and Sexual Violence" at the Association of Fraternity/Sorority Advisors Annual Meeting virtually in December. McCready was also named to the editorial team of The Research Journal of the Association of Fraternity/Sorority Advisors and co-published "Fraternities as Settings for Sexual Assault: The Relationships of Traditional Masculine Norms Climates and Sexual Assault Attitudes" for the December issue of Psychology of Men and Masculinity.
Diandra Prescod co-published "Conceptualizing COVID-19-Related Career Concerns Using Bioecological Systems: Implications for Career Practice" for the December issue of The Career Development Quarterly.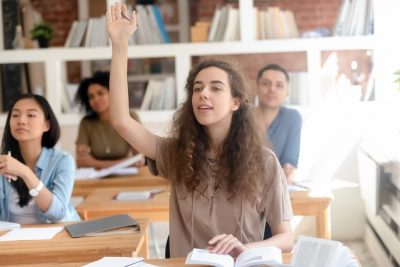 Sally Reis, Nicholas Gelbar, and Joseph Madaus co-published "Understanding the Academic Success of Academically Talented College Students with Autism Spectrum Disorders" for the September issue of Journal of Autism and Developmental Disorders. The article was featured in UConn Today. Reis and Joe Renzulli co-published The Schoolwide Enrichment Model: A Talent Development Approach Resulting in Opportunities, Resources, and Encouragement for All Students (IGI Global, 2022).
Joe Renzulli co-published a chapter with Nicole Waicunas, "An Infusion-Based Approach to Enriching the Standards-Driven Curriculum," for Reflections on Gifted Education (Taylor Francis Group 2022). In addition, the book The Scholastic Enrichment Model, co-authored by Reis and Joe Renzulli, was translated into Italian. Reis and Renzulli also co-published a chapter, "The Schoolwide Enrichment Model: A Talent Development Approach Resulting in Opportunities, Resources, and Encouragement for all Students," for Creating Equitable Services for the Gifted (IGI Global 2022).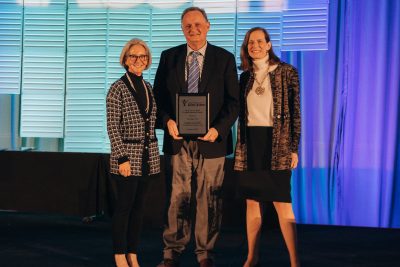 Del Siegle received the 2021 National Association for Gifted Children (NAGC)'s Ann F. Isaacs Founder's Memorial Award for distinguished service to NAGC and gifted education. He was formally recognized at the NAGC Annual Convention in Denver, Colorado, in November.
Tracy Sinclair co-published "Building a Transition Assessment for Students with Significant Cognitive Disabilities: Transition Assessment and Goal Generator-Alternative" for the December issue of DADD Online Journal.
Saran Stewart was an invited speaker for several recent virtual events: School of Environment, Resources and Sustainability, University of Waterloo, Canada; the 2021 International Professional Development Association, UK; 2021 Association of Graduate Researchers in Education Conference, Kingston, Jamaica; the Jamaica Tertiary Education Commission Research Forum; 2021 Hong Kong Education Research Association; and the Asian Pacific Education Research Association International Conference in Hong Kong.
Jennie Weiner has been awarded a $360,000, three-year grant from the U.S. Department of Education's Teacher Incentive Fund program to evaluate elements of NEtworkED: Creating Communities of Equity and Opportunity in Northeast Ohio. Alexandra Freidus is a co-investigator on the grant. Weiner also co-published with doctoral student Daron Cyr and Laura Burton an article titled "A Study of Black Female Principals Leading Through Twin Pandemics" for the December issue of Journal of Education Human Resources. In addition, Weiner was a panelist for the UConn Leadership and Organizational Development's session on "The Double Bind Facing Women in Leadership," held in December.
Students
Jannatul Anika, a junior in science education, has been selected for the University Scholar Program. This is the highest academic honor that UConn bestows upon an undergraduate student at graduation upon completing the program.
Pauline Batista, a doctoral student in educational leadership, participated in UNESCO's Intergenerational Dialogue as part of the #BiennaleLuanda 2021 in October. Only two people are chosen per country.
Brianna Chance was featured (:07) in UConn's current promotional commercial, aired every time the UConn Huskies play in a televised sports game.
Tamashi Hettiarachchi '21 (ED), who is pursuing a master's degree in curriculum and instruction, was recognized as an Alma Exley Scholar.
Heather Kwolek, Adeline Bray '19 (CLAS), Alyssa Bunyea '21 MA, and Erin DeMaio, doctoral students in educational psychology, along with Melissa Bray and alumna Karen Ottone-Cross '15 MA, '18 6th Year, '18 Ph.D., co-authored an article titled "Assessment of Students With Autism Spectrum Disorder for Emergency Response Planning" for the November issue of Psychology in the Schools.
Saraya Lewis, a junior majoring in English education, was named an Alma Exley Scholar.
Katerine Santiago Montalvo '21 (ED), a master's student in Spanish education, wrote a newsletter article for the Connecticut Council of Language Teacher's Fall/Winter newsletter edition about her personal experiences in an ELL program.
Kaitlynn Styles, a fifth-semester history major with minors in political science and American studies, was elected to Wolcott's Town Council in Wolcott, Connecticut.
Alumni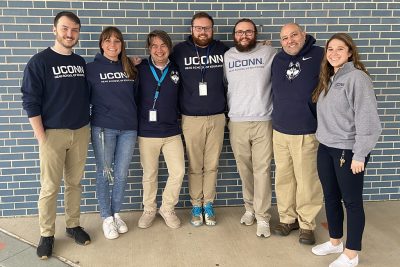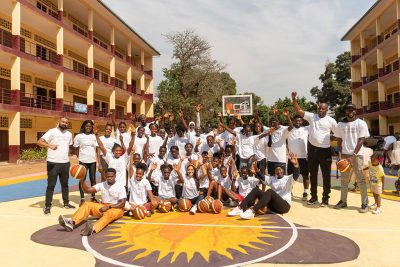 Batouly Camara '19 (ED), '20 MA, a former UConn women's basketball player and CEO of Women and Kids Empowerment (WAKE), was feature by In the Know, by Yahoo! Sports. Over the past year alone in Guinea, WAKE has built two basketball courts, launched six full scholarships, held three basketball camps, and built a water pump in a village that did not have access to clean drinking water.
Susan (Rovezzi) Carroll '81 Ph.D. co-published a book Statistics Made Simple for School Leaders (Rowman & Littlefield, 2022). Carroll, who is president of Words & Numbers Research, is a past recipient of the Neag School Alumni Board's Outstanding Professional award.
Patricia Charles '90 6th Year, '02 ELP, a retired superintendent, was recognized by the Middlesex United Way with its Community Service Award.
Johanna deLeyer-Tiarks '17 MA, '20 6th Year, '20 Ph.D., Melissa Bray, Sandra Chafouleas, James Kaufman, and Michael Li, a doctoral student in educational psychology, co-published Investigating Virtual Reality for the Delivery of Self-Modeling Interventions: Virtual Reality Self-Modeling as an Intervention for Stuttering for the December issue of Translational Issues in Psychological Science.
Elizabeth M. DeVitto '14 (ED), '15 MA published a children's book, Safe Spot, on helping children with emotions.
Jamahl Hines '93 (CLAS), '14 6th Year, assistant principal at Conard High School in West Hartford, Connecticut, was named 2022 Assistant Principal of the Year 2022 Assistant Principal of the Year by the Connecticut Association of Schools (CAS). Hines was also named interim principal for Conard High School.
Michael Mallery '15 MA, '20 Ph.D. is the district coordinator of social, emotional learning for Windsor (Conn.) Public Schools.
Chloe Pavlech '18 MS, an assistant women's basketball coach for Baylor University, was featured by Baylor University.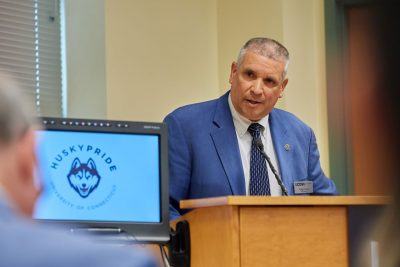 William "Bill" Pizzuto '99 Ph.D., director of UConn Waterbury, is retiring in February. He served as the director since 2006, and previously served as associate vice provost for the UConn tri-campus program of Waterbury, Torrington, and West Hartford. Pizzuto also served as director of both the Waterbury and Torrington campuses before the closure of the Torrington campus.
Laura Rodriguez '20 Ph.D. co-published with Todd Campbell, David Moss, UConn faculty member Laura Cisneros, and others "Assessing STEM Identities in Intergenerational Informal STEM Programming" for the December issue of Contemporary Issues in Technology and Teacher Education.
Jocelyn Tamborello-Noble '03 (ED), '04 MA, '09 6th Year was named assistant principal for Conard High School in West Harford, Connecticut. She most recently served as the school's world language department supervisor.
In Memoriam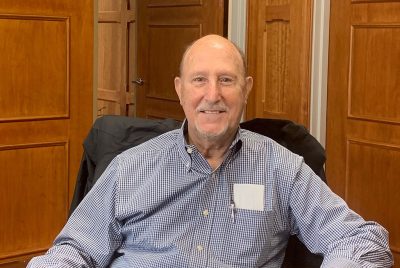 Robert S. Avery '74
Paul D. Baillargeon '64
Raymond J. Beauregard '63

Richard T. Coburn '58
Eleanor D. Controvillas '61
Chelsea Cunha – student
Kathleen "Kathy" (Crownhart) Gleason '72
Maureen Becks Macera '89
Ann Nicolle Rome '54
Vincent C. Russell '72
William "Bill" Servedio – professor emeritus
Frances Roxine Stepchew '54
Errol J. Terrell '65
Caroline (Kennedy) Voorhees '63
Kenneth C. White '55