The Neag School of Education, UConn's Department of English, and the Connecticut Writing Project (CWP), co-sponsors of the 30th annual Letters About Literature contest, are proud to announce Connecticut's winners for the 2021-22 academic year.
Each year, students in Grades 4 through 12 are invited to read a text, broadly defined, and write a letter to the author (living or dead) about how the text affected them personally. Submissions are grouped according to Grade Level (Grades 4-6, Grades 7-8, and Grades 9-12).
Each of these submissions was read and scored by Neag School alumni teacher-volunteers. Of the 558 submissions from Connecticut students this year, there were 69 students who received Honorable Mention as well as 62 Semi-Finalists. Each Letters About Literature Semi-Finalist and Honorable Mention recipient received a letter of recognition.
A second set of judges, all pre-service teachers, then read and scored the 62 Semi-Finalists—again, twice for each submission—and selected a total of nine Finalists, three per Grade Level. Then 1 student per grade level was named Winner. Each of the nine Finalists will receive a gift card. The six Finalists get $100 each and the three Winners get $200 each.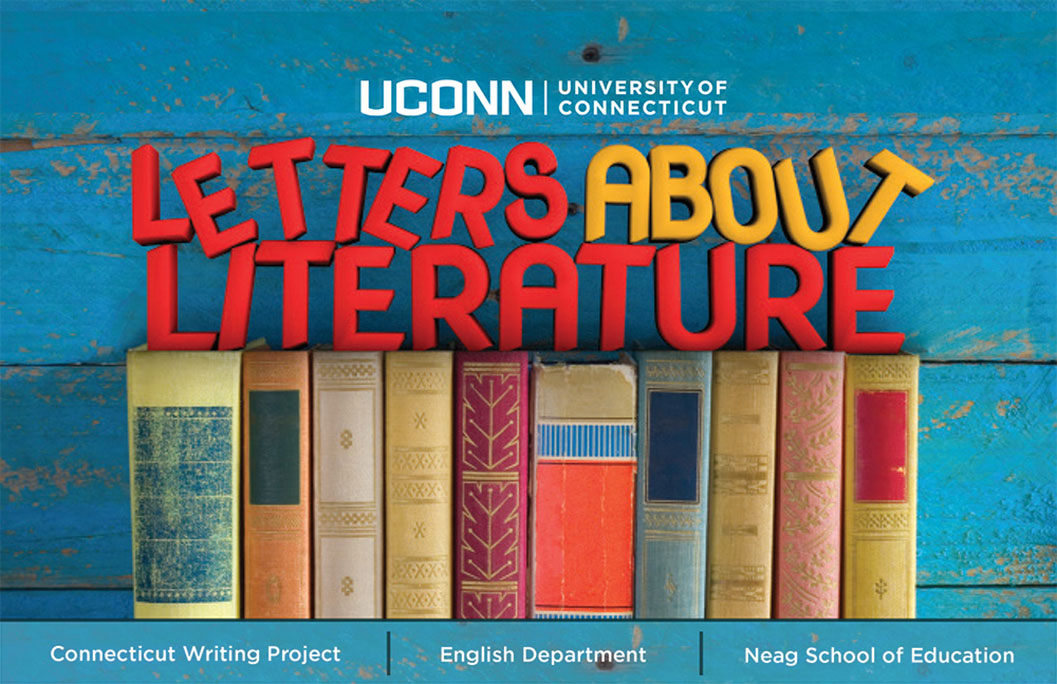 Neag School Professor Doug Kaufman, CWP Director Jason Courtmanche, and Department of English Ph.D. candidate Kiedra Taylor served as the contest's representatives for the state of Connecticut. Read more about the contest, and continue reading for the winning essays.
Letters About Literature Finalists for the State of Connecticut
The following are the contest finalists, listed with their respective school's and teacher's names, and the work of literature that is the focus of their essay, with access to their winning submissions in PDF format.
Level I (Grades 4-6)
First Place: Ella Meiers, Joelle Kilcourse, Riverfield Elementary (Fairfield), Phenomenal Woman by Maya Angelou

Finalist: Pavana Attonito, Katy Gale, Hindley Elementary (Darien), The Night Diary by Veera Hinanandani

Finalist: Hannah Osborne, Meghan Sullivan, Fawn Hollow Elementary (Monroe), The Giving Tree by Shel Silverstein
Level II (Grades 7-8)

First Place: Mia Chen, Julie Hodgson, Mansfield Middle School, Frankenstein by Mary Shelley
Finalist: Jesiel Lozada, Crystal Hamer,

Academy of Science and Innovation

 (New Britain), The Diary of Anne Frank by Anne Frank
Finalist: Julianna Tobin, Jordyn Meyenberg, Nathan Hale Middle School (Coventry), There Is No Right Way To by Whitney Hanson
Level III (Grades 9-12)

First Place: Ava Schmoelzer, Melissa Hadsell, Stamford High School, Selected Poems by Marina Tsvetaeva (trans. Elaine)

Finalist: Christina Vega, Jason Efland, Suffield High School, To Kill A Mockingbird by Harper Lee

Finalist: Serenty LaChance, Stacy Riggio, East Hampton High School, All the Bright Places by Jennifer Niven
Jason Courtmanche, co-chair of Connecticut's Letters About Literature Contest, gives remarks for the 2022 contest.
First-place winner in Level I, Ella Meiers from Riverfield (Connecticut) Elementary School in Fairfield, reads her essay "Phenomenal Woman" by Maya Angelou.
First place winner in Level II,  Mia Chen from Mansfield (Connecticut) Middle School, reads her essay "Frankenstein" by Mary Shelley.
Ava Schmoelzer from Stamford (Connecticut) High School, who earned first place in Connecticut's  2022 Letters About Literature Contest for Level III, reads her essay on "Selected Poems" by Marina Tsvetaeva.
Letters About Literature Contest Judges
Alumni, students, and friends from the Neag School of Education and the University of Connecticut judged the Letters About Literature contest submittals this past fall. The judges selected semi-finalists at each of the three competition levels (grades 4-5, 7-8, and 9-12). Thank you to the first-round contest judges:
Kyra Arena
Mary Jane Bezares
Kayla Cole
Rebecca Curtin
Jennifer DeRagon
Rob DiMartino
Marita Gereg
Katie Grant
Denise Grant
Emily Griffin
Christina Irizarry
Alice Jones
Mara Klin
Lindsay Larsen
Daniel Lozano
Shawn Lucas
Allyson Lyons
Derek Mason
Christine Melita
Melissa Oberlander
Alison Pellicci
Karla Rivadeneira
Katerine Santiago
Gabriella Strain
Students in the Neag School and Department of English judged the 96 Letters About Literature semifinalist essays this past month. Thank you to the contest judges, who are current students in the Neag School of Education Integrated Bachelor's/Master's program with a second major or concentration in English or UConn students majoring in English:
Aliya Carta
Hope Girard
Kathleen Jiang
Carsen Keith
Mara Klin
Saraya Lewis
Olivia Lopez
Maria Luca
Allyson Lyons
Emma McCarthy
Elizabeth Mulligan
Gabriela Nique
Sean O'Brien
Erica Popoca
Aman Premji
Brianna Roque
Max Thomas
Jessica Toscano
Julia Ward