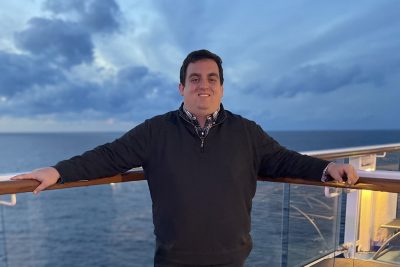 Editor's Note: As Commencement approaches, we are featuring some of our Neag School Class of 2022 graduating students over the coming days.
Major:
Mathematics Education
Hometown:
Easton, Connecticut
Why did you choose UConn?
I chose UConn because I felt from my first time walking on Campus that UConn was the place for me. In 2017, I remembered I came to Storrs as a high school student to shadow a Husky for the day, and it was a torrential downpour. I was with my mom, and we had no idea how to get to the Student Union from the North Parking Garage. We could barely see the map, and a UConn student went out of her way to stop and ask if we needed help in the pouring rain. This moment illustrates the strong sense of community you feel when you walk onto UConn's campus. No matter what, there's always someone to help you if you need it!! The choice to be a part of Husky Nation was the best decision I made in my entire life.
What's your major and why did you choose it? 
I am currently a master's student studying mathematics education in the Neag School of Education's IB/M Program. This five-year program will enable me to teach mathematics for grades 7-12. I chose this major because of the influential role models in my life that have helped me to become the person I am today. The opportunity to serve my community and help my students achieve their goals and aspirations would be a privilege to be a part of! I also think mathematics is such a beautiful and important area of study. Mathematics plays such a pivotal role in many other disciplines that I look forward to engaging in productive discussions on the realness of math in the world today with my future students! Neag School's incredible faculty, staff, and students have been incredible supports to me as I begin my journey as a professional in education!
What are your plans after graduation?
I am currently applying for open secondary mathematics teaching positions at the middle school and high school levels around the state of Connecticut. In the short term, I am looking forward to serving as the parent staff coordinator for the 2022 UConn – Storrs Campus Orientation Parent Program this upcoming summer.
What activities were you involved with as a student?
I served as the student manager for the UConn Women's Basketball team for three years. It was the thrill of a lifetime to work alongside some of the country's best coaches, players, and professional support staff. I have also worked for UConn – Storrs Orientation Services for four years. From 2019 to 2022, I have worked in several different positions, such as the new student orientation team, the parent staff orientation team, the new student coordinator, and the parent staff coordinator. I am so glad to have the opportunity to welcome the incoming Huskies to campus and show them all that awaits them for their year(s) in Storrs. It was also amazing to be involved with Earthtones and Voices of Freedom vocal ensembles on campus.
How has UConn prepared you for the next chapter in life?
In terms of academics, UConn's Neag School of Education has enabled me to work in many different classrooms since my junior year with some amazing teachers and professional staff that prepared me to take on the next phase of my life as a teacher. In addition, I have had the amazing opportunity to work with some of the top faculty in education. I am grateful for the time I have had to learn from great professors and fellow Neag School pre-service teachers. Another important way UConn has prepared me for the next chapter of my life is through the amazing life-long relationships that I have formed during my five years in Storrs. I have such a great support system that truly helps me be the best version of myself. I have so much love for all the people I have gotten to connect with during my time at UConn. These relationships will be pivotal as I navigate my first year as a math teacher!
"UConn's Neag School of Education has enabled me to work in many different classrooms with some amazing teachers and professional staff that prepared me to take on the next phase of my life as a teacher."
What's one thing that surprised you about UConn
I was completely surprised by how far-reaching the pride for UConn and Husky Nation is. No matter where I go, I can guarantee that I will run into someone who has attended UConn, loves Husky Nation, and shows their Husky spirit. It's amazing to see the love that we have for our school. I am not afraid to say that UConn has the best fans, alumni network, and supporters in the world!! I look forward to being one of those alums that share their Husky spirit with my fellow Huskies past, future, and present.
Any advice for incoming first-year students?
Don't be afraid to go outside your comfort zone and try new things!! This is your time of life to learn more about yourself and put yourself out there. While academics are super important, don't forget to make time to connect with new people, get involved, and explore your interests and hobbies. Your education, social life, and involvement are all three equally important aspects of your college experience. Don't forget to make time for experiences in all three of those areas.
What's one thing every student should do during their time at UConn?
I am probably biased, but make sure to head to Gampel Pavilion to catch our Men's and Women's basketball teams in action. There is nothing like being in the student section, watching our teams play in "the world's basketball capital!!"
Who was your favorite professor and why?
My two favorite professors are Megan Staples, associate professor of mathematics education, and Mary Ellen Junda, professor of music. These two figures have played pivotal roles into my maturation to the student and teacher I am today!! Their unwavering support of me in all my endeavors has helped me in so many ways! I cannot thank them enough for all they have done for me. I am truly grateful for having the opportunity to learn from them during my time in Storrs. Anyone would be lucky to be able to learn from and get to know these great leaders at our university. Thank you for all that you do for the UConn community.
What's one thing that will always make you think of UConn?
I have gotten to know and learn from the amazing people for these past five years. I have created life-long friendships/relationships that will always remind me of UConn. Without UConn, I would not have had the opportunity to meet some of the most amazing people!! Thanks, UConn!!!