Throughout the academic year, the Neag School is proud to share the latest achievements of its faculty, staff, students, and alumni.
Explore their most recent promotions, awards, retirements, publications, and more:
Dean's Office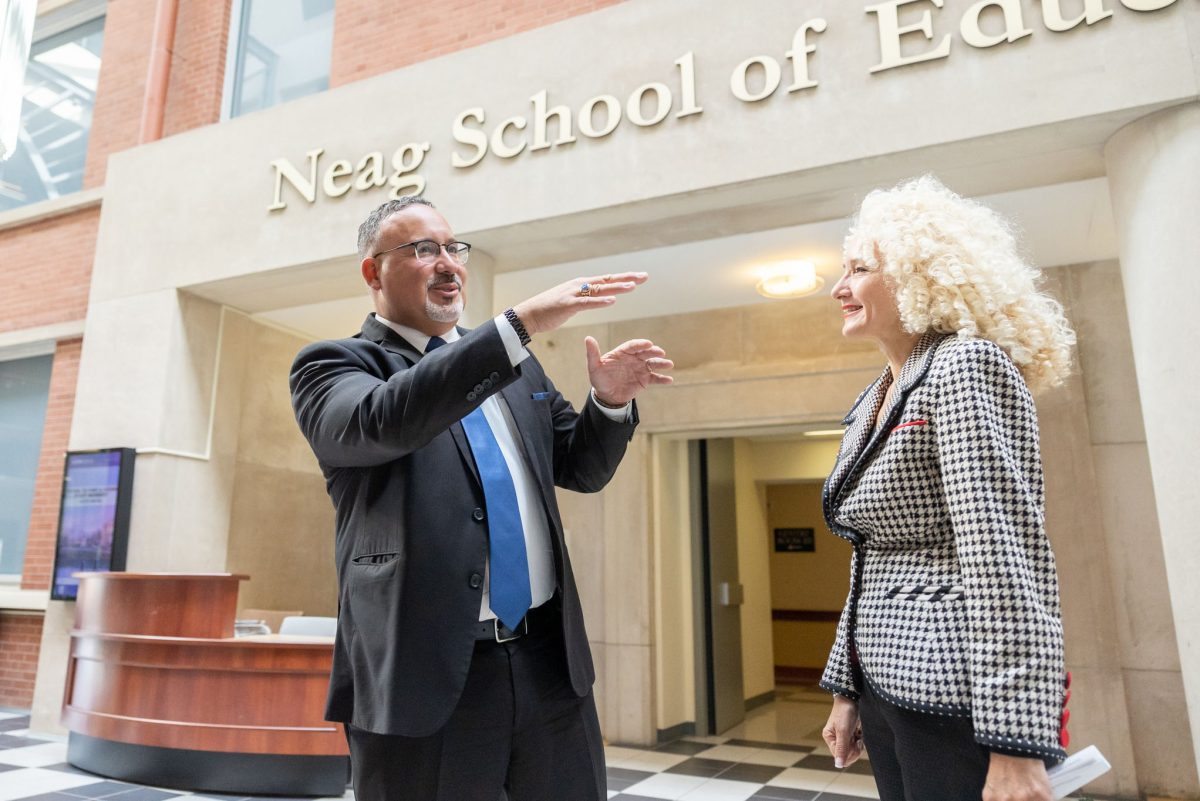 In the second episode of UConn's "Worth Repeating" video series, UConn President Radenka Maric interviewed U.S. Secretary of Education and Neag School of Education graduate Miguel Cardona '01 MA, '04 6th Year, '11 Ed.D., '12 ELP about getting started as an educator, his work in the State and Federal Departments of Education, what UConn means to him, and much more.
The Neag School of Education Alumni Board hosted a tailgate breakfast at UConn's Homecoming Game in October. Neag Alumni Award recipients and nominators from 2020-2022 were invited to celebrate the day. View photos from the event.
For the first time since 2019, Neag School of Education held its annual Scholarship Celebration in person to commemorate the students who have benefitted, financially and personally, from numerous donors' generosity. Read more here.
The Neag School of Education was a co-sponsor of the UConn Women's Center 50th Anniversary Celebration, with Melissa Harris-Perry as keynote speaker, that took place in November on the UConn Storrs campus.
The Center for Education Policy Analysis, Research, and Evaluation (CEPARE) hosted a CEPARE Speaker Series on the UConn Storrs campus in November featuring Lauren Leigh Kelly from Rutgers University. View photos from the event.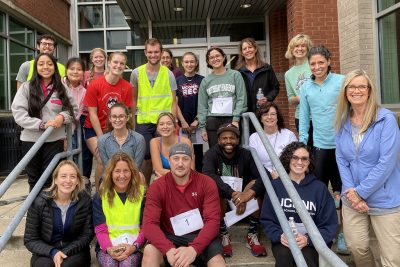 The Neag School of Education hosted the annual Robert Run/Walk for the first time since 2019. The Run/Walk is dedicated to the memory of Robert Colbert, an avid runner and associate professor of school counseling and School Counseling program coordinator. The run, coordinated through the Community Building Committee and celebrating Dr. Colbert's commitment to equity and social justice, was organized by teacher education students in the teacher leadership course. Check out photos from the gathering.
Dean Jason Irizarry was a panelist for AERA Division K's virtual session on "Borders Within Yourself, Living on the Border: The Liminal Space for Resisting in Teaching and Teacher Ed." The panel took place in November.
The Neag School of Education hosted a reception at the UConn Stamford campus for guests to learn about Dean Irizarry's vision for the future and the recent expansion of the Teacher Certification Program for College Graduates (TCPCG) and UConn Administrator Preparation Program (UCAPP) to the Stamford Campus. Dean Irizarry spoke, along with Stamford campus director Jennifer Orlikoff and TCPCG alumna Melanie Jaramillo '20 CLAS, '21 MA. View photos from the event.
Department of Curriculum and Instruction (EDCI) and Office of Teacher Education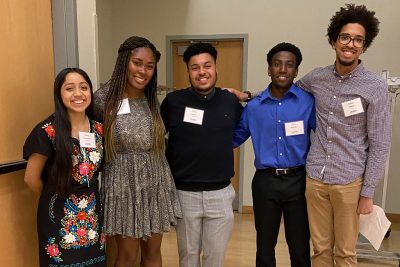 The Neag School of Education hosted the annual Celebration of Diversity in Education dinner in October at the UConn Student Union for the first time in person since 2019. The event featured a special thank you to Tracey Lafayette '13 ED, '15 MA, '20 6th Year, who was instrumental in launching the Leadership in Diversity (LID) organization when she was a Neag School student, and keynote speaker Dr. Terrell Hill, superintendent at Windsor Public Schools. The annual event brings together and supports students and educators of color, offering the opportunity to interact in meaningful ways. Current education students were in attendance, along with Neag School alumni, professors, UConn administrators, and community leaders. View photos from the evening.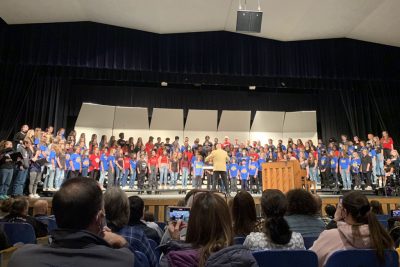 UConn Music Education was pleased to welcome two prolific choral composers to campus this month. Students spent a week working with composer Roger Emerson. They then joined over 200 Mansfield students in grades 4-12 (Mansfield Elementary, Mansfield Middle, and E.O. Smith High School) for a concert of Emerson's music. Composer Jim Papoulis joined us at the beginning of November for a morning workshop full of singing, moving, and drumming. Papoulis, known for his world rhythms and groove percussion tracks, helped students — and local music teachers — find their groove.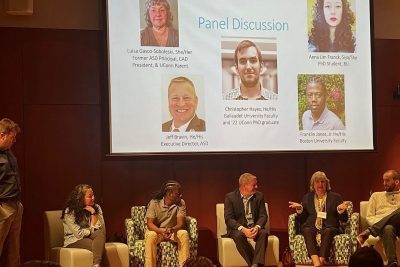 UConn recently showcased the many accomplishments and contributions that the UConn American Sign Language scholars have made to Deaf studies, cognitive and linguistic research, interpreting, and the teaching and research of ASL. Deaf keynote speakers and panelists shared their insights into fostering greater inclusion and accessibility at UConn, as well as challenges facing recruitment and retention of exceptionally talented and experienced Deaf and hard-of-hearing faculty. Neag School's Hannah Dostal was on the planning committee. View a photo album from the event.
The Neag School of Education co-sponsored the virtual 2022 UConn Judaic Studies Kristallnacht Lecture, featuring Daniel Greene from Northwestern University. Green curated Americans and the Holocaust, an exhibit at the U.S. Holocaust Museum, which inspired the new Ken Burns PBS documentary, The U.S. and the Holocaust. Alan Marcus was part of the planning group. View a recording from the lecture.
Department of Educational Leadership (EDLR)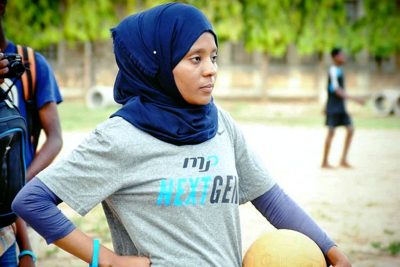 The Sport Management Program participated as a mentorship site in the annual Global Sport Mentorship Program (GSMP). Laura Burton and Danielle DeRosa acted as the hosting mentors for Fatma Ahmed from Zanzibar. Ahmed spent time with sport management faculty to learn more about the context of sport in the U.S., nonprofit development and social entrepreneurship, and gender and leadership development in sport.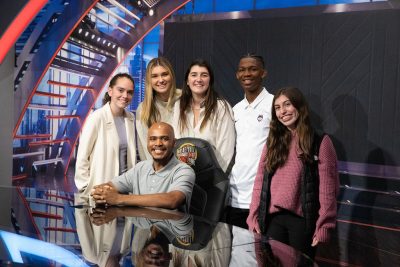 This month, the Basketball Hall of Fame hosted an Executive Sports Leadership session for 30 UConn sport management students — the first time this executive level discussion was held for undergraduate students. This collaboration is part of the Harrison Fitch Leadership Initiatives within the Harrison Fitch Leadership Fund. View photos from the event.
Bert Wachtelhausen '82 and Jennie McGarry joined together to discuss the intersection of sport, Title IX, and Women's Leadership in a UConn Foundation Women & Philanthropy podcast. Listen to it here. Another episode featured Neag School alumna and UConn women's basketball associate head coach Chris Dailey '89 MA, which can be found here.
The UConn Higher Education and Student Affairs (HESA) program hosted a reception after the first day of the NAPSA Region 1 Conference in Hartford, Connecticut. View photos from the reception.
Department of Educational Psychology (EPSY)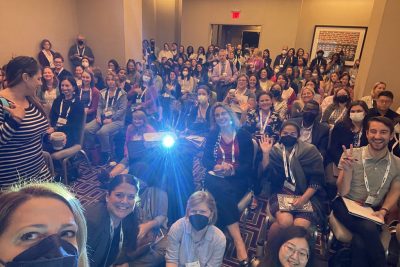 Neag School of Education researchers are developing a new initiative to help educators overcome language barriers to identify gifted students among English learners. Project EAGLE (Eliciting Advanced Gifted Learning Evidence) is one of several gifted education grants at UConn, including the National Center for Research on Gifted Education (NCRGE), that address inequity in schools. Read the story here.
Faculty and doctoral students from the Neag School's Research Methods, Measurement, and Evaluation program attended the American Evaluation Association's national conference in New Orleans, Louisiana, this past week. Presentations were given, along with participation with AEA's trade show. View photos here.
Faculty/Staff
Joseph Abramo performed "Saṃsāra, a Multimedia Event" at the von der Mehden Recital in October. View a recording here.
Kylie Anglin gave a virtual presentation on "NLP Approaches to Measuring and Understanding Program Implementation" for the Annenberg School at Brown University in October.
Michele Back was elected to the ACTFL Board (American Council for the Teaching of Foreign Languages, the national world language teaching organization) as the at-large Higher Education member.
Todd Campbell and Neag School alumnus Byung Yeol-Park '21 Ph.D., along with other colleagues, co-published "Challenging the Hegemony of Western Scientism in Science Teacher Education" for the October issue of the Journal of Science Teacher Education. Campbell also co-published with David Moss and others "Authoring STEM Identities Through Intergenerational Collaborative Partnerships" for the September issue of International Journal of Science Education Part B.
Rebecca Campbell-Montalvo was chosen as a group member as part of the Quantitative Research Methods Scholars Program for STEM Education Researchers in Equity and Access for 2022-2023. She also presented "Articulating the Concept of Linguistic reformation to Advance Work on Raciolinguistic Enregisterment: How Florida Schools Re-formed Náhuatl into Spanish During Enrollment" for the High Desert Linguistics Society's virtual conference in November and co-published "Health Care Access Brokerage by School Employees for Immigrant Mexican and Indigenous Guatemalan Farm Working Families in a Connecticut Elementary School" for the December issue of AERA Open.
Sandra Chafouleas, Amy Briesch '05 Ph.D., and Jacqueline Caemmerer, have been awarded a $1.9M grant with the Institute of Education Sciences to develop a whole child equity-focused screening tool for schools. Chafouleas was also featured by the Education Writers Association about a panel on student mental health crises, and in a special feature by NPR.
Morgaen Donaldson participated with the Connecticut Stare Department of Education's panel on "Critical Education Issues Emerging From the Pandemic," which took place in Westport, Connecticut last month. View a recording from the event.
Danielle Filipiak was selected as a member of NCTE's Standing Committee on Research. Leadership from the field will continue to be critical to NCTE as they seek to amplify the voice of educators through personal connection, collaboration, and a shared mission to improve the teaching and learning of English and language arts at all levels.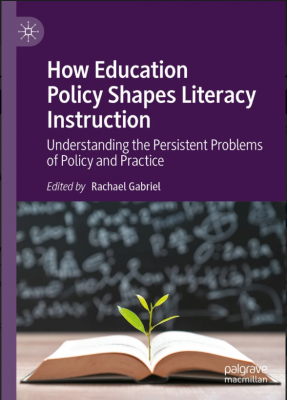 Rachael Gabriel was an editor of a new book, How Education Policy Shapes Literacy Instruction(SpringerLink 2022). Articles included an "Introduction" and "Conclusion" that Gabriel co-wrote with Shannon Kelley '22 Ph.D.; "Early Reading Instruction: Politics and Myths About Materials and Methods" that Gabriel co-wrote; and "How Literacy Policy Shapes Understandings of Teacher Quality: Coaching, Evaluation, and Measures of Teacher Effectiveness" written by Gabriel. Gabriel was also a keynote speaker for the 33rd Literacy for Allvirtual/in-person conference for Lesley University, which was held in November.
Preston Green was the featured speaker at Fordham University Graduate School of Education's annual Barbara L. Jackson, Ed.D. lecture. The virtual lecture occurred in October. In addition, Green was a co-presenter on "Federal Regulations for Racially Equitable Funding" for The Institute for Education Innovation's Future of Education Finance Summit in Baltimore, Maryland, in September. Green was also the co-author of "The U.S. Supreme Court Paves Pathway for Students to Attend Publicly Funded Religious Schools: The Potential for Discriminatory Practices" for the October issue of Religion and Education and was featured by International Education News with an interview on "The Role of Research, Advocacy, and the Law in Educational Equity: A Conversation With Preston Green" which was produced by Neag School alumna Alexandra "Alex" Lamb '16 Ph.D.
James Kaufman was a co-author of "Divergent Semantic Integration (DSI): Extracting Creativity From Narratives with Distributional Semantic Modeling" for the October issue of Behavior Research Methods.
Devin Kearns co-published a research paper "Can Reading Practitioners and Researchers Improve Reading Support Systems in a Large Urban School System?" for the November issue of the Journal of Research in Reading.
Jessica Koslouski, an affiliated researcher with the Collaboratory on School and Child Health, published "Developing Empathy and Support for Students With the 'Most Challenging Behaviors:' Mixed-methods Outcomes of Professional Development in Trauma-Informed Teaching Practices" for the September issue of Frontiers in Education. She also co-authored "My Story Started When I Was Younger" for the August issue of Journal of Adolescent Research.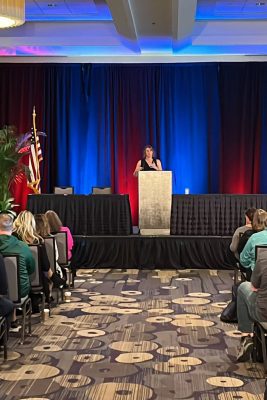 Allison Lombardi delivered the keynote address at the Annual International Division on Career Development and Transition (DCDT) Conference in Little Rock, Arkansas, in November.
D. Betsy McCoach was named a Distinguished Scholar by the National Association for Gifted Students.
Adam McCready, who served as editor, published an issue of Oracle, The Research Journal of the Association of Fraternity/Sorority Advisors. Neag School doctoral student Luz Burgos-López is the editorial assistant. He also published the Letter from the Editor.
Bianca Montrosse-Moorhead presented "Evaluation Synthesis: What Is It? How Do We Teach It to Others" at the International Society for Evaluation Education's virtual meeting in October. Montrosse-Moorhead was also named co-editor-in-chief for New Directions for Evaluation. Read more here.
David Moss is quoted extensively about his work in Lucas Education Research's report "Interdisciplinary Education: Literature Review and Landscape Analysis."
Grace Player has been chosen for funding through a Racial Equity Research Grant from The Spencer Foundation for a project titled "Curators of Educational Dreams: Girls of Color as Visionaries and Creators of Liberatory Art Spaces."
Joseph Renzulli was recognized by Research Gate as the second-most read scholar, with 971 new reads among UConn scholars.
Graham Rifenbark co-published "Evaluation of Program Costs for Implementing a Self-Determination Intervention Using the Ingredients Method" for the November issue of Career Development and Transition for Exceptional Individuals. Rifenbark also presented on "Invoking Survey Weights to Calc Bayes Factor with PROC MCMC to Generate more generalizable Inferences" at SAS Software's Southeast User Group conference in Mobile, Alabama, in October.
Jennie Weiner was a co-presenter on "Crisis in Education: A National Conversation on America's Teacher Shortage" for Florida International University. The virtual panel took place in October.
Eli Wolff gave the 2022 Alan Ingham Memorial Lecture at the North American Society for the Sociology of Sport (NASS) national conference in Las Vegas, Nevada, in November.
Students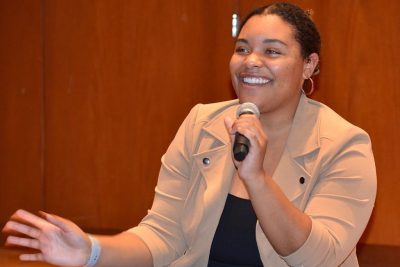 Brianna Chance hosted a special viewing party for her master's project, Housing (In)Justice, at the Dodd Center in November. The viewing party featured interviewees for the documentary focused on UConn student homelessness and housing insecurity, along with a Q&A. View photos here.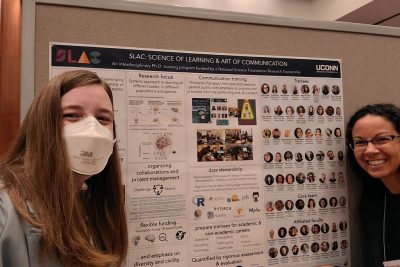 Megan Go, a first-year HESA student, authored an opinion piece in Diverse Issues in Higher Education titled "Asian American Mental Health: Heritage and Roots."
Kristin (Kris) Simmers, a doctoral student in educational psychology, was featured in the Progressively Incorrect blog "Kristin Simmers and Andrew Watson on the Role of Neuroscience in Education."
Elizabeth Zagata, a doctoral student in special education, is a recipient of the Jane West Park Award, which was announced at the Council for Exceptional Children's TED Conference in Richmond, Virginia, in November. The annual award recognizes individuals involved in advocating for special education teacher preparation.
Alumni
Laurel E. Brandon '11 MA, '15 Ph.D., Sally Reis, Joseph Renzulli, and another colleague co-published "Examining Teachers' Perspectives of School-Based Opportunities and Support for Student Creativity with the ICI Index" for the September issue of Creativity Research Journal.
S. Kent Butler, Jr. '85 (CLAS), '94 MA, '99 Ph.D. was the keynote speaker for Virginia Counselors Association's 2022 Annual Convention in Williamsburg, Virginia, in November.
Liz DeVitto '14 (ED), '15 MA self-published a children's book and shared insights on being a special education teacher. Read about her story.
Chase Foltz '21 (ED) was hired as a graduate assistant for Manhattan College's Office of Athletics. He most recently worked with the Norwich Sea Unicorns of the Futures Collegiate Baseball League.
Fany DeJesús Hannon '08 MA was appointed UConn's interim dean of students. Hannon is currently the director of UConn's Puerto Rican/Latin American Cultural Center (PRLACC). Read more about Hannon's journey.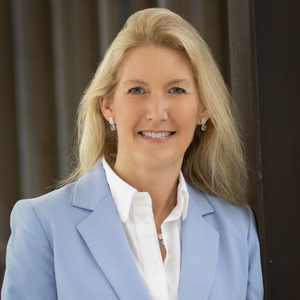 Donna Hayward was selected by the National Association of Secondary School Principals (NAASP) as the 2023 National Principal of the Year. Hayward serves as principal of Haddam Killingworth High School, in Higganum, Connecticut.
Ajhanai (AJ) Channel Inez Keaton '21 Ph.D. published "Black Women Diversity Leaders' Perceptions of Organizational Inclusivity in College Sports" for the November issue of Frontiers in Sports and Active Living.
Will Mandelbaum '21 (ED), '22 MA starred as Jean-Michael in Fairfield Center Stage's La Cage Aux Follies.
Nathan Quesnel '01 (CLAS), '02 MA, '22 Ed.D. was appointed head of Norwich Free Academy, starting July 1. He most recently served as superintendent of East Hartford Public Schools.
Marjorie "Jean" Romano '77 MA was recently featured by the UConn Foundation for her support of student scholarships in honor of her husband, Antonio.
Laura Rodriguez '20 Ph.D., Todd Campbell, David Moss, and John Volin, formerly at UConn, co-published "Authoring STEM Identities Through Intergenerational Collaborative Partnerships" for the August issue of International Journal of Science Education Part B.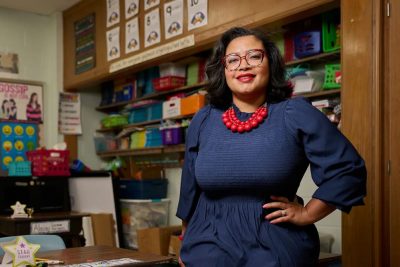 Karla Rivadeneira '21 (ED), '22 MA, a high school Spanish teacher, was featured by Lead with Languages, the online publication for the American Council on the Teaching of Foreign Languages.
Violet Jiménez Sims '02 (SFA), '05 MA, '11 6th Year, '22 ELP was featured in UConn Magazine for a class she previously taught at UConn. She's currently the managing director of academics for the Connecticut Teacher Residency Program.
Brian Wolfe '18 (ED) was promoted to acting executive director of the Connecticut Cycling Advancement Program (CCAP). Wolfe has been promoted at CCAP in various roles for the past six years.

In Memoriam
Joel H. Bahner '58
Margaret R. Beecher-Hlavacek '91
Romeo J. Bernier '69
Grace M. Cole '51
Joyce R. Cyr '89
Wayne F. Diederich '78
Shirley A. Fleming '69
Harmon L. Freeman '65
Robert P. Griffin '56
Elizabeth A. Kurker-Stewart '72
Maureen T. Lapan '62
Carolyn P. Olmstead '71
Joseph A. Pernaselli Sr. '69
Margaret E. Radcliffe '72
Garland W. Reedy '55
Joanne V. Simonds '62
Raymond Sutyla '84
Robert M. Valuk '67
Judith M. Warn '90
Shirley J. Wright '80
Congratulations to our Neag School alumni, faculty, staff, and students on their continued accomplishments inside and outside the classroom. If you have an accolade to share, we want to hear from you! Please email us any news items or story ideas.