The Neag School of Education, UConn's Department of English, and the Connecticut Writing Project (CWP), co-sponsors of the 31st annual Letters About Literature contest, are proud to announce Connecticut's winners for the 2022-23 academic year.
Each year, students in Grades 4 through 12 are invited to read a text, broadly defined, and write a letter to the author (living or dead) about how the text affected them personally. Submissions are grouped according to Grade Level (Grades 4-6, Grades 7-8, and Grades 9-12).
Each of these submissions was read and scored by Neag School alumni teacher-volunteers. Of the 849 submissions from Connecticut students this year, there were 251 students who received Honorable Mention and 494 Semi-Finalists. Each Letters About Literature Semi-Finalist and Honorable Mention recipient received a letter of recognition.
A second set of judges, all pre-service teachers, then read and scored the 81 Finalists—again, twice for each submission—and selected a total of nine Winners, three per Grade Level. Then 1 student per grade level was named Top Prize. Each of the nine Winners will receive a gift card. The six Winner recipients get $100 each and the three Top Prize Winners get $200 each.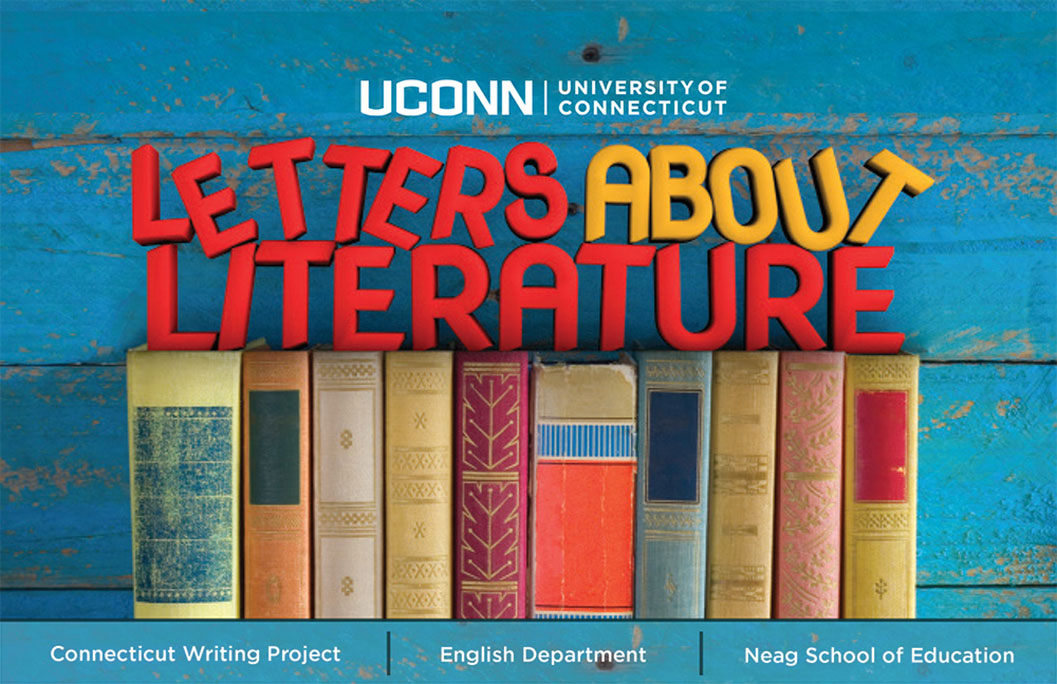 Neag School Professor Doug Kaufman, CWP Director Jason Courtmanche, and Department of English Ph.D. candidate Margaret McFarlane served as the contest's representatives for the state of Connecticut. Read more about the contest, and continue reading for the winning essays.
Letters About Literature Finalists for the State of Connecticut
The following are the contest finalists, listed with their respective school's and teacher's names, and the work of literature that is the focus of their essay, with access to their winning submissions in PDF format.
Level I (Grades 4-6)
Level II (Grades 7-8)

Top Prize Winner: Kavin Jayaganesh, Kate Stewart, East Granby Middle School, The Giver by Lois Lowry
Winner: Natalie Curtis, Skye Lee, The Foote School, A Person/A Paper/A Promise by Dr. Earl Reum
Winner: Stella Scurr, Jenna Massicotte, Segwick Middle School, Poetry by Robert Frost
Level III (Grades 9-12)

Top Prize Winner: Erin McKay, 

David Walker, Greenwich High School,

Slouching Towards Bethlehem

by Joan Didion



Winner: Katherine Larson, 

Victoria Nordlund, Rockville High School,

The Jungle

by Upton Sinclair



Winner: Gabarriella Korczak, Mary Ellen Courtemanche, Bacon Academy High School, The Metamorphosis by Franz Kafka
Letters About Literature Contest Judges
Alumni, students, and friends from the Neag School of Education and the University of Connecticut judged the Letters About Literature contest submittals this past fall. The judges selected semi-finalists at each of the three competition levels (grades 4-5, 7-8, and 9-12). Thank you to the first-round contest judges:
Sarah Abbey
Lea Attanasio
Leah Baranauskas
Mirelinda Dema
Kristina Dukette
Liz Fogarty
Allison Gale
Migdalia Gonsalves
Emily Gunzburg
Jill Kneisl
Allyson Lyons
Erin Naclerio
Melissa Oberlander
Katelyn Owens
Irismary Santiago Saez
Jill Slayton
Rachel Vincent
Students in the Neag School and Department of English judged the Letters About Literature semifinalist essays this past month. Thank you to the contest judges, who are current students in the Neag School of Education Integrated Bachelor's/Master's program with a second major or concentration in English or UConn students majoring in English:
Rebecca Andersen
Emily Balocca
Rudra Bhavsar
Robin Chiburis
Daniella Diblasio
Cassidy Garcia
Emily Gribbin
Thomas Isleib
Savannah Johnson
Julia Lachance
Margaret Lonsinger
Logan Mccallum Laval
Abigail Piotrowicz
Mikaya Robinson
Shaila Sharma
Elizabeth Sweat
Zitlalic Tejeda
Camille Terrell
Maxwell Underwood
Jake Vandenbroek
Daniel Warren