Congratulations to our Neag School alumni, faculty, staff, and students on their continued accomplishments inside and outside the classroom. If you have an accolade to share, we want to hear from you! Please send any news items and story ideas to neag-communications@uconn.edu.
In addition to the Dean's Office and Department achievements, explore this edition's list of Accolades for the following: Faculty/Staff; Alumni; Students, as well as In Memoriam.
Dean's Office and Departments
The Neag School celebrated the Class of 2018 during Commencement Weekend, May 5-7, on the UConn Storrs campus. Read more about the celebration — plus, check out the Class of 2018's video and photos from the Undergraduate procession featuring Jonathans XIII and XIV, Undergraduate ceremony, the receptions for Undergraduate and Master's/Sixth-Year students, and photo booth.
During its May faculty/staff meeting, the Neag School recognized Dorothea Anagnostopoulos for her service as executive director of Teacher Education, as well as three retirees for their years of service to UConn: Sandy Bell (17 years); Eliana Rojas (17 years); and Mary Anne Doyle (35 years).
At the meeting, Dean Kersaint also congratulated five Neag School faculty members who have been granted tenure: Laura Burton (Professor), Erik Hines (Associate Professor), Allison Lombardi (Associate Professor), Bianca Montrosse-Moorhead (Associate Professor), and Sarah Woulfin (Associate Professor).
In addition, the following individuals were recognized:
Years of Service
10 Years of Service: Sandra Billings (EDCI); Stefanie Dion Jones (Dean's Office); Elizabeth Howard (EDCI); Jamison E. Judd (Dean's Office); Lisa M.H. Sanetti (ESPY); Leah M. Ward (EDLR) 
15 Years of Service: Tutita M. Casa (EDCI); Dorothy E. McCoach (ESPY); Jennifer E. McGarry (EDLR)
20 Years of Service: Lisa M. Muller (ESPY); Christine S. North (EDCI); Richard L. Schwab (EDLR)
35 Years of Service: James M. O'Neil (ESPY)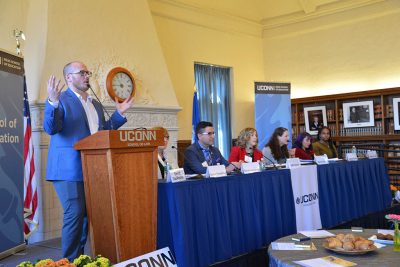 The Neag School of Education hosted the second annual Special Education in Connecticut Summit, sponsored by the Klebanoff Institute and held at the UConn Law School campus in Hartford, Conn., last month. Joseph Madaus and the Neag School brought together more than 150 special education directors, school administrators, teachers, attorneys, and others from across the state for a daylong summit dedicated to exploring special education issues. Renee Bradley, deputy division director from the U.S. Department of Education's Office of Special Education Programs, gave the keynote address. Michael Coyne and Brandi Simonsen served as facilitators of panel discussions focused on such topics as "Promoting High-Quality Academic Outcomes for All Students With Disabilities" and "Promoting Positive Behavior to Decrease Disproportionate Discipline of Students with Disabilities." Check out photos from the event, or read more.
The Neag School participated in the first-ever UConn Giving Day. The 36-hour online effort raised more than $1,600 in support of undergraduate and graduate student scholarships through donations from faculty, staff, students, and alumni.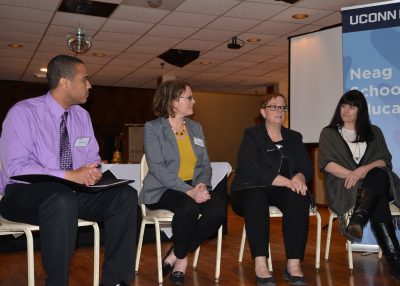 The Neag School, in conjunction with UConn alumnus Eric Judge '87 (BUS), '92 MBA and the Glastonbury Exchange Club, hosted a panel discussion titled "Addressing Childhood Trauma in School Settings," featuring Sandra Chafouleas, co-director of the Collaboratory on School and Child Health; Lisa Sanetti; and Alice Forrester of the Clifford Beers Clinic. The panel was moderated by Desi Nesmith '01 (ED), '02 MA, '09 UCAPP from the Connecticut State Department of Education. View event photos.
More than 60 faculty researchers, graduate students, and alumni from across the Neag School presented at the annual American Educational Research Association (AERA)'s Annual Meeting in April in New York, N.Y. In addition, Dean Gladis Kersaint served on the Universitas 21 Forum for International Networking in Education (FINE) panel, held during the AERA Meeting. FINE is an international group of graduate and early-career researchers in education who collaborate on educational issues from a global perspective. Read more about the Neag School's presence at AERA this year.
The Neag School's Office of Alumni Relations hosted a professional development workshop for teachers at the Jorgensen Center for Performing Arts in conjunction with the campus-wide UConn Reads program in April, which featured author Viet Thanh Nguyen.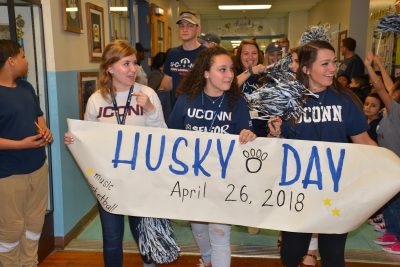 Neag School of Education's Office of Alumni Relations visited partner school E.B. Kennelly in Hartford (Conn.) to attend "Husky Day," which included a celebration, schoolwide parade, and basketball game with students versus the teachers. See photos from the event.
The Neag School, the UConn Department of English, and the Connecticut Writing Project recognized Connecticut's winners of the 25th annual Letters About Literature competition at a special ceremony at the Capitol in Hartford last month. The nationwide contest is sponsored by the Library of Congress for students in grades 4 through 12. The Neag School served as a co-sponsor of the contest for the state for the third consecutive year. Students from the Neag School and UConn's Department of English served as judges for the Connecticut students' contest submissions. See photos from the event. Doug Kaufman served as a faculty advisor for the competition.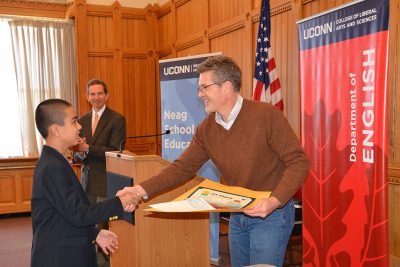 A representative from the Spencer Foundation visited the Neag School for a listening tour in March. Part of the Foundation's strategic plan includes conducting campus visits at universities across the country with the purpose of deepening its engagement with the educational research community and increasing its responsiveness to significant ideas and newly developing trends in the field.
Department of Curriculum and Instruction (EDCI) and Teacher Education
The Dodd Center, led by Glenn Mitoma, hosted the inaugural Malka Penn Award for Human Rights in Children's Literature ceremony in March, with a reception featuring awardee Suzanne Del Rizzo, author of My Beautiful Birds. The Dodd Center also hosted an exhibit through April titled "Race and Revolution: Still Separate – Still Unequal" at the Charter Oak Cultural Center in Hartford, Conn.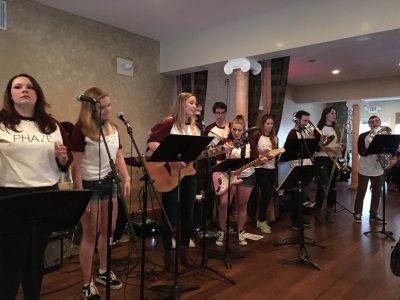 EDCI faculty, staff, and music education students hosted a rock concert by The Vygotskys, featuring the Notorious ZPD, at Lakeside Restaurant in May in Coventry, Conn. The concert also featured a performance by Neag School students.
EDCI faculty, staff, and alumni, along with staff and administrators from across the Neag School, joined friends and colleagues of Mary Anne Doyle for a reception in May, commemorating Doyle's retirement after 35 years of service to the University. See the photo slideshow that was shared at the reception.
Teacher Education welcomed participants from 60 school districts from across the state for the annual Education Recruitment Career Fair in April at the Storrs campus. In addition to connecting with recruiters, graduating teacher education students had the opportunity to interview with school district representatives for positions in teaching, counseling, and school psychology available beginning this fall. View photos from the fair.
Led by Doug Kaufman and David Moss, Teacher Education welcomed 15 German teachers to UConn for a professional development and information-sharing program. The German teachers came to Connecticut through the Fulbright program for a two-week immersion into campus and school life.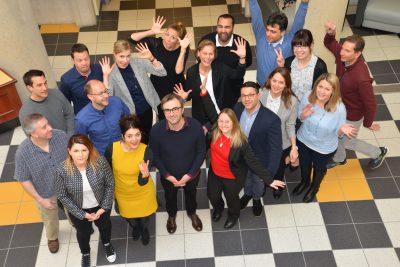 Led by Doug Kaufman and David Moss, Teacher Education welcomed 15 German teachers to UConn for a professional development and information-sharing program. The German teachers came to Connecticut through the Fulbright program for a two-week immersion into campus and school life.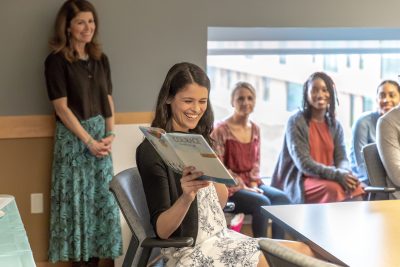 Teacher Education held its 2018 IB/M Master's Day of Research in May, at which master's students in the Integrated Bachelor's/Master's program presented their inquiry projects from this past academic year during a poster session. Check out photos from the event.
Department of Educational Leadership (EDLR)
In April, the CEPA 2017-18 Speaker Series featured Beth Schueler from Harvard University, who presented "A Third Way: The Politics of School District Takeover and Turnaround in Lawrence, Mass." Learn more, and view photos and videos from past CEPA Speaker Series events.
The Department of Educational Leadership was a sponsor of El Instituto's talk, titled "Toxic Ivory Towers: The Health Consequences of Work Stress on the Health of Underrepresented Minority Faculty," held in April at the Puerto Rican and Latin American Cultural Center (PRLACC) on the Storrs campus. Neag School faculty members Milagros Castillo-Montoya and Erica Fernández are members of the El Foco leadership team, which helped organize the event. See photos from the event.
The Higher Education and Student Affairs program (HESA) hosted a graduation celebration as part of Commencement Weekend on the Storrs campus in May. Check out photos. In addition, last month HESA hosted a Graduate Student Appreciation Day on the Storrs campus, featuring students and campus partners from the program. See photos from the April event.
The University of Connecticut Administrator Preparation Program (UCAPP) hosted its annual Change Project Day on the Storrs campus in April. The event features the program's signature capstone assignment, in which students identify a need or opportunity for school improvement and work toward positive change. View photos from the event, and read more.
Department of Educational Psychology (EPSY)
The Center for Behavioral Education and Research (CBER) hosted its April Breakfast Brown Bag Series, titled "Using Implementation Science to Improve Research and Practice in K-12 Schools," on the Storrs campus. The event featured Neag School faculty members Lisa Sanetti and Bianca Montrosse-Moorehead, and Alicia Dugan from the Department of Occupational and Environmental Medicine at UConn Health. Check out photos from the event. In addition, this month CBER will host the Northeast PBIS Network Leadership Forum in May in Groton, Conn., as well as its eighth annual CBER Graduate Research Symposium at the Storrs campus. The symposium will feature an early-career researcher panel and a poster session featuring graduate students' research.
The Measurement, Evaluation and Assessment program hosted Janet Clinton for a colloquium in March on the Storrs campus. Clinton, the director of the Centre for Program Evaluation and the International Teacher Education Effectiveness Research Hub at the Melbourne Graduate School of Education, presented a talk titled "Teacher and Teaching Evaluation: International Landscapes, Strengths, and Future Directions." The MEA program also hosted a Day of Research this month, featuring its graduate students. Check out photos from the event.
The School Psychology program hosted a presentation in April featuring Alan and Nadeen Kaufman, creators of a psychoeducational battery of assessments used in almost every school district across the U.S. See more photos from the event.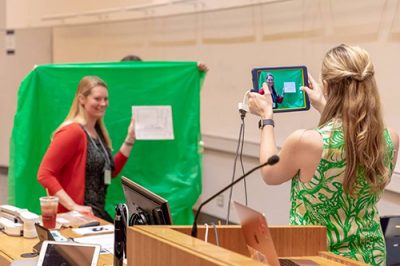 The seventh annual Teaching and Learning With iPads Conference was held this month on the Storrs campus. Click here to see photos from the event.
Faculty/Staff                               
Dorothea Anagnostopoulos was elected vice president of the AERA's 2019-20 Council, Division K. She will serve a three-year term.
Ronald Beghetto spoke at the UConn President's Series on Teaching Excellence on the Storrs campus last month. He also gave a TEDx-style talk at Manchester High School in April in Manchester, Conn.
Sandy Bell gave a talk at the Edgehill Community in Stamford, Conn., in partnership with the Neag School of Education Alumni Board, in May. The title of the talk was "This is Your Brain on Learning: Amazing Discoveries About the Role of Emotions, Gender, and How Your Brain Is Wired. " Read more about Bell and her career in this month's edition of "10 Questions."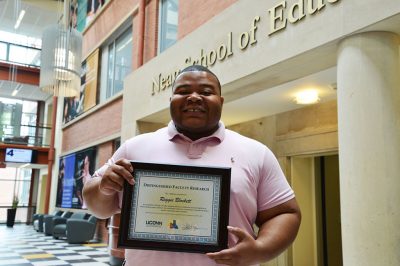 Reginald Blockett published "Thinking with Queer of Color Critique: A Multidimensional Approach to Analyzing and Interpreting Data" for the 2018 issue of Critical Theory and Qualitative Data Analysis in Education. He was also recognized with the 2018 Distinguished Faculty Research award from the UConn Rainbow Center's Lavender Graduation ceremony. This award honors a faculty member who has contributed research beneficial to understanding topics related to the individuals of diverse communities of gender identities, gender expressions and sexualities.
Scott Brown co-wrote, with Kimberly A. Lawless '94 MA, '96 Ph.D. and another colleague, "Timing Matters: Approaches for Measuring and Visualizing Behaviors of Timing and Spacing of Work in Self-Paced Online Teacher Professional Development Courses" for the April edition of the Journal of Learning Analytics.
Laura Burton and Jon Welty-Peachey '09 Ph.D. co-wrote with other colleagues "Exploring Servant Leadership, Needs Satisfaction, and Organizational Effectiveness in the Sport for Development and Peace Context" for the March issue of  the Journal of Sport Management. Burton also co-wrote Organizational Behavior in Sport (Human Kinetics, 2018.). In addition, she has been named a North American Society for Sport Management (NASSM) Research Fellow.
Todd Campbell presented his NST Advancing Informal STEM Learning project/Natural Resources Conservation Association work at 2018 STEM for All Video Showcase's Transforming the Education Landscape Conference in May.
Milagros Castillo-Montoya was recently recognized by Center for Excellence in Teaching and Learning (CETL) as a nominee for the University Innovation in Teaching Award. She presented her emerging scholar research "Engaging Students' Diversity to Enhance Students' Academic Learning" at the 2018 ACPA Conference in March in Houston. She also served as a discussant on "Experiences of Students of Color in Higher Education" at the same conference.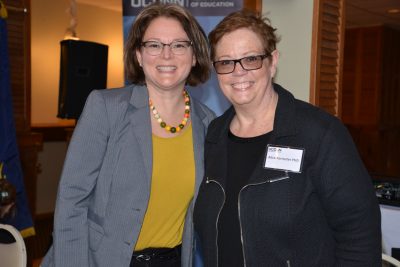 Sandra Chafouleas co-published "Assessing Behavioral Health Services: Introduction to a Special Issue of Research, Policy, and Practice" in the March issue of School Mental Health. She also co-published "A Systematic Review of Trauma Screening Measures for Children and Adolescents" with third-year doctoral student Taylor Koriakin and another UConn student for the March issue of School Psychology Quarterly. In addition, Chafouleas co-published "Accessing Behavioral Health Services: Introduction to a Special Issue of Research, Policy, and Practice" in School Mental Health in March.
Clewiston D. Challenger attended the Clemson University Men of Color National Summit in April, where he presented "Is This School a Fit? The Importance of College Adjustment, Institutional Attachment, Self-Efficacy, and Academic Buoyancy in Young Men of Color and How It Influences Their Motivation Toward Academics and Degree Attainment." The summit is held every year in Greenville, S.C., and draws attendees from K-12 schools, private industry, state and local-level administration, and higher education for discussion of issues around men of color and education, mental health, career, racial identity development, culture, and self-empowerment.
Joseph Cooper presented research at the American Symposium hosted by the University of Central Florida in April in Orlando, Fla.
Shaun Dougherty published "The Effect of Career and Technical Education on Human Capital Accumulation: Causal Evidence from Massachusetts" for the March issue of Education Finance and Policy. He also published "How Measurement and Modeling of Attendance Matter to Assessing Dimensions of Inequality" in the March issue of Journal of Education for Students Placed at Risk The Impact of Career and Technical Education on Students With Disabilitiesand co-published "" in the May issue of the Journal of Disability Policy Studies. He co-presented two sessions, titled "Teacher Accountability Reforms and the Supply of New Teachers" and "The Causal Impact of Attending a Career and Technical High School on Student Achievement, High-School Graduation, and College Enrollment," at the Society for Research on Educational Effectiveness' Spring 2018 Conference in March in Washington, D.C.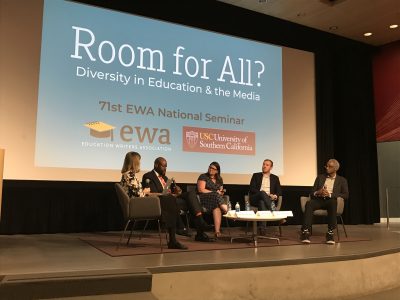 Preston Green served as a panelist at the national seminar for the Education Writers Association, during a discussion on school choice held this month in Los Angeles.
Robin Grenier is a co-principal investigator for the 2018-19 Whiting Public Engagement Seed Grant for a project titled "Museums and Civic Discourse: History, Current Practice, and Future Prospects." She will be partnering with the Green House Studios at UConn, in addition to working with UConn and external faculty researchers. The award is from the Whiting Public Engagement Fellowship, which seeks to champion the vital role of the humanities in enriching public life.
Elizabeth Howard and Thomas Levine co-wrote a book chapter in What Teachers Need to Know About Language (Center for Applied Linguistics, 2018), which will be released in July.
James Kaufman published "Creativity as a Stepping Stone Toward a Brighter Future" for the April issue of Journal of Intelligence.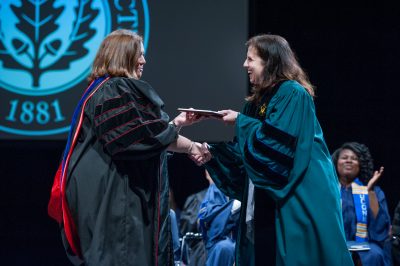 Catherine Little was selected as the Goodstein/Langer Honors Advisor of the Year for 2018, for her tireless work on behalf of Honors students in the Neag School. She was honored at the Honors Medals Ceremony in April on the Storrs campus.
Allison Lombardi and Shaun Dougherty co-wrote with graduate student Jessica Monahan "Students With Intellectual Disabilities and Career and Technical Education Opportunities: A Systematic Literature Review" for the April issue of Journal of Disability Policy Studies.
Joseph Renzulli co-published, with two colleagues from the University of Oslo, "Student Teachers' Practice and Experience With Differentiated Instruction for Students With Higher Learning Potential" in the April issue of Teaching and Teacher Education. In addition, he gave the keynote presentation at the 2018 Wallace Research Symposium on Talent Development in May. The symposium is co-hosted by the University of Iowa Belin-Blank Center, the Johns Hopkins University Center for Talented Youth, and Vanderbilt University Study of Mathematically Precocious Youth. Sally Reis also participated in the symposium, as a discussant following Renzulli's presentation.
George Sugai presented on the importance of schools supporting the success of all students beyond academics at the Benjamin Cluff Jr. Annual Lecture at Brigham Young University in Salt Lake City in March.
Jennie Weiner and Sarah L. Woulfin co-published "Sailing Across the Divide: Challenges to the Transfer of Teacher Leadership" in the April issue of the Journal of Research on Leadership Education.
Students
Teacher Education's Leadership In Diversity (L.I.D.) student group held its third annual Reimagining Education Conference on the Storrs campus in March. The event was organized by L.I.D., a student-led organization that aims to help maintain success in students of color as they pursue careers in the field of education. Alumni Justis Lopez '14 (ED), '15 MA and Orlando Valentin Jr. '15 (ED), '16 MA presented at the event. See photos from the event. In addition, L.I.D. hosted its annual "Future Educators Conference" on the Storrs campus in April. Visitors from four Connecticut schools, including East Hartford High School, Bulkeley High School, Conard High School, and Hall High School, attended to gain insights from current students and undergraduate admissions. To see photos from the event, click here.
Neag School student groups UConn Husky Sport and Leadership in Diversity (L.I.D.) combined efforts to win the annual UConn Foundation's Ignite Campaign, with 308 donations, raising $11,608 and an additional $5,000 for the first-place prize.
Students in the sport management program hosted a "Beyond the Field" event titled "Breaking Glass: How Women Fearlessly Navigate the Sport Industry," featuring a panel of female leaders in sport, including Mary Ellen Gillespie, director of athletics with the University of Hartford; Beth Goetz, chief operating officer and senior woman administrator with UConn Athletics; and Alaina DiGiorgio, director of diversity and inclusion at the College of Our Lady of the Elms. The event took place on the Storrs campus in April.
Several Neag School student athletes recognized at 2018 UConn Husky Awards. Derek Pratt '18 (ED) a player on the UConn men's ice hockey was awarded the Kinsmen Award. Faith McCarthy '17 (ED), and current master's student and player on the UConn women's soccer team, was awarded the Kinsmen Award. Nina Klein '18 MS, a player for UConn women's field hockey was awarded Performance of the Year. The event was hosted by Batouly Camara '18 (ED), a player for UConn women's basketball.
Julia Anderson, a HESA student, as well as doctoral students Ashley Robinson and Nneka Arinze, are presenting at the UConn Women's Advance Conference in Hartford this month.
Emily Anna Cipriano, student in the IB/M program, will be serving as a teacher come fall at Sunset Ridge Middle School in East Hartford, Conn.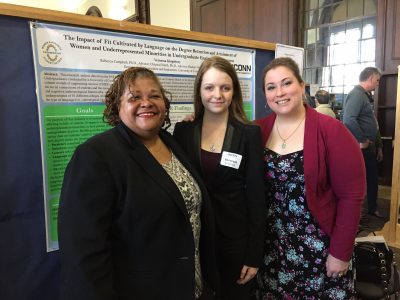 Vanessa Kingsbury presented "The Impact of Fit Cultivated by Language on the Degree Retention and Attainment of Women and Underrepresented Minorities in Undergraduate English Programs" at UConn's Undergraduate Student Research Conference in April on the Storrs campus. Kingsbury is a work-study student on Dean Kersaint's National Science Foundation grant titled "The Effects of Social Capital and Cultural Models on the Retention and Degree Attainment of Women and Minority Engineering Undergraduates." Her co-investigator was Rebecca Campbell.
William Estepar-Garcia, an educational psychology doctoral student, received the AERA Survey Research in Education SIG award for cutting-edge research using person mean-centering. He was recognized at the AERA Annual Meeting in New York, N.Y., in April.
Catherine Friar, a student enrolled in James Kaufman's Introduction to Creativity course, created a website to host a project for the class, where she showcased "Gen2U," a photojournalism piece about second-generation students at various universities.
Blair Izard, a curriculum and instruction doctoral student, co-presented with her Universitas 21 FINE team on "International Networking and Collaboration" on the Storrs campus in April.
Nina Klein, a graduate student in the sport management program, was named the 2017 Zag Field Hockey Division I National Scholar Athlete by the National Field Hockey Coaches Association. Read more. She will begin a new job as an assistant coach for women's field hockey at Quinnipiac University after graduation.
Daphnee Laguerre, a HESA student, was recognized for her role as an advisor as an Individual of the Month for March by the National Residence Hall Honorary.
Alexandra Lamb, an educational leadership doctoral student, co-wrote with Jennie Weiner a paper titled "Extending the Research on 1:1 Technology Integration in Middle Schools: A Call for Using Institutional Theory in Educational Technology Research" for the April issue of Middle Grades Review. They also co-published "Institutional Factors in iPad Rollout, Adoption, and Implementation: Isomorphism and the Case of the Los Angeles Unified School District's iPad Initiative" in the International Journal of Education in Mathematics, Science, and Technology.
Juanyi Li, an elementary education major, was recognized in April on the Storrs campus by UConn's First Year Programs and Learning Communities with the John T. Szarlan Memorial Student Mentors award, which was sponsored by the University's Center for Excellence in Teaching and Learning.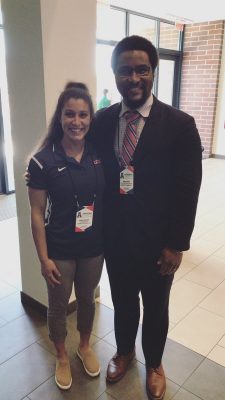 Reese Maccario, a player on the UConn women's ice hockey team and a sport management undergraduate student, participated on a student-athlete panel at the American Symposium hosted by the University of Central Florida in April in Orlando, Fla.
Jessica Monahan, a doctoral student and CBER graduate assistant, is a recipient of the the Lisa Pappanikou Glidden Scholarship Fund.
Tatianna Montalvo , a sport management undergraduate student, was selected to participate in the U.S. Olympic Committee's Finding Leaders Among Minorities Everywhere (FLAME) program this June in Colorado Springs, Colo.
Sean Palzere, a student in the IB/M program, appeared in two installments of a UConn Today video series, in which UConn seniors give advice to incoming students. Check out the "Time Management" and "Study Spots" videos to see Palzere.
Michael Reid Jr. received a 2018 Summer Undergraduate Research Fund award.
Mitchell Simmons '18 (ED) will begin as the director of basketball operations for women's basketball at Boston University after graduation.
Clarissa Tan, an secondary English education student, received a Spring 2018 UConn IDEA Grant for her project "The Asian-American Educational Experience." Tan will conduct a qualitative study to examine the Asian-American educational experience, with attention to the influence of culture, identity, and assumptions, with the goal of improving upon the U.S. education system and bringing this student population into conversations regarding educational policy.
Emily Tarconish, a doctoral student in educational psychology, is a recipient of the J. Raymond and Augusta H. Gerberich Fellowship Fund and the Lisa Pappanikou Glidden Scholarship Fund.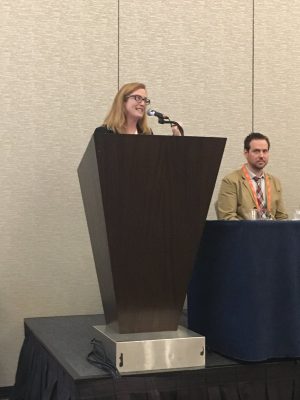 Janet Vanlone, a special education doctoral student, presented her research on supporting preservice teacher classroom management at the Association for Positive Behavior and Support's national conference in March in San Diego.
Patricia Virella, a first-year educational leadership graduate student, has been selected to serve on the University Council for Educational Administration's Graduate Student Council for a two-year term. She is one of eight council members.
Alumni      
Anthony Buono '08 ELP has been appointed assistant superintendent of Westport (Conn.) Public Schools. He most recently served as assistant superintendent of Brandford (Conn.) Public Schools.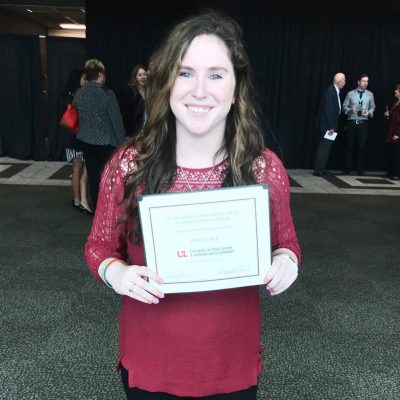 Emma Cohen '17 (ED) received the Outstanding Graduate Student in Sport Administration Award from the University of Louisville's sport administration program.
Emily Fiagbedzi '17 (ED) presented two workshops at the 2018 National IMPACT Conference at the University of Dayton in Ohio in March.
Jaimie (Winslow) Fisco '04 (ED), '05 MA was appointed assistant principal of K.T. Murphy Elementary School for Stamford (Conn.) Public Schools. Fisco has held the role of administrative intern at Toquam Elementary School for the past year.
Liana Jorgensen '05 MA, '10 6th Year has been chosen as the new principal at Sage Park Middle School in Windsor, Conn. She currently serves as the school's vice principal. Jorgensen has been an educator in Windsor for the past 16 years, first as a fifth-grade teacher at Poquonock Elementary School, then as assistant principal at Clover Street School before moving to her current post in 2009.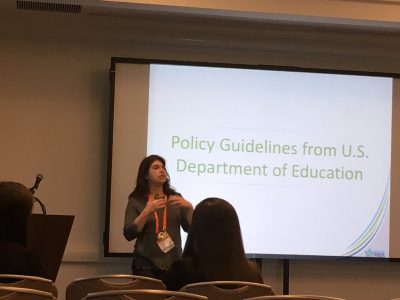 Laura Kern '11 MA, '17 Ph.D. gave a presentation titled "Policy Guidelines from U.S. Department of Education" at the Association for Positive Behavior and Support's national conference in March in San Diego.
Jasmine Lister '16 MA was named assistant coach for the UConn women's basketball program. Lister was most recently an assistant at DePaul University.
Justis Lopez '14 (ED), '15 MA was recognized with the annual Rising Star Award from the New England Educational Opportunity Association. Lopez received the award at the organization's annual conference in April in Stowe, Vt. 
Kathleen Miner '01 6th Year has been selected as the principal of Manchester High School in Manchester, Conn. She previously had served as the interim principal.
Karissa Niehoff   '10 Ed.D. has been selected as the executive director of the National Federtion of State High School Associations (NFHS). She most recently served as the executive director of the Connecticut Association of Schools-Connecticut Interscholastic Athletic Conference (CAS-CIAC).
Jim Penders '94 (CLAS), '98 MA, head coach for UConn baseball, achieved his 500th win with a 4-0 victory in March at Boston College.
Michelle Puhlick '01 6th Year is director of strategic initiatives at the Community Foundation of Eastern Connecticut.
Nellie Schafer '16 MS, manager of EDLR's digital media internship team, was named director of basketball operations at Winthrop University in Rock Hill, S.C. As part of this year's Neag School Undergraduate Commencement ceremony, Schafer also gave remarks addressing the Class of 2018.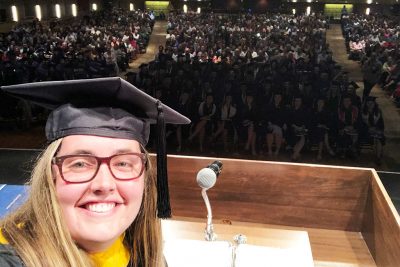 Jeff Wihbey '16 ELP was recently appointed superintendent of the Connecticut Technical Education and Career System (CTECS). Wihbey had served as assistant superintendent of CTECS for three years since late January 2014. He came to CTECS with a distinguished career in the field of public education, serving as principal, assistant principal, and department head at various schools throughout Connecticut and began his career in education as a social studies teacher in Bristol, Conn.
In Memoriam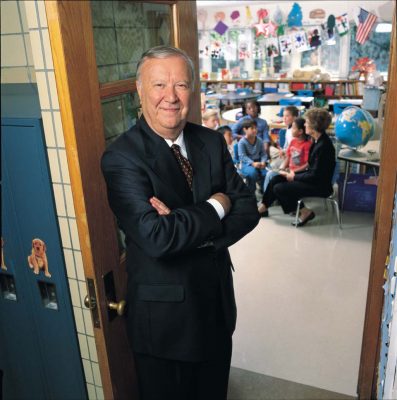 Florence A. Apostalon-Davis '54
Robert J. Barba '77
Lee S. Barbach '74
David G. Carter
Matthew J. Clancy Jr. '72
Kenneth R. Cullum '60
Dorothy B. DeSomma '61
Nicholas D. DeVito '79
Elaine M. (Marcus) Grossman '64
Robert V. McCarthy '57
George Mitchell '44
Raymond Neag '56 (CLAS)
Patricia R. Nute '55
Robert H. Olson '72
Leo Pinsky '50
Lori R. Roffwarg '73
William J. Sanders Jr. '74
Thomas M. Siemiatkoski '57
Rose M. Viti '61
William J. Walsh '50
Clyde Washburne '57