Congratulations to our Neag School alumni, faculty, staff, and students on their continued accomplishments inside and outside the classroom. If you have an accolade to share, we want to hear from you! Please send any news items and story ideas to neag-communications@uconn.edu.
In addition to the Neag School Dean's Office and Department achievements, explore this edition's list for Accolades from the following: Faculty/Staff; Alumni; Students; as well as In Memoriam.
Neag School Dean's Office and Departments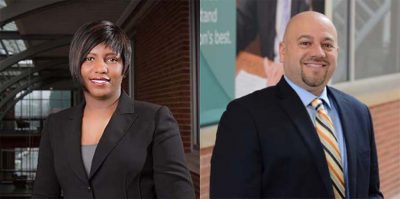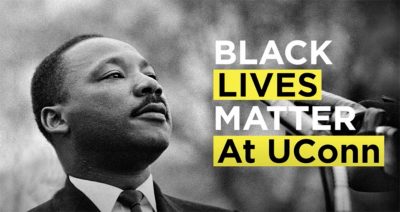 The UConn Provost's Office announced new leadership for the Neag School, including appointing Gladis Kersaint as UConn's vice provost for strategic initiatives. Provost Lejeuz named Associate Dean of Academic Affairs Jason Irizarry as interim dean. Both appointments are effective March 1. Read more about these leadership and staffing updates.

UConn's Office of Diversity and Inclusion produced "Black Lives Matter at UConn" to observe Dr. Martin Luther King Jr.'s legacy, which featured Neag School faculty and alumni, including Willena Price '00 Ph.D., director of the H. Fred Simons African American Cultural Center; Michael Mallery Jr. '15 MA, '20 Ph.D., associate director of diversity initiatives for the UConn School of Business; Franklin Tuitt, vice president and chief diversity officer and professor of higher education and student affairs; Milagros Castillo-Montoya, assistant professor of higher education and student affairs; and William Pizzuto '19 Ph.D., director of the UConn Waterbury campus.
The Neag School, UConn's Department of English, and the Connecticut Writing Project recognized Connecticut's winners of the 28th annual Letters About Literature contest this month. Doug Kaufman and alumnus Jason Courtmanche '91 (CLAS), Ph.D. '06 served as faculty advisors for the competition. The nationwide contest, formerly sponsored by the Library of Congress, is for students in grades 4 through 12. The Neag School served as a co-sponsor of the state's contest for the sixth consecutive year, with students, alumni, and friends of the Neag School serving as judges for the contest submissions.
The Neag School and its Alumni Board celebrated the winners of the 2021 Alumni Awards Celebration. They were recognized at a virtual event this month. Watch the event recording and check out the winners' featured pages.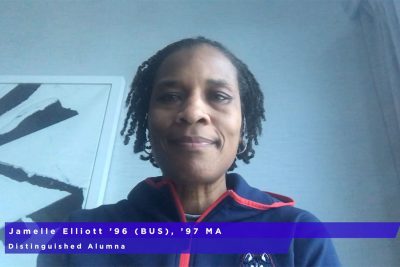 Department of Curriculum and Instruction (EDCI) and Teacher Education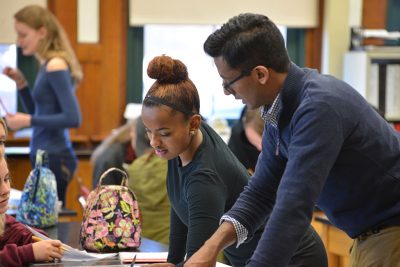 For the Summer 2021 Neag School Teacher Certification Program for College Graduates (TCPCG) cohort, the UConn Graduate School has approved an expansion of UConn Avery Point offerings. Previously, TCPCG offerings at Avery Point were restricted to special education, math, or science. Avery Point is now able to enroll students across all TCPCG certification areas, including history/social studies, world languages, agricultural education, and English/language arts. Thanks to the work and support of various people, including Megan Pichette, Joe Madaus, Todd Campbell, Ann Traynor, and Jason Irizarry, this will enable the program to partner more effectively with districts in southeastern Connecticut to help meet their schools' and communities' needs.
Department of Educational Leadership (EDLR)
Husky Sport has joined operations with Husky Nutrition, another SNAP-Ed funded organization, to become one Neag School-based organization. This includes the addition of five full-time staff members primarily operating out of the UConn Hartford campus, with a presence in Storrs. Husky Nutrition already teaches several cross-listed courses and hosts a summer student intern program.
EDLR was a co-sponsor of the UConn Office for Diversity and Inclusion's panel "Call to Action – Higher Education Institutions Supporting and Advancing Educational Opportunities for Undocumented Communities." H. Kenny Nienhusser served as moderator, and graduate students, including Chelsea Connery, Kiara Ruesta, and Omar Romandia, served as panelists. The virtual panel was held in March.
The Sport Management Program hosted a "Beyond the Field" virtual event in February titled "The Lack of Diversity in Sport Leadership," featuring Doug Glanville, doctoral student Ajhanai Newton, activist Richard Lapchick, and Chaim Bloom, chief baseball officer for the Red Sox. Charles Macauley, a doctoral student in educational psychology, moderated the event. View the event recording.
The Sport Management Program was ranked one of the Best Sports Management Degree Programs by Intelligent.com.
Department of Educational Psychology (EPSY)
The Neag School's Department of Educational Psychology has been included as one of five research networks in a new $3.13 million National Institutes of Health research grant, which will allow investigators to refine and test critical concepts that advance the study of emotional well-being.
Faculty, students, and alumni from the Renzulli Center for Creativity, Gifted Education, and Talent Development published a chapter titled "Identifying Underrepresented Gifted Students: A Developmental Process" in the Handbook of Giftedness and Talent Development in the Asia-Pacific (Spring International 2021). Co-authors included Pamela Peters, a doctoral student in educational psychology, E. Jean Gubbins, former postdoctoral students Rashea Hamilton and Jeb Puryear, as well as Betsy McCoach and Del Siegle. In addition, Gubbins, Siegle, and McCoach co-published "Identifying and Serving Gifted and Talented Students: Are Identification and Services Connected?" with other colleagues for the January issue of Gifted Child Quarterly.
The Renzulli Center also continued a series of free live webinars for educators and parents on such topics as developing and implementing enrichment clusters, student motivation, and avoiding fluff in differentiated activities.
Several EPSY faculty contributed chapters for the Handbook of University and Professional Careers in School Psychology (Routledge 2020), including "Making the Most of Collaborative Research Projects," co-authored by Sandra Chafouleas, Lisa Sanetti, and Beth Russell from UConn's Department of Human Development and Family Sciences; and "Enhancing Skills in Research Methods and Statistics," by Jacqueline M. Caemmerer and colleagues.
Faculty/Staff

Dorothea Anagnostopoulos, Suzanne Wilson, and Sian Charles-Harris, a doctoral student in curriculum and instruction, co-published "Contesting Quality Teaching: Teachers' Pragmatic Agency and the Debate About Teacher Evaluation" for the February issue of Teaching and Teacher Education.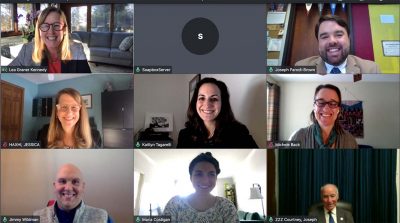 Michele Back participated in Virtual Language Advocacy Day in February. Sponsored by the Joint National Committee for Languages and the National Council for Languages and International Studies, Language Advocacy Day brings together world language advocates from across the country for meetings with Congressional offices and professional networking with experts from every sector of the language world. With a strong team of Connecticut language teachers and business leaders, Back spoke with several members of Congress and their staff members on issues pertinent to world language education and revitalization. Back also won the AERA Second Language Research (SLR) Special Interest Group (SIG) 2021 Mid-Career Award.
Cara Bernard co-published "'It Depends:' From Narration Sickness to Wide Awake Action in Music Education" for the February issue of Action, Criticism, and Theory for Music Education. Bernard was also elected president-elect for the Connecticut chapter of the American Choral Directors Association (ACDA).
Melissa Bray and the late Tom Kehle previously developed the RICH theory (resources, intimacy, competence, and health), which was featured by Benjamin Springer, a nationally certified school psychologist, in a virtual presentation at the National Association of School Psychologists annual conference. Springer wrote a book, Happy Kids Don't Punch You in the Face, which references their RICH theory as well. Bray also hosted UConn InCHIP's virtual Mind-Body Research Interest Group Forum in February with more than 135 individuals in attendance. View the recording here.
Laura Burton was featured by Tucker Center Talks in an academic conversation about creating system change and providing advice for young women scholars; she also served as program chair for Sport Leaders and Pandemic Adapting at the International Leadership Association, 22nd  Annual Global Conference in November. In addition, Burton and Ajhanai Newton, a doctoral student in educational leadership, wrote a chapter titled "Organisation Level Practices to Support Women in Coaching" for Women in Sport Coaching (Routledge, 2021). Burton also presented "Opportunities and Challenges for Women in Sport Leadership in the COVID-19 World" at the Women in Sport and Exercise Academic Network virtual conference in the fall.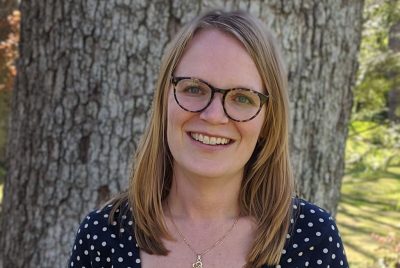 Jacqueline Caemmerer presented "Relations of Children's Cognitive Abilities and Their Reading, Writing, and Math: Measured by Several Tests" at the Learning Disability Science to Practice virtual conference in January. 
Todd Campbell co-published "Teaching Science to Address Societally Pressing Phenomena and Challenges" for Thinkalong, an online blog by Connecticut Public Radio; "Mediating Influences in Professional Learning: Factors That Lead to Appropriation & Principled Adaptation" for the February issue of Professional Development in Education; "Teacher's Attempts to Respond to Students' Lived Experiences" for the February issue of Journal of Science Teacher Education; and, with Thomas J. McKenna '18 Ph.D. and others, "Next Generation Science Classrooms: The Development of a Questionnaire for Examining Student Experiences in Science Classrooms" for the January issue of School Science and Mathematics. Campbell also co-published "On the Cusp of Profound Change: Science Teacher Education in and Beyond the Pandemic" for the January issue of Journal of Science Teacher Education.
Milagros Castillo-Montoya and Omar Romandia, a doctoral student in educational leadership, are co-hosts of a new podcast, the Higher Education Anti-Racist Teaching (HEART) Podcast, which focuses on elevating learning about anti-racist teaching at college and universities. The podcast is supported by the Office for Diversity and Inclusion and the Center for Excellence in Teaching and Learning at UConn. Saran Stewart was a featured guest for the first two episodes. Castillo-Montoya and Jillian Ives, a doctoral student in educational leadership, co-published "A Liberating Education: Integrating Funds of Knowledge and Disciplinary Knowledge to Create Tools for Students' Lives" for the winter issue of New Directions for Teaching and Learning. She also published "Assessment: The 'Wild Card' in Student Affairs" for the February issue of Journal of Student Affairs Research and Practice. A UConn anti-racism Black course, coordinated by Castillo-Montoya, was featured in UConn Today. Read more about the anti-racism course.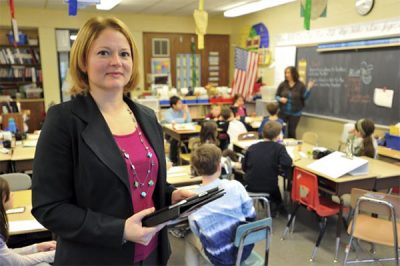 Sandra Chafouleas was featured in a Q&A interview in UConn Today about parents supporting their child's well-being during a pandemic, based on an interview from a UConn 360 podcast episode. Chafouleas co-published "Usability of Social, Emotional, and Behavioral Assessments in Schools: A Systematic Review From 2009 to 2019" for the January issue of School Psychology Review and "Adverse Childhood Experiences (ACEs): Translation into Action in K12 Education Settings" for the March issue of School Mental Health; wrote "Trump's Reaction to Defeat Further Confirms Urgency for School Focus on Social Emotional Skills" for CT Mirror; was a panelist for the Ballard Institute and Museum of Puppetry's Spring Puppet Forum in February; and was a panelist for Broward County (Fla.) Crime Commission's webinar on "Troubled Teens & COVID-19: The Lost Generation of America's Youth" in March. She was also featured in a Blog Talk Radio episode titled "Teen Suicide During COVID-19: The Second Crisis in Our Schools," led by Brian K. Perkins of Columbia University Teachers College.               
Casey Cobb received a $10,000 grant from the Connecticut State Department of Education to study student attrition in the Hartford region's school choice programs. The award helps fund graduate assistant Chelsea Connery, a doctoral student in educational leadership and co-collaborator on the study.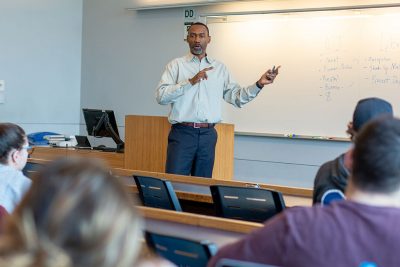 Michael Coyne was a panelist on The Commission on Women, Children, Seniors, Equity & Opportunity's February webinar, "Every Connecticut Student Should Have the Right to Read."
Ido Davidesco spoke on "Brain-to-Brain Synchrony in the Classroom" for UConn's Brain Imaging Research Center in March.
Morgaen Donaldson co-published "Doing the 'Real' Work": How Superintendents' Sensemaking Shapes Principal Evaluation Policies and Practices in School Districts" for the January issue of AERA Open and "Rethinking Teacher Evaluation Using Human, Social, and Material Capital" for the January issue of Journal of Educational Change.
Doug Glanville penned a commentary titled "MLB Needs More Black Managers. Here's Why it Won't Be Me Right Now" for ESPN.
Preston Green co-published "School Finance, Race, and Reparations" for the February issue of Washington and Lee Journal of Civil Rights and Social Justice. He was also featured in a podcast episode titled "Organizing Mutual Aid Education and School Funding Reparations" for Talk Out of School.
Terrell Hill, a faculty member with the UCAPP program, was selected as the superintendent of Windsor (Conn.) Public Schools. He previously served as the district's assistant superintendent for human resources.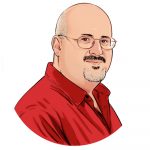 James Kaufman was featured in UConn Magazine's "Three Books" column about his reading choices. He also co-authored a chapter with alumna Anne Roberts '20 (Grad Cert), and others, titled "Creativity and Cognition, Divergent Thinking, and Intelligence" for The Cambridge Handbook of Creativity (Cambridge University, 2021); co-authored  "Measuring Everyday Creativity: A Rasch Model Analysis of the Biographical Inventory of Creative Behaviors (BICB) Scales" for the January issue of Thinking Skills and Creativity; co-authored with Hansika Kapoor, a former postdoctoral student, and others, "Secondary Education in COVID Lockdown: More Anxious and Less Creative – Maybe Not?" for the February issue of Frontiers in Psychology; co-authored with Kapoor "Meaning-Making Through Creativity During COVID-19" for the December issue of Frontiers in Psychology; and co-authored "What is Creativity in Education? A Qualitative Study of International Curricula" for the January issue of Journal of Advanced Academics. In addition, he co-authored "The Relationship of the Quality of Creative Problem Solving Stages to Overall Creativity in Engineering Students" for the November issue of Thinking Skills and Creativity.
Devin Kearns co-published a chapter titled "Peer-Assisted Learning Strategies" for Peers as Change Agents: A Guide to Implementing Peer-mediated Interventions in Schools (Oxford University Press 2021); "An Examination of Unified English Braille and its Efficiency in Representing Print" for the February issue of British Journal of Visual Impairment; and, with UConn's Fumiko Hoeft, "What is Dyslexia?" for a Connecticut General Assembly task force, for which Rachael Gabriel served as a committee member.
Craig H. Kennedy published "How Does Health Impact Challenging Behavior?" For the March issue of Research and Practice for Persons With Disabilities
Tamika La Salle was selected as a School Psychology Review (SPR) editorial fellow. The SPR Editorial Fellow program prepares future leaders in the field. La Salle also facilitated public forums for the West Springfield (Mass.) School Department's equity committee.
Betsy McCoach co-published "Associations Among Childhood Threat and Deprivation Experiences, Emotion Dysregulation, and Mental Health in Pregnant Women" for the January issue of Psychological Trauma, which also appeared in Europe PMC.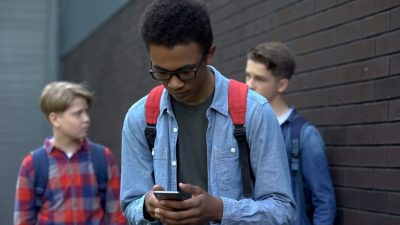 Adam McCready and colleagues from Boston College published a study in the February 2021 edition of the Journal of Student Affairs Research and Practice, which found that social media constitutes an essential element in the traumatic stress that students of color experience. The research was featured in UConn Today. Read more about the study here.
Jennie McGarry has been invited to become an affiliated scholar at the University of Minnesota's Tucker Center for Research on Girls and Women in Sport. She also co-published "Race, Sport Type, and Divisional Classification Matters: An Examination of Female Athletes' Experiences at National Collegiate Athletic Association (NCAA) Institutions" for the 2020 issue of Journal of Issues in Intercollegiate Athletics.
Glenn Mitoma facilitated "Capitol Under Siege: Community Reflections on the Lawless and Violent Attack on Democracy," a virtual session held by the Office for Diversity and Inclusion, Human Resources, and the Office of the Provost in January.
Kenny Nienhusser co-presented with Omar Romandia Diaz, a doctoral student in educational leadership, and Kiara Ruesta-Cayetano, a higher education and student affairs master's student, "Towards Supporting Our Vulnerable Students and Faculty During the COVID-19 Pandemic" for the Association of American Colleges and Universities Annual Meeting in January.
Sally Reis and Joseph Renzulli co-author a chapter in
Gifted Education in Rural Schools
.
Sally Reis and Joseph Renzulli co-authored a chapter titled "The Schoolwide Enrichment Model: A Talent Development Approach That Works for Rural Schools" for Gifted Education in Rural Schools (Routledge, 2021); and "In Memoriam: Professor Victor Muller-Oppliger" for the January issue of Gifted Education International. Reis also co-authored "Perceptions of Talented University Students Related to Opportunities and Autonomy for Creative Productivity" for the February issue of Gifted Education International.
Lisa Sanetti co-published "Treatment Fidelity: What It Is and Why It Matters" for the January issue of Learning Disabilities.
Megan Staples co-published "Student Argumentation Work Sample Sorting Task and Teachers' Evaluations of Arguments" for Volume 9/Issue 2 of the National Council of Teachers of Mathematics.
Saran Stewart and Glenn Mitoma were speakers for "Is the University Colonial?: Critical Conversations on its Past, Present, and Future," a three-part series with the University of Nottingham's Institute for Policy and Engagement and UConn's Office of Global Affairs.
Frank Tuitt led a panel discussion titled "This is America: Exploring the History of Racism at UConn" about the student-of-color experience at UConn. The virtual event, hosted by the UConn Alumni Association, was held in January.
Jennie Weiner published a study with colleagues that examined the extent to which principals had created the sorts of conditions in their schools that support continued learning and teaching during the pandemic. Read more about the study here. Weiner and Morgaen Donaldson also received a new grant of approximately $50,000 to investigate the entry and exit patterns of black, Indigenous, and people of color (BIPOC) teachers and administrators in two school districts in Connecticut.
Sarah Woulfin and Britney Jones, a doctoral student in educational leadership, co-published "Special Development: The Nature, Content, and Structure of Special Education Teachers' Professional Learning Opportunities" for the April issue of Teaching and Teacher Education.
Students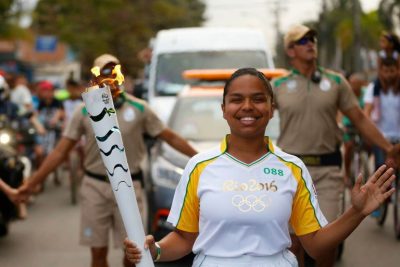 Pauline Batista '16 MA, a doctoral student in educational leadership, was featured in UConn Magazine. She also served as co-host for the UConn Digital Media Design's Speaker Series, featuring Alana Mayo, president of Orion Pictures.
Chelsea Connery co-published "Teachers Making Sense of Undocumented Status and Their Responsibilities to Undocumented Students: A Critical Perspective" in the February 2021 issue of Teaching and Teacher Education with Jennie Weiner.
Kathleen Connolly, a doctoral student in educational psychology, co-authored with Sandra Chafouleas and others, "Dedication, Innovation, and Collaboration: A Mixed-Methods Analysis of School Meals in Connecticut During COVID-19" for the 2021 issue of Journal of Agriculture, Food Systems, and Community Development.
Jillian Ives and Ashley Robinson, doctoral students in educational leadership, were awarded a Graduate Research Dissertation Fellowship from the UConn Graduate School.
Alexandra Lamb, a doctoral student in educational leadership, and Jennie Weiner co-published "Technology as Infrastructure for Change: District Leader Understandings of 1:1 Educational Technology Initiatives and Educational Change" for the February issue of Journal of Educational Administration.
Ajhanai Newton-Anderson, a doctoral student in educational leadership, participated in The University of Texas at San Antonio's Black History Month virtual panel "Black Experiences in Sport" in February.
Ashley Robinson, a doctoral student in educational leadership, facilitated a workshop titled "How Does Whiteness Show Up in Racist Harm Response Work" for College Student Educators International's (ACPA) Mid-Level Community of Practice in December.
Amit Savkar '07 Ph.D., '17 MA, a doctoral student in educational psychology student and UConn associate professor-in-residence of mathematics, began looking into the reasons why so many students were dropping out of or failing math classes early in their college career. He launched a platform called Stemify, which was featured in UConn Today. Read more about Savkar's work.
Alumni
Batouly Camara '19 (ED), '20 MA was selected as a Billie Jean Youth Leadership Award honoree. A former UConn women's basketball player, she is the founder of Women and Kids Empowerment and is currently working to build an outdoor basketball court in Guinea, West Africa.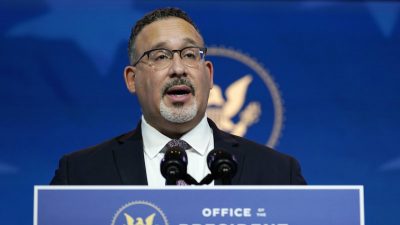 Miguel Cardona '01 MA, '04 6th Year, '11 Ed.D., '12 ELP was officially confirmed as President Joe Biden's U.S. Secretary of Education in March. Cardona most recently served as Connecticut's education commissioner and is the second UConn grad to hold a Cabinet-level position in the White House and the first Neag School alum to serve in this position. He was also featured in UConn Magazine about his new role and by NPR, The New York Times, NBC Connecticut, Washington Post, and Hartford Courant, among other outlets. Read more about Cardona's confirmation.
Carol Ann (Knott) Conboy '69 (ED) penned an essay about the passing of her college friend, Margaret "Peggy" E. Sczesny '69 (NUR), '79 MS, for UConn Magazine.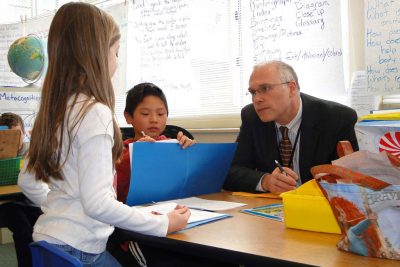 Paul Freeman '09 Ed.D., the superintendent of Guilford (Conn.) Public Schools, was named Connecticut's Superintendent of the Year by the Connecticut Association of Public School Superintendents (CAPSS). Read a recent Q&A with Freeman.
Mihyun Han Ph.D. '19, a visiting assistant professor at Hope College in Holland, Michigan, received a $20,000 award from the Community Foundation of Holland-Zeeland COVID-19 Community Stabilization Fund. Funds will contribute to a collaborative project between Han and the Ottawa Area Intermediate School District (OAISD), linking Hope College students with English language learners in OAISD to provide one-on-one, intensive tutoring in math, science, and social studies.
Neag School alumna Kristi Kaeppel '20 Ph.D., Robin Grenier, and UConn alumna Emma Bjorngard-Basayne received the Elwood F. Holton III Research Excellence Award for their co-authored article, "The F-Word: The Role of Women's Friendships in Navigating the Gendered Workplace in Academia," which was published in the October issue of Human Resources Development Review (HRDR). The award, named for the first editor of HRDR, recognizes an outstanding Development Review refereed article in each annual volume. Kaeppel recently joined the faculty of St. George's University in Grenada, West Indies, in the Department of Educational Services as an instructor in Leadership and Excellence in Academic Development.
Taylor Kielpinski-Rogers '12 (ED), director of communications for the NFL, was part of a video presented by Mercedes Benz on the females' roles in football and the importance of diversity in the sports industry. In addition, a UConn Alumni discussion on sports and recreation careers during COVID-19 featured Kielpinski-Rogers as a panelist in February.
Kathryn O'Connor '17 (ED), '18 MA, Emma (Pavano) Dearborne '17 (ED), '18 MA, and Tutita Casa co-authored "Inquiry + Math Workshop Model = Success!" for the Volume 114:Issue 3 of Mathematics Teacher: Learning and Teaching PK-12.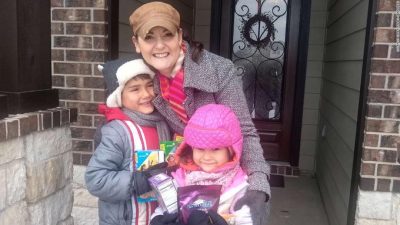 Karen Rambo-Hernandez '11 Ph.D., an associate professor at Texas A&M University in College Station, Texas, was featured by CNN about receiving neighborhood help after the record-breaking freeze.
Nathan Quesnel '01 (ED), '02 MA, superintendent of East Hartford (Conn.) Public Schools, Robert Villanova, and Mark Benigni, superintendent of Meriden (Conn.) Public Schools, co-published "Shared Governance: How Pandemic Partnerships Can Lead to Progress," in American City and County.
Kelli-Marie Vallieres '92 (BUS), '05 MA, '08 Ph.D., executive director of the Connecticut Workforce Unit, formerly CEO of Sound Manufacturing and Monster Power Equipment in Old Saybrook, Connecticut, was featured as a "2021 Power 50" in the Hartford Business Journal.

In Memoriam
Edward J. Adam '63
Joanne M. Centola '68
Donald E. Chase '65
Susan (Dan) Gilbert '75
James P. Kennedy '67
Leroy C. Kleinschmidt '56
Catherine C. Konefal '69
Patricia Ayers Chase Saltsman '82
Priscilla "Pre" Ubysz '00
Joseph A. Zalaski, Jr. '52